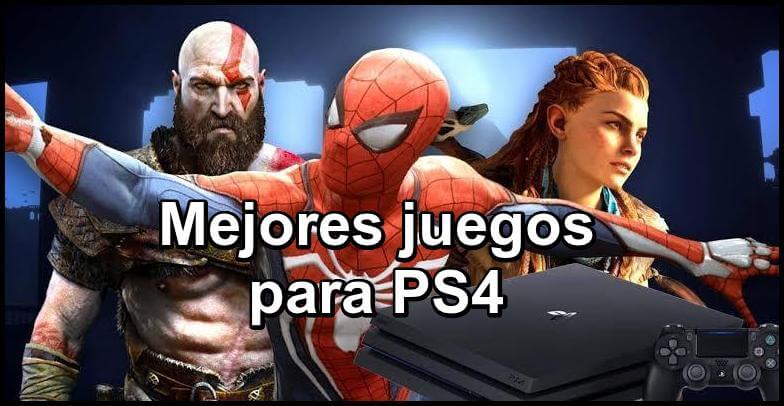 In this post you will know the best PS4 PRO games available Online and FREE and thus spend hours of enjoyment alone or with your friends, so do not stay with the desire to know which are the titles for PS4 that have set the trend. ENTERS!
WE START:
Welcome.
The gaming world always has incredible things to offer us, in the case of Sony, this happens every year. The company works hard to always bring us titles that we will remember for years and give us nostalgia. Many of the best PS4 games currently, they have only come out in a two-year period.
Here we are going to list the titles that are gaining popularity in the gamer community. Maybe Battle Royale style games are gaining position like the best free online games, but here we will explore titles with incredible stories, graphics and gameplay.
Best PS4 games to date
Spider-man
A game that was promoted for over a year. Since 2017, many fans, both from the gamer world and from comics, have been waiting for the arrival of this game.
It has been a long time since I had such a cool wall-crawler title, and the best thing is that it comes with all the freedoms and possibilities that next-gen games bring. We have an amazing open world, in which we can explore every corner of New York.
There are incredible combats, in which we will make use of all the abilities of our arachnic friend. Spider Man is an action-packed game with a good story and a great experience to offer to players.
Call of Duty: Modern Warfare
The Call of Duty saga continues to expand. While we will always remember titles like Black Ops and Modern Warfare 3, this new game in the franchise has received many positive reviews which have positioned it as one of the best shooting games so far.
The settings are very realistic and the action is so constant and engaging that players can almost feel themselves on the same battlefield. And of course, we have the story, since Call of Duty is more than just a shooter, several titles in the franchise have stood out for their incredible stories, full of betrayals, conspiracies and espionage. Without a doubt, it is one of the best free online PS4 games available so far for pro players.
DOWNLOAD CoD Modern Warfare for PS4
Death stranding
Hideo Kojima has gone down in history as one of the best developers, his games have always stood out for being peculiar and very original. This title is no exception to the renown of the director. With more than a year promotion since was unveiled at E3 2018, this game has had one bent in the chair.
The post-apocalyptic world theme already looked pretty good, but details were still being kept in secret that would reveal what the game was about, even with all the material that had been released for months, it was difficult to find a plot.
But now it's in our hands, and it's fantastic. It has already been listed as one of the best action games and exploration, its gameplay is quite peculiar and very free, and of course there are graphics worthy of the new generation of consoles.
DOWNLOAD Death Stranding for PS4
Days gone
Returning to the subject of post-apocalyptic worlds, how well does it seem to survive a zombie apocalypse? Alright, that's nothing we haven't seen in a survival game, but Days Gone takes that to a whole new level.
We have an open world, in which we will face hordes with more than 100 zombies (this is not a joke), who will chase us tirelessly, we will also face humans and all kinds of infected creatures. It is extreme survival like never seen before.
God of War (2018)
After a long absence of five years, Kratos returned once more to slaughter gods and mythological creatures. This time we will be inside the Norse mythology, exploring a totally new world with an amazing setting. It has received awards as the best game of the year, and it is not for less, its amazing gameplay and engaging story they are just two characteristics that this game has for us.
It can easily be classified as one of the best games for PS4 pro. This game greatly changes the perspective we already had on Kratos, showing us a more paternal and human side of the character.
Ghost recon breakpoint
Another shooter franchise that has gone down in history, this particular title is already classified as one of the best free and online PS4 gamesWell that's one way of putting it still due to enjoy it, but one of the few popular titles that does not include the famous integrated purchases, so we can go far with the sweat of our brow.
Ghost Recon Breakpoint differs a lot from Call of Duty because of its tactical ability in which we lead a squad of men on our own, although we can also play cooperatively.
DOWNLOAD Ghost Recon Breakpoint for PS4
The Last of Us Part II
While this game will not be released until 2020 (which we are closer to than you think), we know enough to declare it as a game that will undoubtedly go down in history. This time we will follow the story with Ellie, now grown, on her way for revenge. As we are already familiar with the world of The Last of Us, we know that it is a story that will move us for moments, and at the same time surprise us.
DOWNLOAD The Last of Us II for PS4
Mortal Kombat 11
The mythical fighting game come back one more time to expand the franchise. This title continues the story that the last two games in the saga have left behind, bringing us once again old characters that we already missed, and not only will we be able to play with them, but we will also see an incredible character design, thanks to the graphics of new generation.
Borderlands 3
After an absence of seven years, this incredible franchise returns to continue the story of the second game. It retains the style of first-person shooter and brings with it some elements of role-playing game, which means that we will have several classes of characters and we can improve their skills in a personalized way.
Borderlands 3 is a game full of constant action in which we must always keep our finger on the trigger.
DOWNLOAD Borderlands 3 for PS4
FIFA 20
This is a game that you can never miss in its annual release. FIFA has been giving us hours of entertainment for years, and it has practically been the center of many gatherings between friends. This new title in the franchise brings with it incredible graphics, and of course all our favorite players and teams, with updated data for each one.
If you have not played any of these titles yet and have a PS4, it is best to include them in your list of titles to play. Each of them is unique, and offers an incredible experience. What are we waiting to know why they are so acclaimed?
---
If you want more details interesting about gaming, we invite you to review more of our quality content.
Here we leave you some topics that we are sure will be to your liking:
What did you think of this list of best online games and also free PS4 and PS4 Pro? Have you ever played any of the games for PS4 pro? Tell us about your experiences.
See you in the next post!