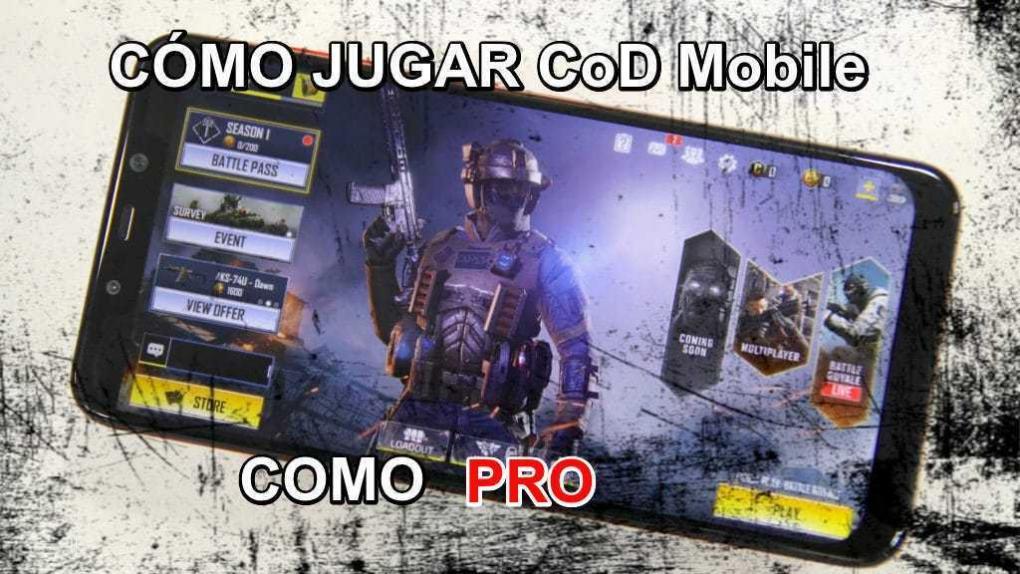 In this article you will discover tips and tricks to learn to play in CoD Mobile, improve experience and win games on both (Android and iOS). If you are a fan of Battle Royale, it is time to improve your practice with these tips. ENTERS!
WE START:
Welcome to this post.
It's no secret that CoD Mobile is the game of the moment for smartphones. Since it was announced a few months ago millions of users have anxiously waited for the mobile version of the most popular shooter in all of gaming history.
The game now has more than 100 million downloads, despite not having two weeks it is already quite crowded with people, which means that in the games there will be no shortage of enemies to play and spend hours of entertainment.
Well, if we have started this fun shooting game, or we are thinking about doing it, there are things that we must take into account. And it is that despite the experience and the playing time, it never hurts to know some tips that can help us win games in CoD Mobile. Very simple tips that can increase the chances in our favor. Next, we will see some tricks where you can learn to play like a PRO in Call of Duty Mobile.
Tips and tricks to learn how to play CoD Mobile on Android and iOS
These tips will give us a better notion of the games and will help us to improve the experience, since we will take advantage of the means that the game itself gives us, and thus use them to our advantage.
Maps are recycled
What does this "recycled" mean? By this we mean that the maps are old. The scenarios of this mobile version for multiplayer games are many of those that already exist in CoD: Black Ops and Modern Warfare.
So, if we are fans of the saga and have already played other titles, then already we know some of the maps. This will give us a certain advantage because the places become familiar, as well as the points of interest. It is something that, without a doubt, we must take advantage of.
It is necessary to customize our equipment
Some prefer automatic rifles, others sniper rifles. Each player has a different game mode. Not all of us are comfortable with the same weapons. This we must take into account at all times. Just because a weapon is the most powerful doesn't mean we should have it.
Our arsenal must be adapted to our way of playingAre we heavyweights? Will we prefer precision to magazine capacity? They are things that each of us chooses according to our criteria. Therefore, it is important to select a team that allows us to perform better.
Equip upgrades to our arsenal
Having the best weapon is not enough. First, we must choose the one that is best for our style of play, as already mentioned in the previous point. The following would be upgrade weapons, level them up to increase their stats.
Things like accuracy, rate of fire, magazine capacity. These are elements that play a very important role in games. Improving the performance of our weapons is how we can get the best out of the games.
The beloved minimap
One of the tricks for improve experience and learn to play CoD Mobile is the minimap. He himself offers us a much more panoramic view of what we have around us. But the most remarkable thing is that it shows the location of our teammates and enemies that fire their weapons, which also applies to us. Observing the minimap we will know what is around the corner ... unless it is a mine.
Improve accuracy when crouching
If we want to make a headshot with the best possible precision, it is best to crouch down. But, when shooting headshots we must avoid squatting in open spacesSince when shooting in open areas we may need to move fast. If we are going to crouch down to shoot or do some other action, it is advisable to be covered.
With the knife we can be stealthy
When we get close enough to an enemy we will have the possibility of killing him with a knife, this is not only fast and saves us bullets, but it allows us to have a silent kill, which means that our position will not be revealed on the map for other enemies. close. Of course, the most prudent thing is to use the knife when the target is on their back.
The advantages
In the game we will have advantages to equip, these will give us certain benefits in the games. If we have one, it is better to use them, it is useless to have them saved, we must take advantage of all the help we can have to gain experience.
Snipers
If the map has open spaces or high areasUsing the sniper can be a good opportunity to serve as a great support for the team. But let's try not to stay in the same place for so long.
We already have all the information we need to get the most out of our games. Many will be able to use advantages when buying them in the store, but with these tricks we can use the game's means to our advantage, and it will be totally free.
If you want to download the game and learn how to play Call of Duty Mobile you can follow this link to download it for Android.
---
I hope you liked the article and can start practicing with the new tips and tricks to win games and improve your experience in Call of Duty Mobile.
We invite you to continue reading content Gaming on our blog. Visit us!
Here are some links that may be of interest to you:
And you, did you take advantage of these tips and tricks to learn to play? Could you improve your experience and win games in CoD Mobile? Let us know in the comments below.