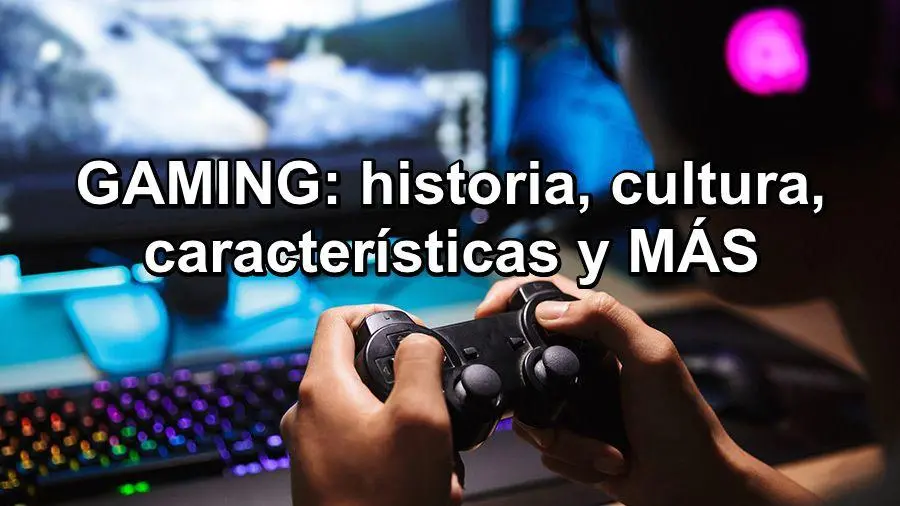 Do you want to become the best gamer in history? In this article you will discover all about gaming history. What is it, culture and characteristics of a gamer as well as the different types of gamers and more. Go for it!
Gaming guides, tutorials and content
Throughout modern history there have been countless urban tribes, each one as different as the other, but they are, after all, fads. An opposite case occurs with the gamers, who have endured during the last decades and more and more are choosing to wear this amazing lifestyle.
Gamers have become so popular that surely several of them are within your social circle, or even consider yourself one of them, but do you know what it takes to be a gamer? If you have ever asked yourself this question, do not worry, in this article we will teach you everything you need to know about gamer lifestyle.
What is a gamer and what does gaming mean?
To understand various aspects of a gamer's life, it is necessary to define who they are. Gamers are those people who they are dedicated to video games, but not only to play them as a means of entertainment, to be a gamer there must be a deep interest in games, they are people who are passionate about being immersed in these fantastic worlds created by computer.
On the other hand, the meaning of the word gaming translates as "game" and more than that, it is a term used to define the action of playing video games, whether from a computer, a console or any mobile device, but not only as a means of entertainment, since dedicating yourself to gaming takes a lot of dedication.
Gamers take their gaming work very seriously, and always seek to keep up with the trends that occur within the medium. They are people who are dedicated to this for most of the day, to such a level that they seek excellence in video game mastery, becoming even true professionals.
Characteristics of a gamer
Unlike other groups, gamers do not tend to be differentiated by their way of dressing or musical preferences, although if they may have the same tastes as other fashions, what really differentiates them is their gaming lifestyle. So we will mention you several characteristics of a gamer that must be taken into account:
They dedicate a large part of their daily routine to gaming. They know how to organize their activities and responsibilities in order to give more time to games. The investment time is part of the most exemplary characteristics of a gamer player.
They seek to have the most optimal equipment. They usually have video game consoles, or trained computers so that they can run games quite smoothly.
They know how to differentiate each type of game. Despite having preferences for a specific one, they tend to explore various genres and get out of their comfort zone.
They go beyond just playing. A gamer is curious and fascinated by all the culture that surrounds him, so he is always aware of the news in the video game industry and the development of new technologies that will improve the quality of them.
They are critics par excellence. They know how to qualify a gaming game objectively, taking into account the graphic aspects, the gameplay and the story developed. Firmly considering that games are also an art and not just entertainment.
They have sporting attitudes. One of the characteristics of a good gamer is that they can not only play alone, since with the BOOM of online games, they tend to be competitive people and for this a personality not very different from that of any athlete is required. Even various games are determined as sports.
Gamers know their lingo. Like all urban tribes, a player uses specific words to refer to various actions he performs. These actions are peculiar characteristics of a gamer.
Types of gamers
In this world, made up of millions of people, they can naturally be classified in different ways, depending on their preferences for a specific genre, or failing that, the way they play. Therefore we can classify the types of gamers  two ways:
Types of gamers by their way of playing
Casual Gamer: which in its translation from English is "casual gamer." They are those people who play sporadically, without looking for challenges or too complex games, nothing more as a means of entertainment.
Noob: is one that is just starting in this world and is named so offensively by other more experienced players.
Hardcore Gamer: he tends to play video games with more determination than other gamers. He assumes gaming as a challenge to carry out and every time he seeks to improve his performance, being more skillful than other players.
Core Gamer: This is how you can define gamers who are in the middle, between noobs and hardcore gamer. He likes both casual and more complex games. They are also called "Mid Core Gamer".
Pro Gamer: If we classify gamers by their prowess, Pro Gamers are at the top of this hierarchy. They carry out their work at a professional level and often participate in events and competitions.
Types of gamers according to the game or console
In gaming there are different types of people gamers who are known for their different levels of experience, time spent playing video games, and way of playing.
PC Gamer: Those who only like to play from a computer for various reasons, from the use of the controls, to the components that a PC can have to give a better gaming experience.
Console Gamer: Also called "consoleros". Those who prefer to play only on consoles such as Xbox, PlayStation and the like are thus defined.
Handheld Gamer: gamers who only use portable consoles.
Arcade Gamer: Unlike the others, this type of player has been popular for a long time, due to the fact that they play on arcade machines, better known as "slots".
Retro Gamer: They are the ones who have an attraction for the oldest video games, which were part of other generations and with very characteristic graphics of those times, nostalgia plays a fundamental role in these people.
Gamer culture and its evolution
The gaming world has a culture that was born in the 60s, and has evolved with certain characteristics. We mention them below:
60s, 70s, 80s and 90s: Gamer culture originated with the appearance of the first video games during the 60's, being only a few young people who continuously went to the arcade rooms and enjoyed the experience for hours.
Year 2000: At the beginning of the new millennium, the use of Internet cafes to play online games with other people became popular. Little by little, and added to the growth of the video game industry, more and more people entered this world.
Present: gamers usually meet at expos and conventions related to their tastes, and there they can share their experiences with other people, participate in events and see the latest news first-hand. These video game tournaments go as far as raising more profits than other well-known sporting events, filling stadiums and giving large sums of money to the winners.
Some of these gaming events are broadcast on television and give a lot to talk about both in the news and on social networks. This, without a doubt, were the beginnings of what we now know as gamer culture.
Curiosities of gamer culture
Within this guild we also have a group called geek. What is a geek? They are those who have extensive knowledge not only in the technological area but also in computing and popular gamer culture: movies, manga, anime and especially video games. So they are also considered part of this community.
I want to buy a gamer PC. What should I keep in mind?
If you already want to enter the gaming world and you want to do it from a computer, it is necessary to consider several things, from the characteristics of the components that you are going to have to their feasibility of updating. So if you want to make an investment in a team, it is best to be long-term.
If you don't have the hardware knowledge for your Gamer pc, we can give you two alternatives. You could go to a specialized store and ask them to assemble a custom computer for you; This option is very effective too, since your PC will be personalized depending on the use you want to give it.
Failing that, there is the option of buying the computer from the catalog that various computer brands have; the best known in the gaming world are: Alienware, Acer, Asus, HP and others.
Best gaming games for PC
With which video game can I start from my PC? Here are 3 of the best video game options available for computers this year:
Best Gaming Game: Apex Legends
It is considered the "surprise game" of 2019, taking the Battle royale to a style never seen before, he has given a lot to talk about lately, showing quite new ideas. Apex legends is a third person battle royale with very competitive and exciting features.
Call of Duty Modern Warfare
Activision launched the reboot of its well-known gamer saga, Call Of Duty: Modern Warfare He will return this time with some changes to his campaign and great sensations in multiplayer mode.
Tom Clancys Ghost Recon
A new chapter in this famous gamer series, where once again we must manage a unit of ghosts in this open world, with the possibility of facing the Wolves alone and in cooperative mode.
Best gaming games for Android and iOS
If you prefer to play from your Android or iOS mobile device, you can try these 3 best games. They are currently the most requested and downloaded in the history of gaming.
Best War Gaming Game: Call of Duty Mobile
Activision has surprised us again, as they launched an Android and iOS version of this beloved franchise, with its most iconic maps. The best part is that you can download it without paying, learn new tricks Y improve the gaming experience. Although if you want to equip yourself with the weapons to create a good strategy, you can acquire them through microtransactions system or with free CP.
Fortnite
The fashionable game of recent years finally reaches the mobile phones of millions of gamers, whose experience is very similar to that of a computer. However, it has the peculiarity of not being able to be downloaded by the Playstore, but You can do it from the official Epic Games site. 
Free fire
It can be said that before the release of Fortnite for mobile, this game has been the most popular of the last year, carrying the honor of being the most downloaded game of 2018 and the favorite by many in the gamer world.
The choice of the type of game on both PC and mobile Android or iOS will depend on the types of gamers, however they are options that you should not miss. The best thing is to live the experience and what better way to start than with these popular games.
---
With all this, we hope that you have learned a little more about gaming and gamer lifestyle.
So next time they ask you what is a gamer and what is their culture about? or what are the characteristics of a gamer? be clear not only its concept but also the types of existing gamers.