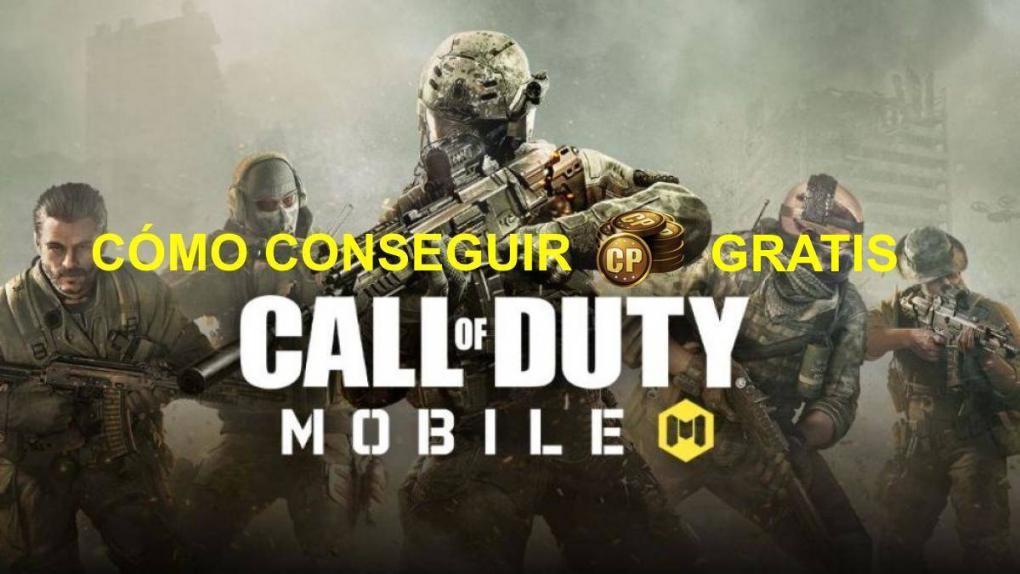 In this article you will learn tricks of the new version Call of Duty Mobile, how to win and get CP totally free, version characteristics, how to download CoD for Android and iOS and thus improve your experience in the game. Enters!
WE START:
Welcome.
If you are a lover of the saga, surely you have already tried the new version of Call of Duty Mobile, which was recently introduced. If so, you are surely wondering how to get CP in CoD?
Although for many earn CP has to do with hacks, in this post we will teach you completely legal and effective methods that will help you get CP in Call of Duty Mobile to become the sole survivor of the game. Shall we start?
Call of Duty Mobile, what is it about?
Before getting into the subject, let's do a review. Call of duty  is a game that like Free fire Y Fortnite it has become very popular in recent years. Although this shooter game was only available for PC and consoles, recently the company has decided to create a special version for mobile devices.
So now it is possible play CoD from your Android and iOS No problem. This news has been a great revelation for fans of the saga, especially for those who do not have consoles and who this version has allowed them to enjoy the game. Best of all, it is completely free.
Now the premise remains the same for this version. We find the Battle Royale mode where we will have to fight against 99 more players and try to be the only survivor, for this we can use weapons, equipment and various strategies.
But, we can also play with a team of up to 5 people or alone, although the fun of this game is being able to participate in teams in each game.
Regarding the special characteristics, we have a store in which using the official currency we can make mini-transactions to acquire weapons, accessories and packages to customize our character. This is why it becomes so important Get CP in Call of Duty Mobile.
CoD Mobile Features and Specifications
This version of Call of Duty Mobile is available to all smartphones with Android 4 or iOS in advanced versions. Have a 1.1 Gb weight for download, so you need enough memory.
Has a good graphic quality and an excellent sound effect; however, the performance of the game depends on the specifications of the device and its capacity, so it is recommended for mid-range and high-end computers.
Important fact: In low-end equipment, there may be faults such as slow sequences, unexpected shutdowns or graphics problems. It is necessary to have an internet connection to play.
How to download CoD Mobile for Android and iOS
Initially it is necessary to verify that your phone has a good graphics card and a powerful processor, as well as enough memory to download the game and a version of the operating system higher than Android 4. Once you have verified this, follow these steps to download CoD for Android:
From Play Store
Login to Play Store from your phone and in the search bar put "Call of Duty Mobile".
Press the "download" option.
The game will begin to download, so you will have to wait a few minutes.
Immediately after downloading, the game will install automatically.
Finally the game will stay on your main screen and you can start the adventure.
From apkPure
Enter the official site of apkPure and in the search bar type "Call of Duty Mobile".
The latest version available will appear, press the download XAPK button.
Wait for the download to complete, this may take a few minutes.
The game will install automatically.
Once the process is finished you can start playing.
These are the best apps to earn CP in Call of Duty Mobile
Although the game has no cost, in order to earn CP coins Within the Call of Duty Mobile game, you need to buy them in the store with real money, win them by playing or watching ads.
We know that not everyone has the money to buy direct CP from the store and that earning coins by playing can be a very slow process.
Luckily, there are apps that we can use to get CP in Call of Duty completely legal and without cheating. You want to see them?
Google Opinion Rewards
It is an application created by the Google Surveys company with which you must respond to various surveys about apps and services or even random questions. By doing so you can receive credit you can use on Google Play and exchange it for money in PayPal or gift cards for games and services.
Once you download the app, you must enter your data and then a list of surveys available every day. When you complete it you can get winnings of up to $15.00 that you can exchange for CP in Call of Duty or any other game. Download here.
DOWNLOAD Google Opinion Rewards
FeaturePoints: Get your reward
This app allows you earn rewards by performing various tasks simple like:
Answer surveys.
Download applications and games.
Make purchases in virtual stores such as Walmart, Best Buy, Sephora, Nordstrom, etc.
When completing tasks you get discounts on purchases, gift cards and balance in your Paypal account that you can exchange for CP or equipment in any other game.
Works on both Android and iOS devices and has a version for PC where you can get points from your browser. You just have to download the app, register and start getting rewards. Download here.
Make Money: Cash Rewards & Gift Cards
It's great for earning real money, gift cards, and discounts on online purchases. Enough with test apps, answer surveys and complete all tasks to earn points. By obtaining 2500 coins you acquire your first 15$ credit in Paypal that you can use for whatever you want.
Thanks to Tech2Cash - Bigcash
Earning the coins is a simple process and payment is guaranteed. You can redeem the rewards for gift cards to:
Google play
PayPal
iTunes
Amazon
PlayStation
Xbox
Steam
Also, you get the 20% more coins if you invite a friend Using your referral code and if your friend invites someone else, you get 10% more. Download the app and earn rewards that you can exchange for Free Paypal Cash. Download here.
CashOut - Make Money & Free Cash
As with the previous ones, this application helps you to earn cash and gift cards doing various tasks like testing apps and games, answering questions, watching videos, and more.
After completing the tasks you earn coins that you can exchange for money in Paypal, gift cards or discount coupons for online and offline stores.
It also has affiliate system where you earn 100 coins for each person you invite and also a 5% of what they earn each day. While by opening the app you take 10 coins without doing anything. Download here.
Some tricks to be more pro in Call of Duty Mobile
In addition to using the apps to get CP in Call of DutyYou can also apply some tips and tricks that will help you be better prepared for battle and thus perform better.
Play in advanced mode
This version has the simple and advanced mode. In the first one it will give you an advantage when attacking, delaying the attack a bit, but the controls are more complicated to handle, while in the second you can perform the movements on your own and the attack will be fast and lethal.
Get your best load
For Call of Duty mobile, the load change has been enabled, one of the tricks where you can take the weapons that give you the best performance during the game. Before going into battle make sure you choose the best weapon and be well equipped.
Choose the maximum FPS on your phone
It's something newbies don't take into account, but shouldn't be overlooked. When playing, set your phone (if possible) in HIGH FPS mode that it will give you 60 FPS and greater mobility while you play.
Set the sensitivity of your phone
Although this depends on the type of equipment you have, it is important to modify it and adapt it to the game. Try the default and with which you have adjusted and use the one that gives me the best performance.
Use weapons with accessories
One of the tricks in Call of Duty Mobile is using weapons with accessories. These help you give your weapons a lot more power and strength, so when attacking can have more precision and better recoil when shooting. You can use the Reach Enhancement Attachment, Fore grip, Extra Mag, Angled Light Grip, Half Grip, or any other on the list. Keep in mind that they must adapt to your type of weapon and you must choose it before starting the game.
Avoid being alone
If you are part of a squad then you must work as a team to achieve the best results, if you stay alone it is very likely that the enemies will ambush you and attack you in a surprise way. Being accompanied you will be less vulnerable.
Become the best shooter player in CoD by following these tricks and use the apps to earn CP in Call of Duty Mobile now.
Download CoD for Android here:
---
I hope you liked the post and do not forget to review more of our gaming content and technology tutorials. Visit us!
Here are some topics that may be of interest to you:
And you, did you learn tricks and how to download CoD for Android free? You know how to get and earn CP in Call of Duty Mobile fast and easy? Tell us about your experiences.