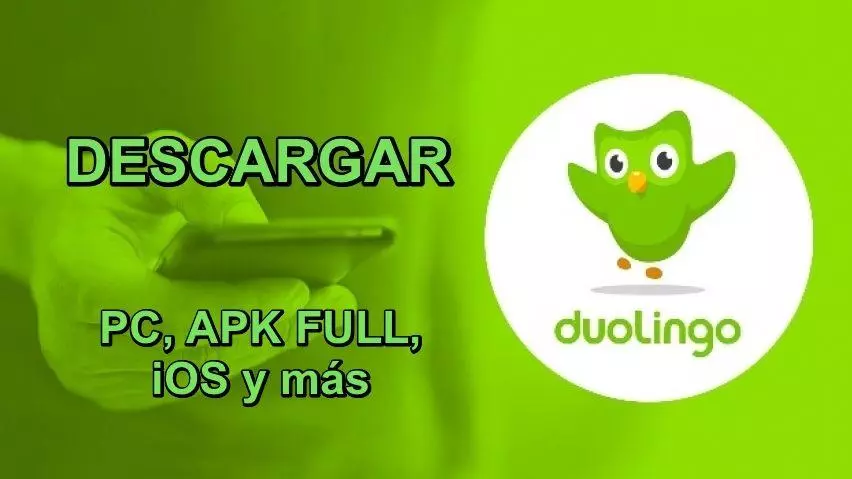 In this post you will know the app Duolingo, the best app to learn english from anywhere and you will learn how to log in, register and how to download Duolingo for free both for (PC, iOS, Plus APK for Android) from PlayStore or other platforms. ENTERS!
WE START:
Welcome.
Learn English has become almost a necessity in the digital age. Now that we can be connected around the world, it is important to be able to communicate. And whether it is for reasons of our profession, or something personal, the command of English should not be taken lightly, at least not if we seek to reduce our limitations.
Let's see, it is not necessary to be an expert in the language either, just master it enough to be able to understand it and defend ourselves when necessary. Because, although we may not believe it possible, at some point we are going to need knowledge of this language.
But before you think of spending money enrolling in an expensive course to become experts in the field, you should know that there is a way to learn English for free from our smartphone. For this, there is an application called Duolingo, and here we are going to learn everything we need to know about it.
What is the Duolingo app?
Duolingo is the app for learn English or other languages most used by millions of users. It was founded by Luis von Ahn and Severin Hacker, who believe that languages should be accessible to everyone at no cost. This philosophy has been implemented very well in their application, since it is completely free.
Learn English with Duolingo It is ideal for busy people who only have a few minutes of free time, since the modules are available at all times. But this is not exclusive, anyone can learn English through this app, from anywhere, at any time.   
Over the years the application has evolved, and more and more languages have been integrated into the app system. By registering in the Duolingo app we can learn several languages such as:
English.
French.
Italian.
Mandarin.
Portuguese.
Dutch.
Russian.
German.
Swedish
Norwegian
And others, the list varies depending on where we are learning from, but as we advance in the courses we will be able to unlock more languages.
Download Duolingo for free
As it was mentioned already, Duolingo is an application to learn English for free, so downloading it does not carry any cost. If by any chance they ask you to pay to download it, don't do it, as it is not the official app. This is one of its great advantages, add that to the quality of it in terms of its methodology for teaching languages, you will have the application with more than 100 million downloads.
Duolingo has some paid functions, but nothing that limits us to learn English or any other language we choose, they are simply some tools or boosters for the experience that is gained while completing the modules of a course. Not to mention that the Duolingo interface it is quite friendly.
Download APK for Android
Obtaining Duolingo for Android is no problem, as it is so popular and accepted by consumers, it is an application that is easy to find and with which we can be sure that there will be no hidden intention.
In fact, installing the application on our Android device is one of the main objectives of Duolingo: Putting in our hands a tool to learn English, or any other language, from anywhere in a comfortable way.
If we want download the Duolingo APK file for Android, we just have to go to the Aptoide virtual store and look for the application. Not only can we download it, but, if we wish, we can choose the version, but it is best to always download the latest one, that is, the one that comes by default. Once we have the file, we just have to open it on our smartphone and install the app. Download APK for Android here.
Download it from Play Store
Obtaining this application from the Google store is the number 1 option for interested users, it is also the safest, therefore, the one we recommend the most to download Duolingo on Android totally free.
We only have to enter the Play Store, look for the application and install. Process that should be fast since the app only weighs about 16MB. For Download it from Play Store, click here.
Download Duolingo Plus APK
Once you install the application from the APK, we create our account with a profile, and configure the basics in the Android app, it will offer us Duolingo Plus, which is a paid version of the application with many more functions or modules. They first offer us a free seven-day trial to see if it is worth buying this version for us.
However, there are some ways to to download Duolingo Plus free, and it is through an APK file for your Android. Here we offer you two links where you can download this version of the application:
Download for iOS
Duolingo is a versatile app, it is not available only for Android users, those who are more inclined towards iOS can also learn English with Duolingo by downloading the App. We just have to go to the Apple Store and look for it. We repeat, the application is completely free for all platforms.
In the case of Apple, we can install both on our iPhones and on an iPod, so it is not necessary for the device to be a smartphone to spend a few minutes of the day and learn a modern language, especially English. Download the Duolingo app for iOS from here.
Download Duolingo for PC
If learning English from a mobile device is not our thing, and we prefer to do it from a more fixed place, no problem. Duolingo has its own online application from the browser, so we can access it as if it were from a smartphone. From it we can create our account, log in and do each of the courses that interest us.
Unlike some applications, using the web version does not have any limitations, let's just imagine that we are doing an online course to learn English, only that this is totally free and very dynamic. It's that easy and fun use Duolingo from PC.
And the best part is that our progress is synchronized with the application on the mobile, so we can learn from two different devices, and use each one according to the occasion.
How do I log into Duolingo?
By registering and completing the form, you will be able to enter. For log into Duolingo, we can do it in three ways. This will depend on the way we create the profile, which we will explain in the next point. Basically, we can access in the following ways.
The most common option to log in to the Duolingo app is through an email and password.
We can also access through our Facebook account.
Or through our Google account.
The difference between the three methods is that with the first we we will choose the data with which we are going to create our profile. In the case of logging into Duolingo from Google or Facebook, our data will be synchronized with those of these accounts, filling in automatically, of course, we can change in the account settings.
How to register on Duolingo?
Once we have downloaded and opened the application, we will be shown two options, one for register and another to log into Duolingo. To create our Duolingo account and profile, we just have to follow these steps:
Selecting which is the language we want to learn, in the case of English, it can be seen that there are more than 30 million students.
Now we will choose our daily routine, which is divided into four levels: Relaxed (5 minutes a day), Normal (10 minutes a day), I laughed (15 minutes a day), Intense (20 minutes a day).
Then they will ask us the reason why we are learning the language. Whether for studies, profession, travel, hobby or other reasons.
Now we will have two options. They are going to ask us how much do we know about the language (English in that case). We can say that we do not know anything, or on the other hand do a little test so that the system can see how much we know. What we choose will be important since our course will start from there.
After a short exercise, now is the time to create our profile. First they will ask us for username, password, age and email. Or we can access through Facebook or Google, this will create our profile automatically, depending on the data we have there.
The profile option is optional, but necessary to successfully save our progress.
Duolingo for schools
This is one of the most useful and used tools of the application. Although more than a tool, Duolingo for Schools it works as a project of the platform that is used to bring language learning, especially English, to school classrooms.
Duolingo for Schools creates an ideal space for teachers to They can teach their students with the support of the application, where there will be tasks, dynamic activities, practical lessons to learn to speak and write, and much more.
Do you want learn English easily and free of charge? Duolingo is the application they need, and now they know that it is available for almost all devices. So there can no longer be an excuse that we don't have the time to learn English, because now we have the tool to do it for at least ten minutes a day.
---
We hope that this post has been very learning and that as a professional you can understand that there are ways to get into the English language and one of those tools is Duolingo.
Before concluding, we remind you that in our Blog you can find valuable information that you can take full advantage of. Visit us!
Here are some links that may be of interest to you:
When you signed up for Duolingo, were you able to log into it? Could you download the Duolingo app for free for both (PC, iOS, Plus APK for Android) from PlayStore? Don't forget to leave your comments below.
See you!