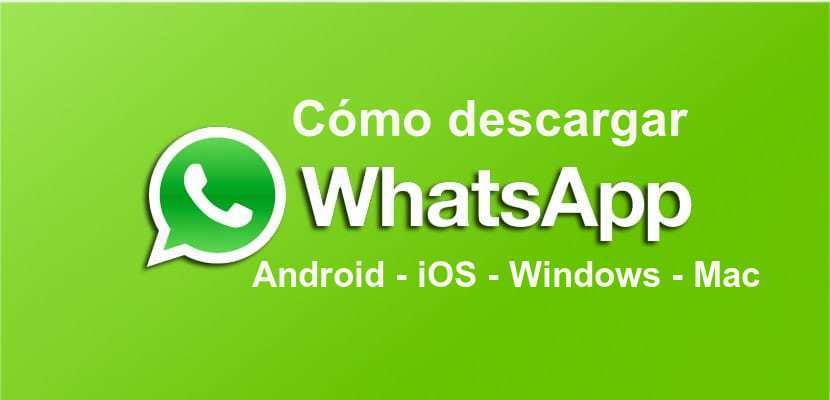 In this post you will learn how to download WhatsApp for free (for both PC, Android, MAC, Tablet, Samsung) and to be able to send messages, share images, videos and even calls with your friends and loved ones.
WhatsApp is the most popular instant messaging application today. It is the number one option for users to talk to their friends and family, whether through messages, video calls or voice notes.
Therefore, in this guide we will see how can we download WhatsApp for free for each of the different devices and operating systems. In this way we will not have to settle for simply using it on our Smartphone, we will have a variety of options and here we will show them to you. Join us!
Download for PC (Windows)
Downloading WhatsApp for free for PC is very simple, and does not need much time. If in any way they ask us to pay some money, then it is best to run away, since we are on the wrong page. These are the steps to follow to install the desktop version app:
We must go to the site official of the application.
We look for the section called Download o Download and we go there.
They are going to several options appear, with which we can download the app for mobile devices for computers.
How to download WhatsApp for free for PC, Android and MAC
We choose the windows option. The page warns us that the application will only work for computers whose operating system is Windows 8 onwards.
We select the option of 32 bit or 64 bit, it all depends on our computer.
We wait for the download to complete and we open the application to install it. Ready!
Downloading WhatsApp free for PC is very simple and in a matter of minutes we will be talking on WhatsApp with our friends from the computer.
Download for Android
If we feel more comfortable with our mobile devices, then it is very convenient to have WhatsApp on the phone. There are two ways to obtain it, one is from the computer, and the other from the same cell phone, and both require entering the official website.
This is how we can download WhatsApp for devices Android:
We enter the official page and go to the download section.
We seek the option of to download for Android devices.
This will direct us to another window in which the download button. The page will provide us with the minimum requirements, it needs: Android 4.0.3 or higher, an unlimited data plan (this is a recommendation) and finally warns that this file is not compatible with Tablets.
Once we click on to download, a APK file will appear in our Downloads folderWe must pass that file to the phone and run it to install the application. That easy!
Note: All this procedure can be done from the phone, we enter the page from the browser, the file will be downloaded directly to the device and we just have to execute it.
Download it from the Play Store
This is the method most used by users to download WhatsApp on an Android cell phone, and it is also one of the fastest and safest, as safe as downloading it from the official website. This is what we should do:
From our smartphone we must look for the application of the Play Store.
We entered the google store and in the search engine we write "WhatsApp". We make sure that the developer is correct and we open the application, this should be the first option that appears.
Once inside we will see the download button, we press it and wait. That shouldn't take more than a couple of minutes.
When the download is ready the app will have been installed automatically, so we just have to open it and configure it.
Note: Too we can do it from the PC, We just have to follow the same steps above, and make sure that the email registered in the browser is the same as that of the phone. When press «Download», the action will automatically be done on our mobile device.
Download WhatsApp for Samsung
We can do this in the same way that WhatsApp is downloaded for an Android device. Many people buy Samsung mobiles, so it is convenient for them to know download WhatsApp easily on your devices.
These are the steps we must follow to download WhatsApp on a Samsung cell phone that has Android:
From our device we are going to enter the application of the PlayStore.
Once inside we will search for the app by typing in the search bar "WhatsApp".
When we have already located it, we just have to download it and it will be installed automatically.
In case we want to download from the official site:
Inside the official page we find the Download section.
There we will look for the option for Android devices (Includes Samsung).
We download the file and execute it to proceed with the installation.
Download WhatsApp for Tablet
Many users are looking for this option, since a Tablet seems to be something much more comfortable. While it is true, there is no official version that allows you to download WhatsApp for tablet, this doesn't have to stop us. Obtaining this application on our desktop device is very simple. Next, this is what we should do:
It is true that when we open this option we will see a notice saying that there is no compatibility for tablets, but let's skip that notice and continue.
Once the APK file is downloaded we just have to install it.
When opening it, an incompatibility message may appear, but if we ignore it we can use the application as if we were doing it on the phone.
Download WhatsApp Plus APK
The safest way to get this app is your APK version, is going to the site of APK Pure, which is like a kind of Google Play store, but exclusively for APK files. Once we enter the site, this is what we should do:
In the search bar we write «WhatsApp Plus«. It should be the same application icon, but in blue. APK Pure virtual store
We open it and we look for the download button, we click on it and we just wait.Download WhatsApp Plus APK
Once the file has been downloaded, all we have to do is pass it to our smartphone and run it to begin the installation.
Note: APK Pure is also available as an application for cell phones, so we can download apps from there with our mobile device, as if it were a PlayStore. Is a more practical option to download WhatsApp Plus.
Download WhatsApp GB APK
This is a mode with more functions that has become popular in recent days and is also another option for download WhatsApp APK. We will find this on the official page. To do so we just have to follow these steps:
Once the download is complete we will have the file. If we did it from the PC we must transfer it to the phone, but if the download was made directly from the cell phone, then we just have to run it.
Download for Mac
If our computer is from the recognized company Manzana, that will not be a problem. WhatsApp is available for all platforms and operating systems. Like the other procedures, download WhatsApp for Mac it won't take long.
From our computer we access the official site and we look for the window of Download or Download.
In the multiple options that are shown to us, we must search the one that is for Mac.
Before downloading for MAC, we are advised that the application is compatible only with the operating system Mac OS X 10.9 or higher.
We click and wait for the process to finish download.
Finally, it will only be necessary to open the file and begin the installation.
We now have all the information we need to download and install the world's most popular messaging app: WhatsApp, both the APK for Android or on any device and free.
As we can notice, each process is simple and it only takes a few minutes (as long as the internet connection is optimal). Can already enjoy whatsapp on more than one device.
---
We hope that the information provided has been very helpful.
In our blog you can find the latest in technology and tutorials useful. Visit us!
You may be interested in some of these topics, we have selected them especially for you
Now, could you download WhatsApp for free for PC, Android, MAC, Tablet? Could you download it from PlayStore and download the WhatsApp GB APK mod easy? We await your opinion in the comments below.
See you in another post!