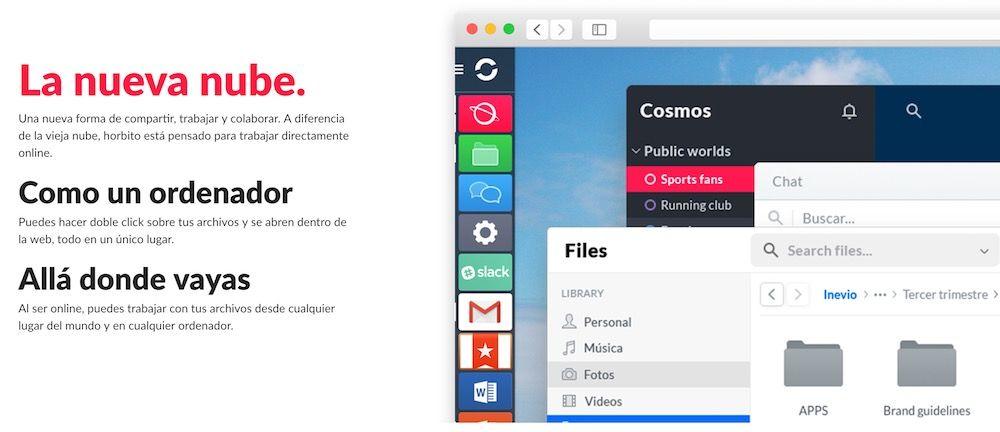 In this post we will introduce you to Horbito, a fabulous cloud work system which was created by two young Spaniards. ENTER, YOU WILL LOVE IT!
WE START:
Two young Spaniards created Horbito, a platform that allows you to work in the cloud in real time, yes IN REAL TIME. Forget about losing your data, about compromising with your privacy, Horbito will help you put that behind you. You can upload files to the platform from your computer to work directly online, they will open on the web, your changes will be in the cloud, that is, when you save the file, it will be saved in Horbito.
If you lose your computer, or your file is damaged, Horbito will be there to help you. Amazing, right? Well it is! They will respect your privacy and protect your files stored in the cloud. You can work with Office files, music, PDF, images, EVERYTHING, and, as we mentioned before, everything will be saved in the cloud. In addition, it has direct applications such as YouTube, Amazon, LinkedIn, etc.
Do you want to get to know Horbito? Well go ahead! They give you 25GB of FREE, then you will have to pay ONLY 1 DOLLAR FOR ANOTHER 25GB, IT IS AMAZING!
To get started, go to your official Web site, and sign up; You can use your Facebook or Google account, or make one using an email and password directly.
Change the way you work, protect your data, wherever you go, it will always be available.
Doubts questions?
I hope I have helped you and I hope you are done with the post. If you don't understand something, contact our team using the floating chat (located in the lower right part of your screen) to leave us your question.
You can see our most recent posts on our page start from the blog. Like us on our Facebook page so you don't miss any news.
GOOD MORNING AND GREETINGS FROM OUR TEAM!