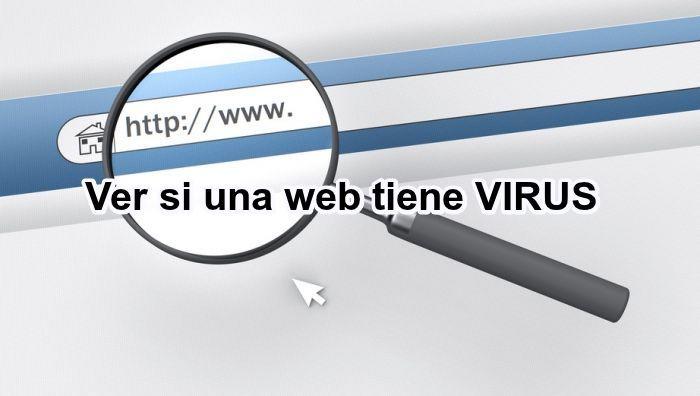 In this post we will show you a web page checker to verify or parse a url of a web page and that way how to know if it is safe, malicious or has some type of harmful virus. ENTERS!
WE START:
It is important that you take into account, how valuable it is analyze web pages or a URL and see if it's malicious, has virus or if it is safe, this will guarantee the security of your personal data contained in your electronic devices.
Perhaps more than once you have received in your email some link from unknown url and you wonder if it carries any risk for malware, phishing and other viruses.
For this reason, it is worth noting that we can do the URL analysis and be calm when opening any page that catches our attention.
How does a malicious URL do me?
The malware means malicious program and is used to name software that is intended to access or damage a computer or information system.
It is used in computer jargon to denote a variety of hostile, intrusive, and annoying software and is thus categorized according to the effects it causes on a computer.
On the other hand, the pishing It's about a computer abuse mode which is known as spoofing.
This intrusion is forged in order to capture confidential data of a person through emails and recently through social media.
Most of the time, this type of attack is intended to access bank accounts and credit cards to commit electronic fraud.
Other times this type of intrusion is intended to other types of crimes, so we must be careful to protect our identity and be safe.
The websites that we will present to you can be very useful when it comes to verify some website in common for parse some url looking for it to be malicious or have some kind of virus.
There are some hackers or cracker who develop some viruses to sneak them onto the web, just to have your superiority as a programmer recognized.
In any case, whatever the form or order to break into our computers, the truth is that it is generally a dangerous action for our security.
Scan URL for viruses
Unfortunately, in recent years it has been evidenced that malicious code has outnumbered the number of legitimate applications.
Panda Security states that 73,000 new computer viruses appeared in 2011, of which 73% were Trojans.
If you want to increase your security and want to use websites to analyze malicious URLs or check a web page to know if it is safe or not, here we describe some:
Total Virus: This website is one of the most used since the report obtained is very detailed for each of the analyzers used.
Plugins can also be used in different browsers or a desktop application can be installed.
URL Void: It is a free service and very easy to use. This allows you to scan a URL with different search engines from recognized websites.
Which consequently tends to make it easier for you to find and detect dangerous websites.
Norton Safe Web: This page sells security programs and is aimed at all types of users. Helps to surf the internet more safely.
This site allows parse a malicious URL before opening it, and if there are any viruses, spyware, or other threats.
Besides the Norton Safe Web allows you to view the rating of the community and the comments of its users.
Avg ThreatLabs: It is a website to analyze malicious webs through free antivirus programs for PCs and mobiles.
Although the page is in English, it is friendly and easy to use due to the use of colored symbols according to their classification.
In the event that you receive a suspicious email, you can copy the URL and paste it into the text box.
It will be examined in real time to verify if it contains something suspicious, it is one of the excellent functions of this program.
Site Inspector Comodo: It is an option that allows you to analyze one URL at a time. It has a Pro version that provides more options.
net: It is one of the most complete options in relation to webs to analyze malicious URL.
The URL to be analyzed is placed in the text box and the button is pressed, it is very easy to use. Use third-party services like GoogleSaf Browsing Diagnostic.
These are the most popular websites to analyze malicious URLs, however there are a much larger number that we will try to encompass with respect to their benefit.
Websites that provide historical data
You can use a web page checker of those shown in this list, which have the function of providing relevant data over time to warn you if they have viruses or are malicious.
– Cyscon SIRT: ASN, IP addresses and also domains.
– Cisco SenderBase: reputation history.
– Deepviz: Domains, data such as IP in Intel, among others.
– FortiGuard lookup: Category and URL history.
– KnownSec: history of the web page. Only in Chinese.
– McAfee Site Advisor: information about the total reputation of the platform.
– Reputation Authority: total repotting information for the domain or IP.
– Reputation Authority: total repotting information for the domain or IP.
– Trend Micro Web Reputation: information about the total reputation of the web platform.
Analyze it in real time
If you want verify site and analyze some URL to see if it is malicious, has a virus or if it is safe in real time, you can use a checker to check web pages.
Analyze it by checking blacklists
A verifier based on blacklist of web pages they are expendable to verify a secure or infected web page. You can use any of these to find out.
Sucuri SiteCheck: Analyze the given site and route and scan for blacklists in real time.
URL Blacklist: Parse the specified URL against the URL blacklist.
URL Query: Checks the specified URL against the blacklist of URLs, in addition to verifying what the website has.
URLVoid: Scans the website against various URL blacklist databases.
VirusTotal: Scans the website against various URL blacklist databases.
vURL: Gets the internal code of the website, in addition to seeing if it is found in any database of blacklist of URLs.
Malware Domain List: Inquire recently reported malicious websites
MxToolbox: Check different reputation sources for IP address or domain information.
If you need to find one web to analyze malicious URL, you can choose some of the options mentioned above.
However, you must bear in mind that even analyzing the URL there is no security at 100% that some malicious code attacks you.
---
I hope this post has helped you find some service to analyze a website, and check if any URL is malicious to prevent any virus on your PC. Let's hope so!
Before concluding the post, mention that we have more web tools that you can use to take advantage of many things. Visit us!
¿What do you think of these websites to parse any malicious URL? Let us know what you think in the comments below!
See you in another new post.