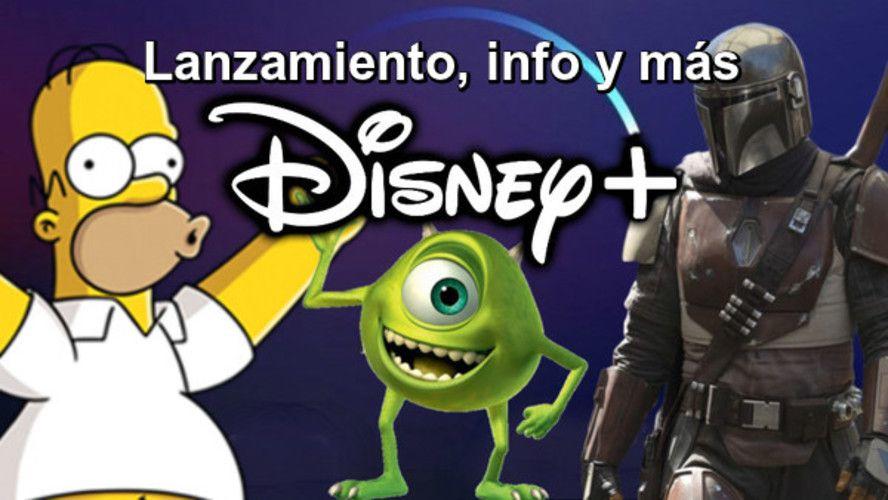 In this post you will see everything about the Disney Plus streaming service: what is it, when does it leave (date of launching), price, availability, and some series. ENTERS!
WE START:
A year ago, Disney announced who plans to launch his own streaming service for its large catalog of movies and television series. This platform would be a direct competition to companies such as Netflix, Hulu, Amazon Prime Video and Apple's streaming services, about which we will know more details soon.
After much speculation, we know that the Disney streaming platform It will be called Disney Plus (or Disney +, as the brand officially announces). With this name, he makes it clear that this platform will feature all his productions.
What is Disney Plus?
As mentioned above, Disney Plus is the official name of the Disney streaming service which was initially announced in August 2017. It will be suitable for all ages and will feature films, series and documentaries belonging to the Disney brand.
In addition to offering films by Pixar, Marvel Studios and Star Wars, it will also have National Geographic, since the Fox purchase is official.
Disney Plus release date, price and availability
Like all American products, Disney Plus launch will be first in the United States on November 12, 2019 and its price will be $6.99 USD per month or $ 69.99 USD for an annual subscription.
Notably will also include Hulu and ESPN Plus for consumers in the United States. The price to obtain the three streaming services will be $12.99 USD per month and will be available the same day as the launch of Disney Plus.
That same day, it will be launched in Canada for 8.99 Canadian dollars per month or C $ 89.99 for an annual subscription. Disney Plus will also launch in the Netherlands on November 12, priced at 6.99 euros per month or 69.99 euros for an annual subscription.
When is Disney Plus coming to Latin America?
Many fans on this side of the pond ended up disappointed because it was initially presumed that Disney Plus would arrive in Latin America in 2021.
Fortunately, at D23 Expo, Disney announced that its streaming will arrive next year (2020). This platform is expected also offer a free month like Netflix and Amazon Prime so that new customers can test their services.
What platforms and devices will be supported?
Without a doubt, the house of the mouse will want to be available and compatible on all possible platforms so that people can try their catalog of movies and series at any time.
Next, we will present a list of the devices that are confirmed to support the Disney Plus streaming service:
iOS (including iPhone, iPad and iPod Touch devices).
Apple TV set-top boxes (including integration with the new Apple TV app), which will allow customers to subscribe to the service within the app.
Android (Including Android-based phones and tablets; specific OS version has not yet been revealed.)
Based devices Android TV.
Google Chromecast and devices that have Chromecast built-in.
Game consoles Microsoft Xbox One.
Game consoles Sony Playstation 4.
Roku (including all Roku sticks), set-top boxes and televisions that have the Roku operating system installed.
Web browsers desktop for PC (currently unannounced).
The classic Marvel series
New for September 12, 2019: Disney knows the competition in the streaming world is strong, so it will turn to nostalgia. Recently, according to the Twitter account, Disney Plus Updates, the service includes some wonderful classics from the Marvel animated universe including:
Spider-Woman (1979).
Spider-Man (1981).
Spider-Man and His Amazing Friends (1982).
X-Men (1992).
Iron Man (1994).
Fantastic Four (1994).
The Incredible Hulk (1996).
Silver Surfer (1998).
Spider-Man Unlimited (1999).
Without a doubt, Disney Plus will enter the streaming market with force. This platform will try to satisfy the needs of all its clients, since it will have new series, remakes, the entire Marvel catalog and all Fox programs thanks to their acquisition. Without a doubt, it will not leave anyone indifferent and it will be a platform for all ages.
---
We hope this article has clarified all your doubts about the Disney Plus streaming service: what it is, release date and price.
Before concluding the post, I would like to recommend these related posts:
Did you clarify your doubt about when Disney Plus comes out? Do you have any other questions about what is Disney Plus streaming or the price? Leave us a comment!
See you in another post.