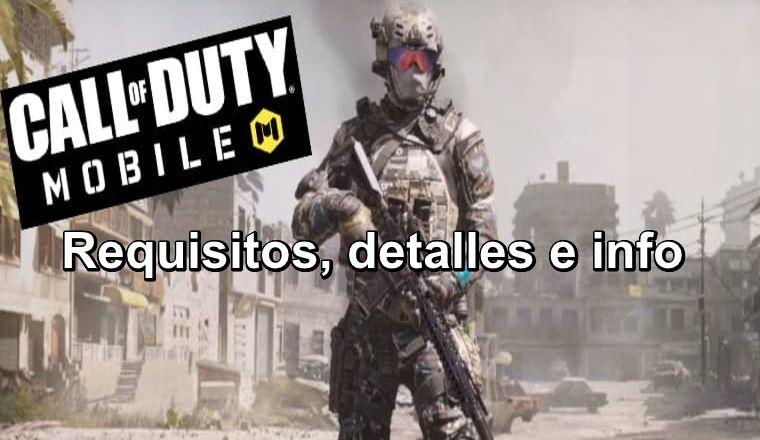 In this post we will show you everything you need to know about Call of Duty Mobile: What is it? When does it come out, that is, what is the release date of Call of Duty Mobile? Will COD Mobile be available for iPhone and Android? Which are the requirements from COD Mobile? ENTERS!
WE START:
You could see it coming from far away. Call of duty mobile It will be coming soon to all iPhone and Android around the world. Currently, there is a trial version available in some countries, but this game will soon be playable worldwide.
There are many unresolved questions about this new mobile game: What is it? Is it a mix of COD for console and PC? Is it a totally different game designed for cell phones? Next, we will answer all those questions and more.
What is Call of Duty Mobile?
Given the success that Fortnite and Free Fire represented, Call of Duty, the video game originally for consoles and PC, reaches cell phones like Call of Duty Mobile, where you can enjoy all its features and play with people from different parts of the world (when released globally).
This video game was announced in March 2019, with the Activision editor announcing that it would like to develop more games for smartphones in the future.
COD Mobile is being developed by Tencent, who has experience creating multiplayer online games for mobile platforms.
At the moment, all the modes that were announced are Player vs Playerincluding Battle royale, which replicates the success of Fortnite, PUBG and Free Fire. However, Activision has revealed that the game will not be exclusively multiplayer, as additional game modes will be announced later.
When does it come out all over the world?
At present, a beta version is available in India, Canada, Australia and, representing Latin America, Peru. That's right, the Inca country was selected in this testing phase.
Although it should not take long for it to be available in the rest of the world, as this application it's being a success among shooters lovers.
But if you want to do the pre-registration on your Android device, you can set it aside through the following link:
What are the minimum and recommended requirements?
For its part, this excellent video game by Call of Duty Mobile for Android will have to meet certain basic requirements so you can play without discomfort.
Next, we present the table of minimum requirements that your Android device must have:
Android system: version 4.0.3 or higher.
Storage: 2 GB.
RAM memory: 2 GB.
Processor: QuadCore.
CPU: 1.6 GHz.
If you want to play Call of Duty Mobile in a unique way, these are the recommended requirements to play it in an amazing experience:
Android system: 4.1 or higher.
Storage: 3 GB.
RAM memory: 4 GB.
Processor: Octacore.
CPU: 2.4 GHz.
If you are an iPhone user, the same App Store will indicate if you do not comply with them, since the same iOS version message is the main fact for not being able to install video games.
How much will Call of Duty Mobile cost?
Call of Duty Mobile will be free, it won't cost a penny to download. However, you can acquire points to level up in exchange for real money. Also, like other games of the same genre, you will be able to buy skins (clothes that the characters wear) and weapons for a certain amount of money.
It should be noted that Call of Duty Mobile also will have a free Battle Pass and a Premium one for those who wish to enjoy additional benefits.
What game modes will be available?
The first series of game modes will be the popular multiplayer, since they are the ones that fans prefer the most.
You can choose between three types of games: normal, ranked or private, depending on the type of players you want to face. Ranked games will reward XP (experience) and other items.
The multiplayer games announced so far are Frontline, Team Showdown, Gun Game, Search and Destroy, and Dominion. Besides these, also there will be a battle royale mode, as in PUBG and Fortnite.
What will the Call of Duty Mobile Battle Royale be like?
Activision has given some details about the characteristics of its Battle Royale mode. It's being tailor-made for mobile gaming and while there are some similarities to Blackout, it will be exclusive to the series.
Likewise, there may be up to 100 players per game on the same map and will have as option to play alone, as a couple or in a group of 4. As in Call of Duty Blackout, you will be thrown from a plane and you must fight to be the last person standing. If you are in a team, you can revive your teammates and continue playing in a group.
Likewise, 6 classes will be available for your character: Clown, Explorer, Medic, Ninja, Defender and Mechanic. You can only choose one class per game and each one of them is vital for the survival of your companions.
---
I hope this article has dispelled all your doubts about the Call of Duty Mobile release date and everything you need to know before it.
Before ending the article, I would like to mention these following to you Related Posts to the Gaming that might interest you:
Do you have any questions regarding the release date of Call of Duty Mobile? Have you already done your pre-registration for Android? Leave us a comment below!
See you in a next article.