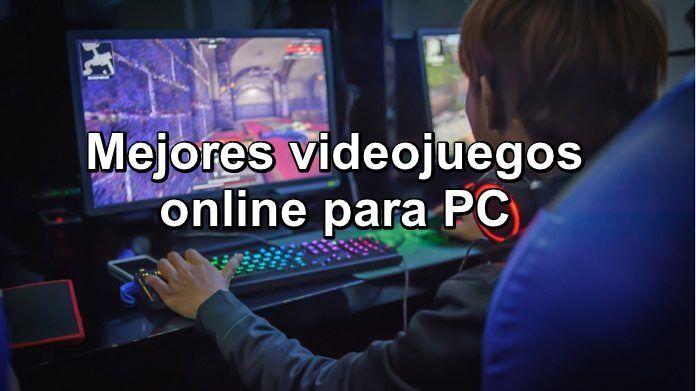 In this post you will know the best free online games for PC, recommended by users and that have marked the history of the gaming industry. ENTERS!
WE START:
Welcome to this post.
Do you consider yourself a true gamer? Is playing from the computer your thing? Then it is your lucky day, since this time we bring you a list of the best games for pc totally free. Follow us!
The video game industry has changed over time, that is why every year new titles are added to the list and it is not necessary to buy a console or pay to enjoy them like a professional.
Thanks to the receptivity on the part of players, many developer companies have chosen to go to the "free to play games", Employing improvements in the graphics, optimizing their playability or other aspects, making them unique and incomparable games in their genre. Do you dare to know the best and most recommended free online games for pc?
The best free PC games
Call of duty
This acclaimed saga should not be missing from any video game list, loved by critics due to its constant evolution. CoD is game of shooter in first person. His first release called "Call of duty"Is based on the Second World War and its mission is simple, to end the Nazis.
For the great reception that this saga had more than 20 titles were developed. Each one of them based on some historical fact and adding certain modifications until reaching a more futuristic era.
Recently, one of the titles with the greatest impact on the gaming community was Call of Duty Mobile, who takes epic maps from previous installments and presents them in a mobile version. This way you can relive titles from the past with nostalgia.
Apex legends
We can say that Apex legends is the newest on the list and has quickly positioned itself among the Most played games of 2019. This video game is the last one designed by the companies Electronic arts Y Respawn Entertainment.
It's a style game Battle royale where 60 players participate at the same time, but unlike other similar titles, Apex legends integrates new mechanics in multiplayer mode, where strategy plays a fundamental role in cooperative games.
Fortnite
It is impossible to talk about Battle Royale without praising Fortnite, who in recent years has been the favorite of millions of players, being considered by many as one of the best Free to Play games.
The most representative of this game are construction mechanics in their fights, being a shooter quite cool thanks to its playability and graphic quality.
In addition to this, the most recent events that occurred where a black hole swallows the Fortnite universe They have blown up social networks, once again surprising the gamer world with something new.
PUBG
Called by many the forerunner of Battle Royale, There is no denying that of all BR, PUBG is the most "realistic" when it comes to survival. Like Fortnite, the saga PUBG has become another unforgettable survival game.
Within its playability you will be thrown onto a stage with other players creating tense and fun encounters during games. That is, you arrive on an island semi-naked and you must battle to get supplies (clothes, weapons, ammunition) everything you need to be the last survivor.
Leage of Legends
To this day LOL being the favorite MOBA of countless gamers, with more than 100 million players per month and, despite the time that has elapsed since its launch, it brings new updates and characters monthly, each one having unique abilities.
It is currently one of the games that moves the most money in the world of eSports, where you can choose your favorite hero and face your opponents together with your team, thus waging competitive games.
DOTA 2
It is incredible that the MOBA game genre was born from a personalized Warcraft 3 map, where only gamers who lived through the era of cyber cafes will remember those unforgettable moments. And thankfully the developers at Valve brought back DOTA.
DOTA 2 arose on the wave of RPG launched in 2013 and still has a huge fan base, has a wide range of heroes and each with different abilities.
Is about a strategic game and only the most skilled will be able to emerge victorious. It is available on the Steam store for free.
Heroes of the storm
Another recommended game for PC is Heroes of the storn. He himself is an entertaining MOBA genre game which was created by the developers of Blizzard Enterteinment, where those famous characters belonging to the other titles of this company come together to give mythical games. A game that undoubtedly offers unforgettable experiences to any Blizzard fan.
It has different game modes, you can play alone, enjoy games with your friends or fight to the death against the computer. He himself has a wide variety of heroes, from evil orcs to powerful sorcerers. With Heroes of the storm You can spend hours playing until you reach the maximum level of your hero.
Team Fortress 2
If we want to talk about classics, Team Fortress 2 is one of the most recommended multiplayer games for PC and valued in the video game industry, and since its launch on October 10, 2007, it has managed to survive for more than a decade and continues to be the favorite of many.
It is one of the best games for the PC. You will be able to choose between the 9 characters (each one with specific characteristics and functions) and play in different ways on one of the two teams. In addition, it is possible to customize the characters, giving a more fun touch to the games.
The Elder Scrolls Legends
It is the new proposal that this popular franchise has brought us, turning the fantastic RPG into a quite entertaining card game, where you can build your deck to face other players, in addition to bringing a story mode that will make this game an unforgettable experience.
A strategy game where you must be very wise when choosing your deck of cards. The Elder Scrolls Legends it is full of paladins, wizards, vikings, dragons and different creatures. All of this comes together so that the player can enjoy a medieval epic battle. It is available for PC and Android and iOS mobile devices.
World of tanks
World of tanks It surprises us with the epic battles that are formed in the games, where strategy and good aim are crucial to define victory.
Something relevant is the constant renovation that its developers have given to the game, bringing a new version with better graphics, the redesign of several levels, a new map and a soundtrack that produces a unique experience.
Likewise, it is one of the most recommended games for PC since it is full of tanks from the mid-20th century where your speed and strategic thinking will be tested. Take control of a beast of steel and become part of a great battle.
Smite
It is currently one of the most successful free games, and every day more gamers join this community. Each player must choose a mythological God and then divide into two teams. The winning group is the one who manages to finish off the titan that lies at the opponent's base.
These gods are representatives of different mythologies, each with a unique ability and characteristic. On the battlefield there will be uncontrolled characters or machines that will be subjects, who will work and provide gold and experience to your character. Smite it's available on the Steam store for free.
Path of Exile
If your passion is MMORPG games, so Path of Exile is the ideal candidate. You can choose between several character classes and enjoy a dark and gloomy atmosphere, where you feel more and more desire to continue playing and discover new territories. Without a doubt, one of the best multiplayer of this modality.
Path of Exile It is set in the dark world of Wraeclast, in this game you can customize your character in different ways and like any role-playing game there are two fundamental things: devastating skills and valuable items.
Thanks to the gems and the items obtained you can get all this and the best of all is that it is available online for free.
Paladins
Another categorized among the best games for the PC. A little over three years after its official launch, this game has surpassed fifteen million players, currently ranking among the Most successful Free to Play of 2019. It has some similarity to other games like Overwatch, where you can choose from a range of characters and test your skills with other players.
Each of these games managed to create its own communities and it is likely that most of them will continue to maintain that success for a long time, since they have qualities that make them unique and preferred by the community. gamer community. Download here.
Minecraft
Loved by many perhaps hated by others, but there is no doubt that it is one of the most popular video games of this era. Minecraft is a first person game of the genre of action, adventure and open world.
Here you can explore and design your own world, digging and building with different materials in the form of blocks, the limit will be your imagination.
This game is in constant evolutionNowadays, it is possible to play Minecraft with augmented reality and in this way live the experience in a totally different and new way.
Old School RuneScape
This mythical game is already considered old school due to its long journey in the gamer world. Old School RuneScape Play the challenging leveling system and retro-style PvP, you can have your own life and be the person you have always wanted, battle against giants, be a magician and hunt ghosts, consider yourself a blacksmith and forge the most valuable weapons, all this and more you can do in OSRS.
You can also play with millions of users worldwide for freeAlthough it has worlds that you must pay to access them, but the good news is that you can buy the pass while playing without having to spend a single penny.
As you will see, there are many of the best free online PC games that have marked gaming history for decades and the community continues to grow so we will have titles like these for a long time. If you haven't played them yet, what are you waiting for? It is never too late to start.
---
Before finishing the post we would like to tell you that we belong to the community Gaming and here you can get everything new in this passionate world. Visit us!
We suggest the following video game posts:
Now, what did you think of this list of the best free online PC games and the most recommended? Do you think that some free games? If so, let us know, we will be grateful for your contribution.
Until next time!