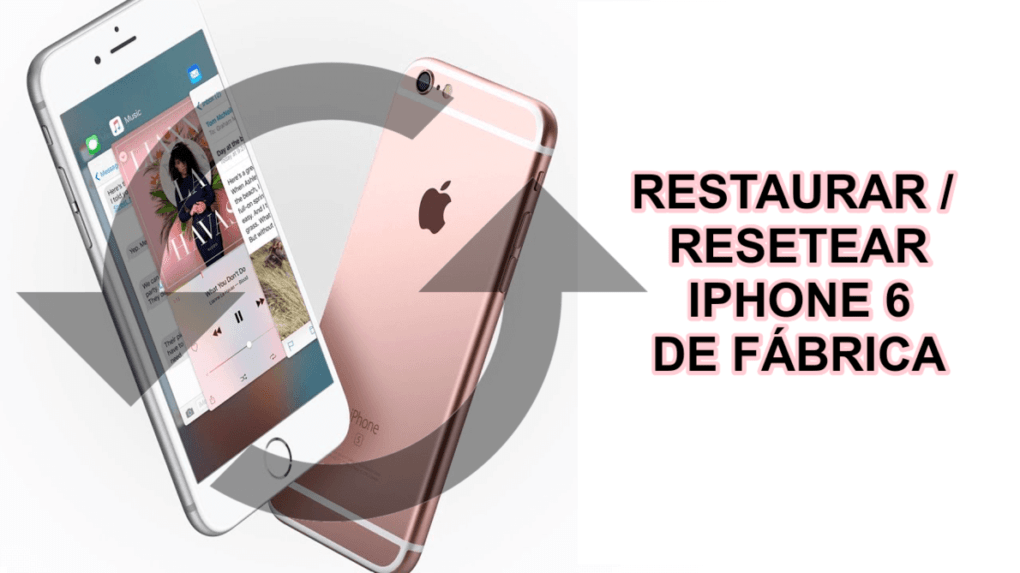 In this post you will learn how you can reset, restore or restart an iPhone 6 cell phone or iPhone 6s simply and for free.
The iPhone 6 has been one of the most popular Apple cell phones, and also one of the best sellers, both as new and second-hand.
Maybe you've been using your cell phone for a long time, and you have a lot of content, which leaves you little or no storage, and you don't know how to manage all this. For this, the team is slow.
Also, if you bought it second-hand, the previous owner may not have reset and erased all the contents that he had with him, and now you will have to do it to leave it as new.
Regardless of the reason, here at Master Coria we always recommend restoring and resetting the iPhone 6 to make sure that it does not have foreign files, viruses or correct any defect in software functionality.
Previously, we had already written an article about how to factory reset iPhone, but here we will discuss how to specifically reboot iPhone 6.
Are you ready to learn how to do it step by step? Follow the tutorial!
Steps to restore iPhone 6 from factory
There are multiple methods to be able to reset your iPhone 6 or iPhone 6s from the factory, so, depending on which one suits you best, you will have to choose one of them.
You can factory reset your iPhone 6 using the computer, or directly from the deviceor. If you have a computer, we recommend restoring it through iTunes (here we explain how), or if not, directly from the device.
WARNING
MAKE A BACKUP COPY Before performing either of these two procedures that we will present to you in case you need to retrieve any information in the future or any inconvenience occurs.
From iTunes (computer)
If you have a computer, in this procedure we will explain how do a hard reset of your device. You will not have to have your Apple ID, and you can reset your iPhone 6 and 6s cell phone even if it is locked.
NOTE
If your device does not respond correctly, is locked or you do not remember the password, you will have to apply this method.
Follow the detailed steps below:
1.- First, you must have your iPhone turned on, and, on your computer, have iTunes open.
2.- After, connect iPhone with the original cable from the device to the computer.
3.- Then, press the power button and the home button at the same time, as you can see in the following image:
4.- When it turns off, take your finger off the power button, but DO NOT REMOVE your finger from the home button. Wait a few seconds.
5.- On your computer screen, a message should appear saying «iTunes has detected an iPhone in recovery mode«. Hit "OK" to that message.
6.- Then, click on the button «Restore iPhone»To proceed to erase all the contents of the iPhone 6 and leave it as factory.
7.- A confirmation message will appear. Click on "Restore".
8.- Wait for the process to finish. When finished, a window will appear saying "iPhone has been restored." Allow the seconds that it indicates to pass so that it closes automatically.
9.- Wait for your iPhone 6 or 6s to restore in its last stage. Afterwards, it will turn on so that you can configure everything as if it were from the factory. Clever!
From the iPhone
The option to restore the device using iTunes is used in the event that your device is unresponsive or locked. This is called a "hard reset."
If your cell phone is in good condition, and you only want to delete the contents and settings because it is slow, you want to free up space or you want to sell it, it is best to use this option.
Then follow these procedures to restart and restore iPhone 6 and 6s:
1.- First, go to «Settings» of the device.
2.- Then, go to the «General» option.
3.- After entering that option, click on "Reset".
4.- You will enter another section. Click on the option «Clear content and settings«.
5.- Finally, an option will appear asking you if you are sure to carry out this action. If you are completely sure, accept the permissions. We recommend that you have already made a backup just in case before pressing the button.
6.- When you confirm the action, iPhone 6 will begin to restore. When finished, you will have it factory restored.
---
We hope this post has been very useful for you. Do not forget that in this blog we talk more about Apple and its technologies. Visit us!
See you in a future post.