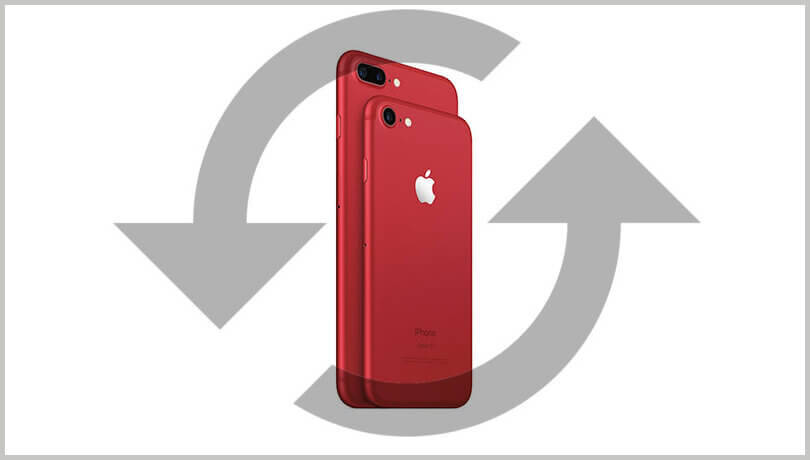 In this post you will learn how you can restart, restore or factory reset an iPhone 7 cell phone whether or not it is blocked, step by step, and totally free.
Sometimes it happens that a problem occurs with our iPhone cell phone and we cannot solve it. Has it happened to you that cell phone is too slow? Do you have WiFi and Bluetooth connectivity problems?
In any case, when the iPhone 7 does not respond, we will have to resort to a hard reset, that is, a forced restart of the system.
All these actions will leave the device as new, cleaning the memory of junk files or fixing any glitches that I could present.
In the same way, if you want to sell the cell phone, you must make sure delete all files and personal data from the cell phone, and to erase everything completely, you will need to reset the iPhone 7 from the factory.
Regardless of the case, today we will teach you how to factory reset your iPhone 7 even if it is locked or not responding. Let's go to the tutorial!
Ways to reset it
There are multiple ways to reset the iPhone 7 from the factory, depending on the needs you propose to solve:
Hard Reset: Your phone is not responding, you forgot the unlock password, or it has some internal problem that prevents its proper use. You should have available a computer, original cable, and the iTunes program installed on the computer.
Reset: Your iPhone 7 device works fine, but you want to sell it, give it away, or simply erase all your files and documents to leave it out of the box.
In this way, you must resort to any of the 2 methods previously explained to be able to restart and reset your iPhone 7 and leave it factory.
WARNING
Before performing any procedure, MAKE A BACKUP COPY as a preventive measure against any unforeseen event or accident such as loss of some important data that you did not remember you had.
Hard Reset iPhone 7 from iTunes
As we mentioned a little above, this method to restore the iPhone 7 from the factory should only be used if the cell phone unresponsive, blocked, or not working properly.
Through your computer, we can do a forced restart of the iPhone 7 so that it is in optimal conditions of use again.
Follow the detailed steps below to hard reset your iPhone 7:
1.- First, you must have a Mac or Windows computer with the iTunes program installed and open.
2.- Then, connect your iPhone to computer.
3.- Subsequently, press at the same time the power button, and volume down button, as you can see in this image. Hold it down for 10 seconds.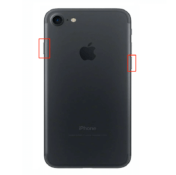 4.- Within that process, just at second 10, release the power button and press and hold the volume down button. Do not stop pressing it and wait for a moment.
5.- After a moment, iTunes should recognize the iPhone with the message «iTunes detected an iPhone in recovery mode«. Click on "Accept" to that message.
6.- Subsequently, click on the button «Restore iPhone»To be able to reset your iPhone 7 using the hard reset mode, as you can see in the following image:

7.- It will start to restart and restore the iPhone 7. You will have to wait for this process to finish, which could take a few minutes. When finished, your device will be like new.
From iPhone 7
In the event that your device is not damaged and is working properly, and you just want to delete all content that it has inside, this is the process you should follow.
The previous process (see section above), is a hard reset of the iPhone 7 in the event that your cell phone does not work correctly.
Because in this section the cell phone should work well, the reboot and restoration of the iPhone 7 will be done from the same cell phone.
Follow these procedures to be able to reset the cell phone step by step:
1.- First, access within the phone settings, from the app «Settings«.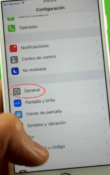 2.- Subsequently, access within the tab «general»In« Settings ».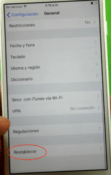 3.- Then, scroll to the bottom of the section, and access within «Restore«.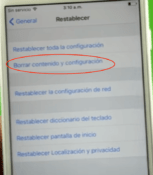 4.- Subsequently, click on the button «Clear content and settings«. The cell phone will ask you for 2 confirmations, in both, press the button «Erase iPhone«.
5.- Once the above is done, the reboot process will begin iPhone 7. You will have to wait a few minutes for it to finish.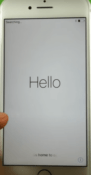 6.- When finished, you will see the initial setup screen, just like when you set it up the first time. This is how an iPhone 7 is factory reset!
---
We hope this article has been of your help. Don't forget that in this blog we love to write about Apple Inc and its products. Visit us!
See you in a new post, reader.