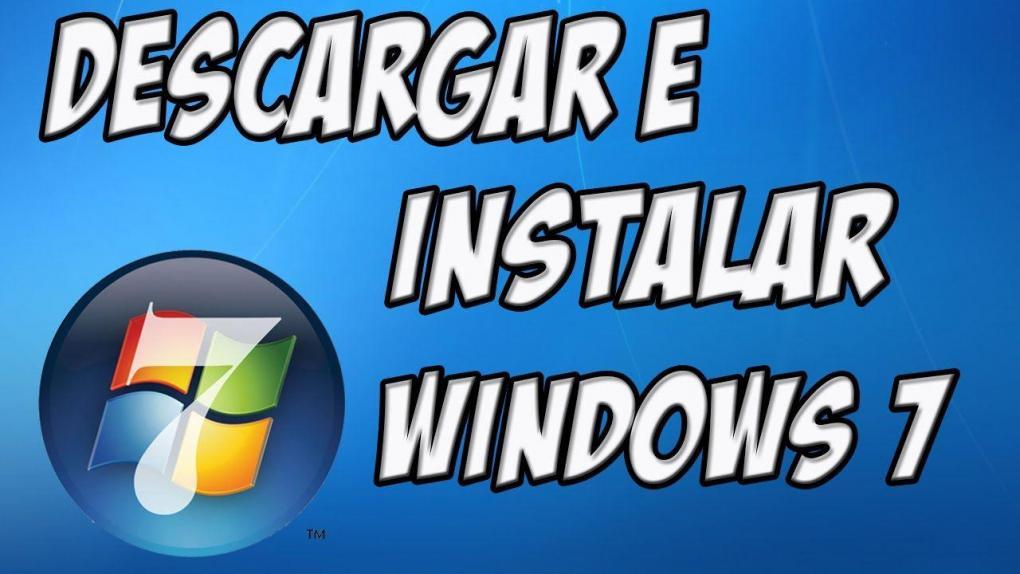 In this post you will learn how you can DOWNLOAD and INSTALL the Windows 7 FULL ISO (Ultimate and Starter editions) in Spanish and free for 32 and 64 bits, either direct download or by Torrent, in addition to activating it FOR LIFE in just a few minutes. ENTERS!
WE START:
Hello to the whole community.
I come with another tutorial, and this time I will show you how you can download and install the ISO of the famous Windows 7 Ultimate and Starter Full in Spanish and also for free.
You know, first we ask the fundamental question for those who do not yet know what this is (If you want, you can skip to the instructions section, below):
What is Windows?
Windows is a graphical interface (operating system: MS-DOS) from Microsoft, which throughout its history, have experienced several versions that have been adding improvements in its graphical environment, in its performance, in the hardware characteristics of the equipment and in the utility applications to facilitate the user's work.
Windows 7 installation requirements
Processor 1 gigahertz (GHz) or faster 32-bit (x86) or 64-bit (x64). *
1 GB RAM (32-bit) or 2 GB of RAM (64-bit).
16 GB of Available space on the hard disk (32-bit) or 20 GB (64-bit).
DirectX 9 graphics card with WDDM 1.0 or higher driver.
Requirements to support additional features
Internet access (additional fees may apply).
Depending on resolution, video playback may require additional memory and advanced graphics hardware
It is possible that some games and programs require compatible graphics cards with DirectX 10 or higher for optimal performance.
Some functions of Windows Media Center may require a TV tuner and additional hardware.
The teams Windows Touch and Tablet PC require specific hardware
Home Group requires a network and computers running 

Windows 7

The creation of DVDs or CDs requires a compatible optical drive
BitLocker requires Trusted Platform Module (TPM) 1.2
BitLocker To Go requires a USB flash drive
Windows XP Mode requires a 1 GB additional RAM and an additional 15 GB of available hard disk space.
Music and sound require audio output
Instructions for installing Windows 7
Before you start, it doesn't matter if you're downloading either Windows 7 Ultimate or Starter, these steps work for both types of systems. Once this is cleared up, let's go for it!
First, make sure you have the necessary requirements to install this graphical interface; I have left them a little higher on this page.
Then, you need to download the corresponding ISO of Windows 7 (Ultimate or Starter), go to the end of this site to find both 32 bit and 64 bit free download.
Then make a backup your drivers, because when we reset our PC, the drivers will be lost. Go to that link on my blog, and skip to the section that explains how to make that copy.
Finally, you are going to have to choose how to do this tutorial. You have 2 options: install Windows 7 Ultimate using a USB or from your operating system on your computer. Please go to the section you chose.
Install it from USB stick
1.- First, you must make your USB memory bootable. Go to that link on my blog, where I explain that procedure (although the tutorial is for Windows 10, you can do it with Windows 7).
2.- Now, we will have to configure the BIOS of our PC, in order to start the installation from boot.
3.- Then start the boot from your USB stick / DVD / CD.
4.- When it loads, a menu will appear. In section "Language to be installed«, Assigns« Spanish »; «Time and currency format» assigns «Spanish (Spain, international)»; Y "Keyboard or input method»Assigns« Spanish ».
5.- After that, click «Next».
6.- Then, click "Install Now".
7.- After that, accept the terms of use, and click «Next».
8.- Then select the "Custom (advanced)" option.
9.- After, select hard drive where Windows 7 Ultimate will be installed, and click «Next».
If there is another Windows on the disk partition you chose, the following will appear: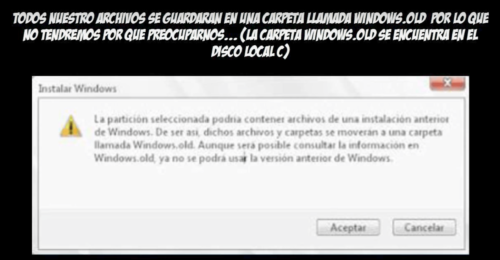 10.- Then, click "OK". Anyway, if you don't want those files later, delete "Windows.old" when you access the interface.
11.- Once the above is done, the penultimate installation processWait for it to finish, and when this happens, your computer will restart.
12.- Yes now, will start automatically the last installation process. Wait.
Finishing the USB installation
It will reboot again and then tell you that it will prepare the necessary devices to install on your computer. Wait another few minutes.
13.- Then, our computer will restart again. When the screen loads, it will ask you to enter your username and team. Try to assign one of your own, do not assign characters randomly. Click "Next" when you're done.
14.- Then enter the password for your username, and click «Next» (in case you don't want to, just click «Next»).
15.- Then leave the activation section of the product in soft, and click on «Next».
16.- Then click "Ask me later."
17.- Now only the time zone is missing. Enter the time of your country.
18.- Now yes, the last configurations will start and that's it.
If you want to activate itgo to my other tutorial, where I explain that.
Install Windows 7 Full using your computer
First, you have to download Daemon Tools Ultra. We will use it to record Windows 7 and install it.
Then you have to set up BIOS so you can continue with the next steps.
After that, unzip the file Windows 7 Ultimate or Starter (I remind you that the download links are below).
Then give double click the .iso file that is inside.
Once this is done, click on "Open folder to view files" or "Open folder to view files«.
Then click on the file «setup.exe«.
Then, click on «Install Now«.
After the above, The installation program will start. If you get a box asking about getting new updates, REJECT IT.
After having rejected the above, accept the terms of the contract, and press «Next».
Then click "Custom (advanced)."
After, select hard drive partition where you want to install Windows 7 Ultimate.
Then follow the installation wizard, it is not difficult. When you are done, you will have it installed.
If you want to activate it, go to my other tutorial where I explain how to activate Windows 7 totally Full.
Download Windows 7 for free
This operating system is equipped with the highest updates which were derived from its predecessor Windows XP; major bugs have been fixed and huge additional functionality added.
In addition, it has a improved design compared to its predecessor ... a more user-friendly and intuitive design.
The difference between Windows 7 Ultimate and Starter is that the Starter is designed for computers with few resources, therefore it cannot be used for heavy tasks, or open many programs ... It is the most limited of all Windows 7.
If you have a low-income team and you will not use it for video games or heavy duty things, download this iso from the computer Windows 7 Starter it's your most viable option (available both 32-bit and 64-bit).
The Ultimate version is the final, hence his word ... It contains all the features of the Enterprise and is designed for a COMPLETE use and without limitations, so if you have an excellent team with good resources, we recommend you download the Windows 7 Ultimate iso that you have for free below.
IMPORTANT
WE RECOMMEND that your file decompressor be updated and recent, because if you have an old version, it may throw you an error when you want to decompress the RAR.
Download WinRAR FULL here
.
Windows 7 Ultimate Download
As we mentioned before, this Windows 7 Ultimate is for computers that contain a good amount of available resources Because it is designed completely for this type of computer due to its high characteristics.
Because the computer may vary in architecture, just below you will find the links to download the versions 32 and 64 bit iso Windows 7 Ultimate for free.
If you want to download the 32-bit architecture, go here:
Otherwise, the 64-bit architecture is here:
Password for both architectures: cybersoul
Download Windows 7 Ultimate via Torrent
The download via torrent of the system Windows 7 Ultimate It is available fully Full, if you decide to take this efficient alternative.
If you do not want to meet the limit imposed by MEGA in the download of the ISO, we recommend you download Windows 7 Ultimate via Torrent.
Torrent is a form of seamlessly download files directly to your computer without using any web portal such as MEGA, Mediafire, etc ... Without further ado we leave you the Torrent files for downloading the ISO.
If you have 64 bits, download the torrent file here:
Download Torrent Ultimate 64 bits
Otherwise, we leave you the Torrent for the 32-bit architecture:
Download Ultimate Torrent 32 bits
Download Windows 7 Starter
This version of Windows 7, the Starter, is the most basic of all the versions that were taken from this legendary system.
As we discussed above, if your computer has low RAM, it doesn't have as much disk space, and also a slightly inferior graphics card, we highly recommend downloading the Starter version of Windows 7 (free download links below).
Mention that you will not be able to use this system to install programs that consume high resources (such as video games or engineering programs) ...
You must know what type of architecture your computer is in order to download the version 32-bit or 64-bit iso from Windows 7 Starter for free.
If your PC is 32-bit, download this from here:
Otherwise, if it is 64-bit architecture, click here:
Password: code-full
Download Windows 7 Starter by Torrent
If you know this novel system of torrent download, we recommend you use it. To the download Windows 7 Starter Full For a Torrent file, you are evading the download restriction that MEGA, Mediafire or those types of platforms put.
It is an overly practical way to lower the Windows 7 Starter system ISO file on your computer for free and safely using a Torrent file.
All you have to do is give double click the torrent to start the ISO download. We leave you the links of the architectures of 32 and 64 bits of Windows 7 Starter Full.
Torrent file for 64-bit architecture (you need to have a torrent manager already installed):
Download Torrent Win Starter 64 bits
Torrent file for computers with 32-bit architecture:
Download Torrent Win Starter 32 bits
Download Windows 7 Activator
This Windows 7 activator It will help you save effort in entering the product key into the records.
This program was designed and built with the purpose of help you activate Windows 7.
If you want to download this great activator, you just have to go to the link that I leave here below.
With this program, you can have 100% what Windows 7 is. There will be nothing else to do. Enjoy it!
---
I hope this article has been helpful to you.
In our blog we talk about many Windows related topicsWe love to offer tutorials, activators, and much more. Visit us!
Could you download and install Windows 7 Starter and Ultimate Full free? Leave us your comment!
See you in another new post.