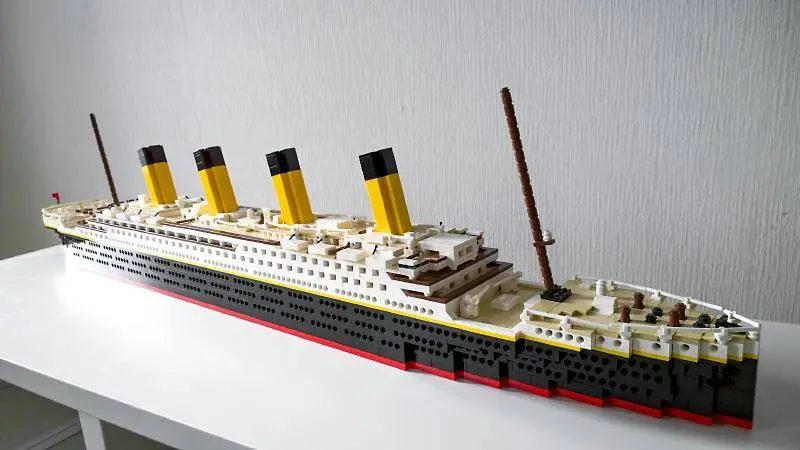 Don't you want build the Titanic with LEGOs?: Well, in this tutorial you will learn how to assemble the Titanic with the famous pieces, step by step. ENTERS!
Note:
The guide is not mine, and from what I understand, it is free. It was made by a company, the rights are reserved for them.
WE START:
Hello to the whole community! We start this 2016 with a good post.
Many people have been fascinated by this ship that sank more than 1 century ago: The Titanic.
Today I am going to present you a fabulous STEP BY STEP guide to building the Titanic with LEGOs!
But before presenting it to you, for people who do not know what I mean, we always put the main question on the table (if you want, skip the download section):
What exactly was the "Titanic"?
Its full name is "RMS Titanic", and it was the largest ship ever built in its time (1900s): it could carry 2,787 passengers and 885 crew members.
He left on his maiden voyage from Southampton on April 10, and his destination was New York.
Between the night of April 14 and the early morning of 15, 1912, the Titanic collided with an Iceberg, which tore it from the front right, causing it to sink.
See full story at Wikipedia.
Download manual to build the Titanic with LEGOs
The point with this manual is that many children or many people would like to reconstruct this scene of this beautiful ship, which in those days was the best of the best.
With the pieces called "LEGO" you can build this scene, thanks to this you can be a great architect building and having fun with your family or by yourself.
Without more to lose, we leave you the guide in PDF:
Download instructionsManual to build the Titanic with LEGOs
I don't want to leave without first inviting you to know more about my blog, we have more tutorial posts interesting or more PDF content just as interesting as this one.
Were you able to assemble the Titanic with LEGOs? Let us know in the comments!
See you in another post!