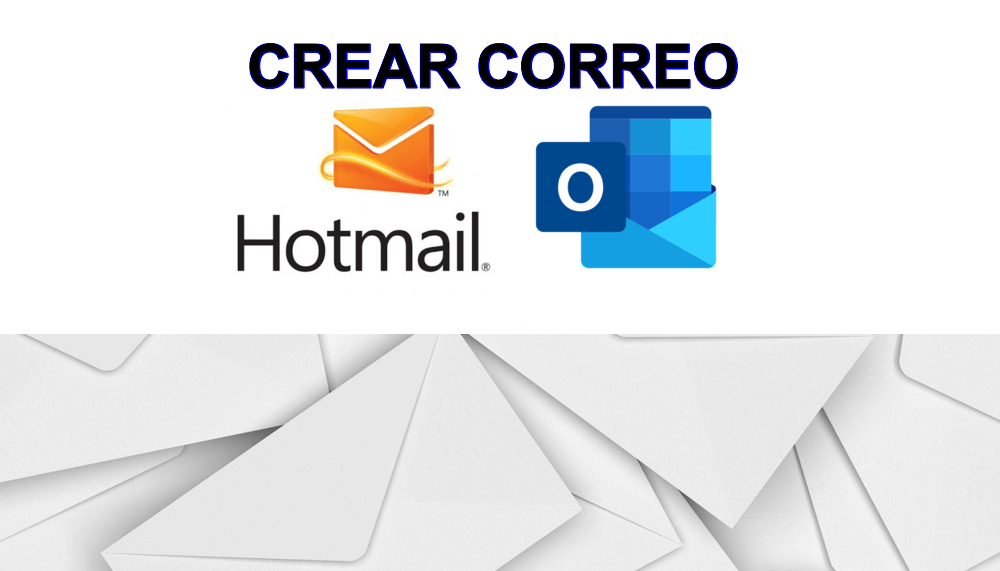 In this post you will learn how you can create a Hotmail or Outlook email account step by step and register for free.
Hotmail is an internet service that provides its users with the ability to create emails, in order to communicate with other people, interacting with rich text messages.
Initially launched in 1996, Hotmail has been around ever since, innovating and improving its service to offer us the best user experience.
At the beginning of 2013, Hotmail migrated to the new Outlook interface, which makes the connection of users more intuitive. By your demand, you may need to create a Hotmail or Outlook email account, let's see how to do it!
Steps to create a Hotmail email (now Outlook)
Even though the website interface has changed over time, signing up for Hotmail or Outlook still remains the same as in the past.
The only thing you will need is to have a computer on hand that you have a stable internet connection. Having this, we can proceed to create the free Hotmail or Outlook email account:
1 First, access Outlook.com or Hotmail.com in your favorite web browser. You can use Google Chrome, for example.
2.- Once inside, you will see the following portal: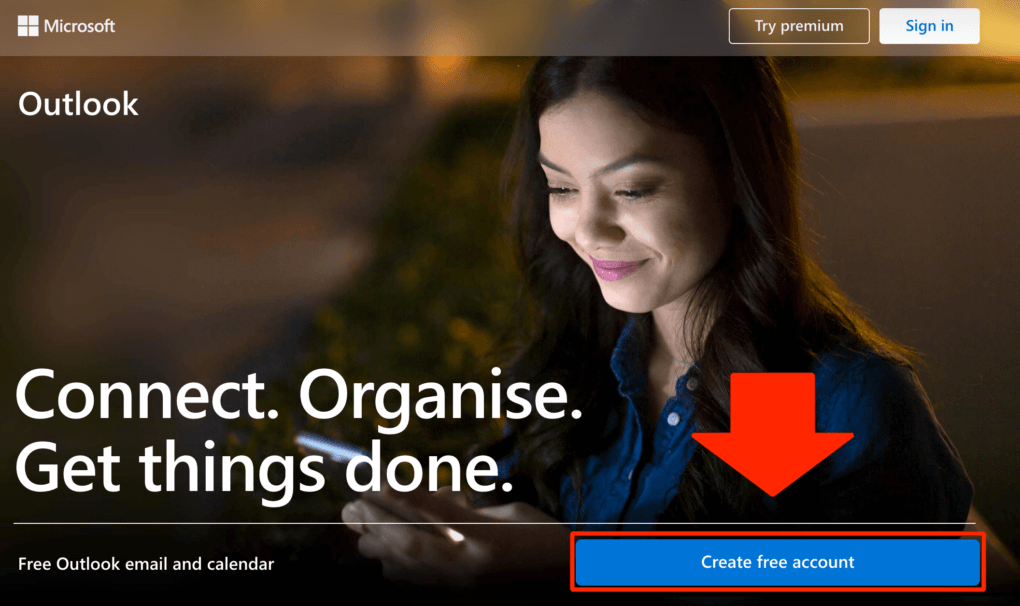 You must click on the blue button to continue.
Create Hotmail account
When you press the blue button, a form will open that will start asking you for the new account information to be able to create the Hotmail or Outlook email.
3.- You will see the following screen:
You shall put the email name in «New email», that is, the name under which the email address will take place. For example: "[email protected]".
You can choose if you want to have an email @ outlook.com or an @ hotmail.com; this does not affect the next steps or the operation at all, it is the same.
4.- Once the name has been chosen, the next section will ask you set up an email access password, as you can see below: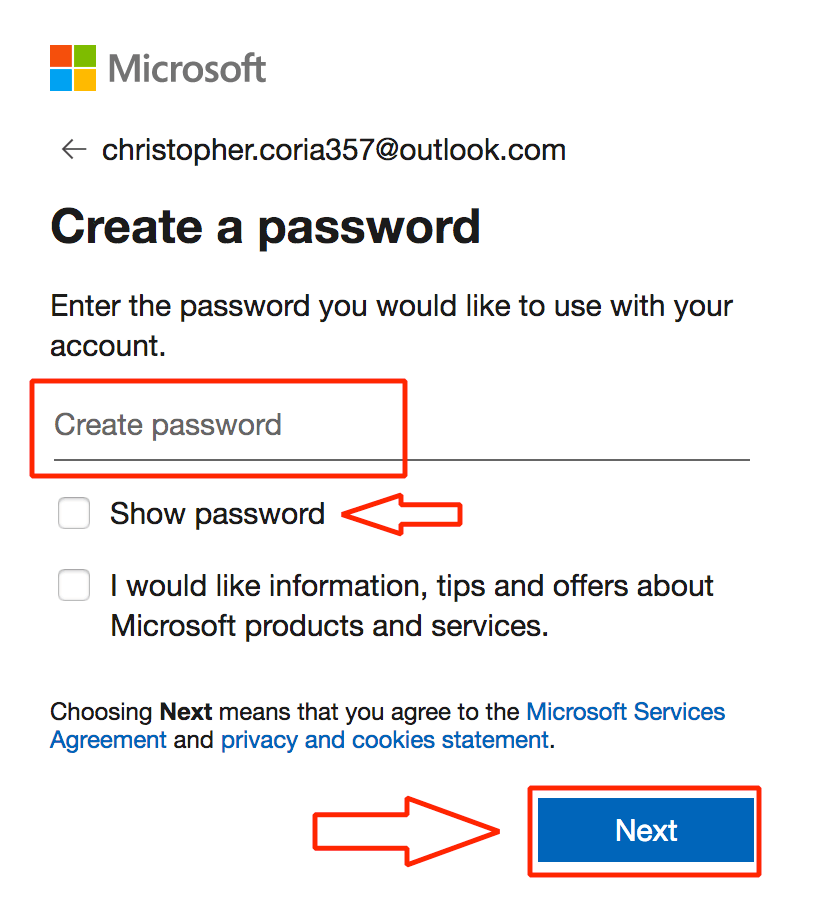 In the "Create password" box you must enter a password to email. You can use the "Show password" box to show the password instead of the black dots.
When you are ready, click on the blue "Next" button.
5.- After setting the password, Outlook.com, you must put your name and surname in the next window: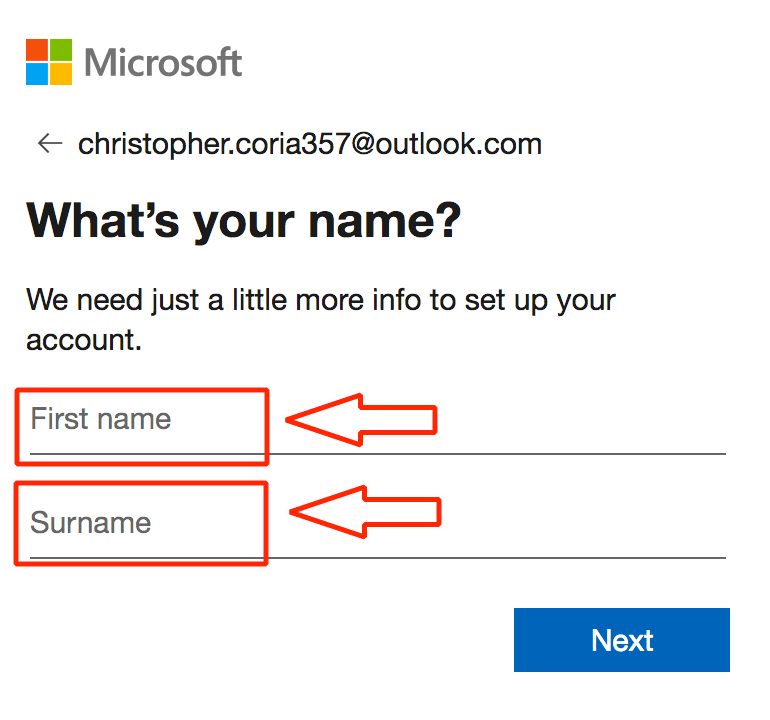 You must enter your name or names in "First name", and in "Surname", you must enter your surname.
6.- Once placed, click on «Next». Now, you will see the following screen: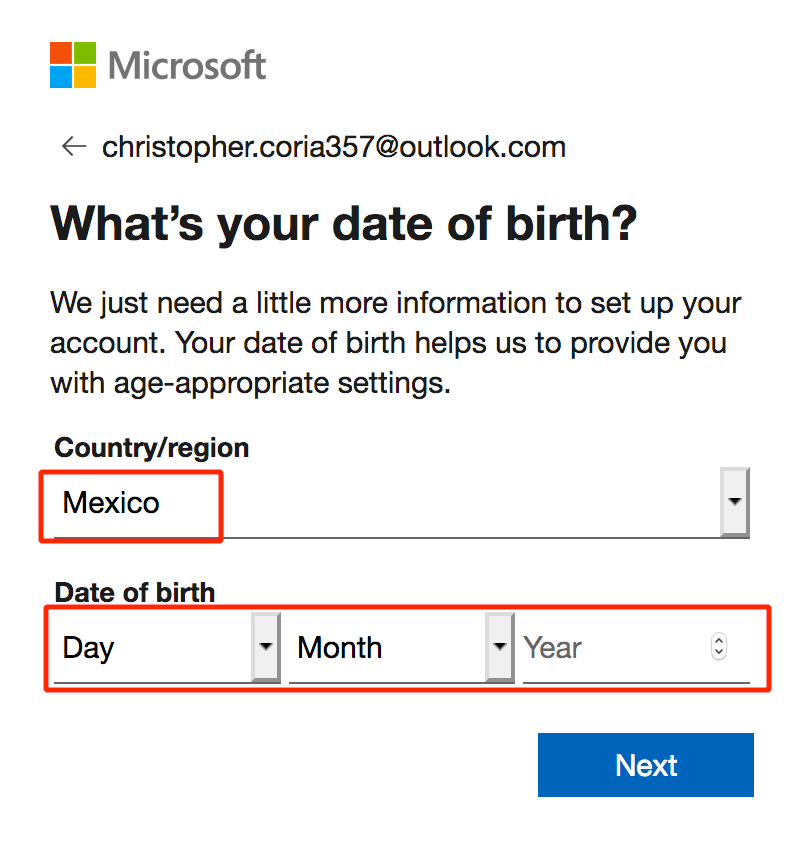 In the "Country / Region" section, you must enter the country of your origin, and in "Date of birth", put your day, month and year in that consecutive order. These steps are necessary to create your Hotmail or Outlook email.
7.- Once configured, click on «Next». Now, you will see the following section: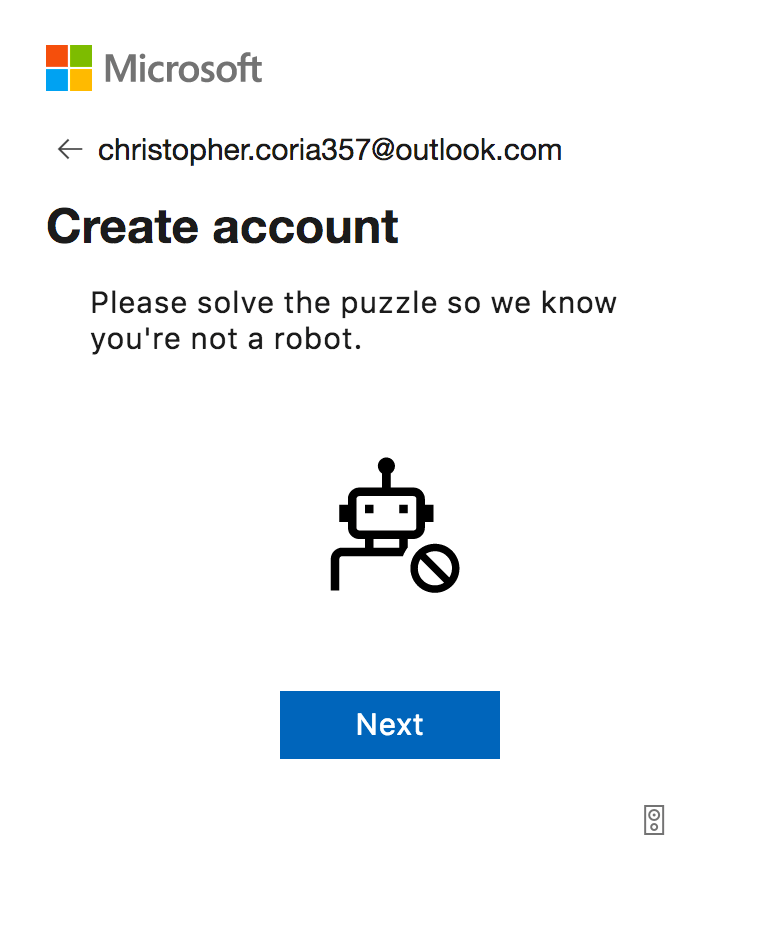 Basically Outlook.com asks you to solve a puzzle to verify that you are not a robot. This is necessary, therefore, click on «Next», and you will have to place the piece that is indicated in front of you.
Once you solve it, your account can be created. It will redirect you to your inbox.
Change the language from English to Spanish
We have just seen how to create an Outlook and Hotmail email account. Now, when you enter your inbox, you will wonder how to change the language of Outlook.com to Spanish, right?
Then follow these steps that continue with the change of language of the email interface.
8.-  Now we must change the English language to Spanish. Locate the following section: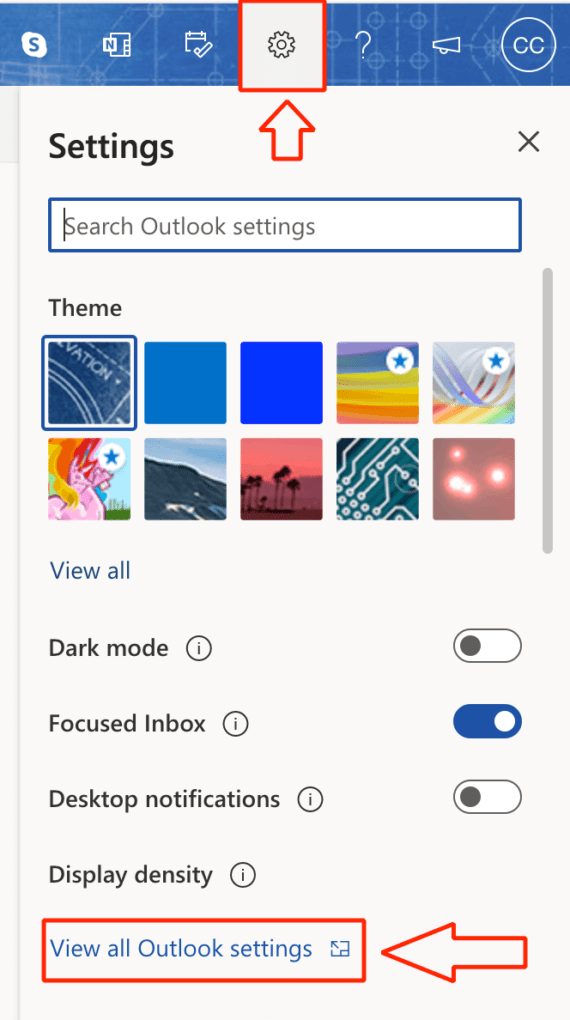 Locate the washer icon in the upper right, click on it, and then click on «View all Outlook settings».
9.- Once inside, you will see the following window:

Click on «General», and then on «Language and time», and select your language in the first section. Make sure you have the box below pressed.
10.- Done! Now we will see how to use Outlook.
How to use Outlook.com
When registering and creating your Hotmail or Outlook email account, we must learn how it is used or how it works.
When you open your inbox, you will see the following screenshot: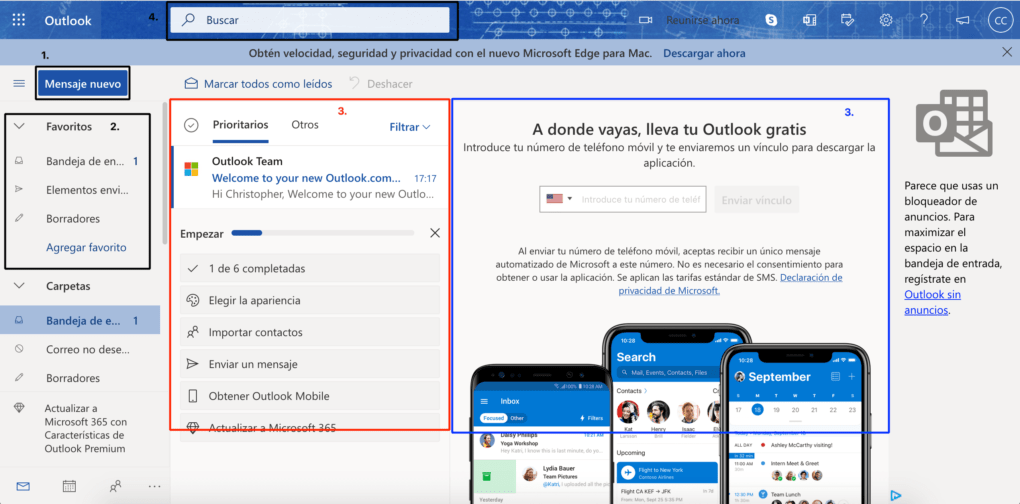 Now, as seen in the image, we have divided the interface into sections, and we will explain the different sections:
New message: By clicking there, you can start writing a new message for someone.
Favorites: Here you can navigate in the different sections of the mailbox:

Inbox: incoming messages you receive from someone else will go here.
Sent items: here you will find the messages you send to others.
Drafts: these are messages that you have not finished writing and sending and are saved here for later writing.

Priorities / Others: here is your main tray, where you can see messages received from someone else.
To the right of «Priorities / Others», you will be able to see a message when you click on it.
Look for: In this section you can search for a message or contact by entering text that it may include.
---
We hope we have helped you create an email account email from Outlook or Hotmail, and you have learned how to use the application.
Do not forget that in this blog we write more tech tutorials. Visit us!
See you until a new post.