In this post we will show you how you can activate Microsoft Office 2016 for life with CMD code without programs or with programs, FULL in Spanish, using CLAVES / keys or an Office 2016 activator. ENTER!
WE START:
Good morning everyone to this post.
In this tutorial you will learn how to activate Microsoft Office 2016 for life, in a VERY easy way.
First, for those who do not know what this Suite is, here I answer the question (you can skip the steps to activate it below):
What is it?
For starters, it's a set of programs made primarily for productivity at home, school, and office.
Above all the aforementioned, it includes a wide range of software, such as:
Word.
Excel.
PowerPoint.
Outlook.
Access.
And all the other programs in the Suite.
Also, mention that this Suite is the successor to 2013 for Windows and Office for Mac 2011. More information.
Now, i will show you first I don't have Microsoft Office 2016 activated, in Word, if you open this following message, the Suite is not activated:
Also, here is the final check that you do not have it activated: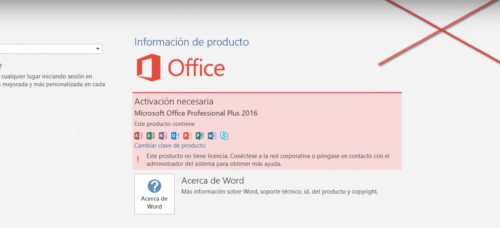 Having mentioned this, let's get started with this tutorial !:
Steps to activate Office 2016
Note
In this post you will learn how to crack and activate the suite for life, but you will not be able to receive updates or patches of the suite, since it would be cracked.
If you want to get updates, we have the perfect place at an incredible price where you can buy an official license.
1) First, we have to disable our antivirus completely. If you have Windows Defender, do the following:
1.1) Then go to Start (Windows icon).
1.2) Once you have gone to Start, click on the "Settings" button.
1.3) Then go to "Update and Security".
1.4) Then go to "Windows Defender".
1.5) Then, you will have to locate the first section (Real-time protection), and click the slider button to deactivate it.
2) Once deactivated, we can continue:
Download KMS Auto (download link below the download section) to activate this Suite; this software will help us with the activation of the Suite.
3) Once downloaded, unzip it (If you don't have a program to help you do that, I'll teach you how to have WinRAR Full).
4) After, Run as administrator the .exe file named «KMSAuto Net»In order to activate Microsoft Office 2016.
5) Then a window will open for you. Click on the option «Activation».
6) Then, 2 options will be displayed; click on «Activate Office«. Wait a minute ... If a window like this appears, click «Cancel«: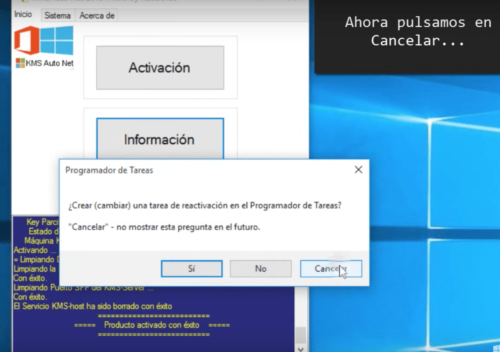 7) Finally, when you get «Product activated successfully«, Indicates that the process has finished and you can close everything.
This is how you can fully activate Microsoft Office 2016.
How to activate Office 2016 without programs by CMD
If the previous steps or the previous solutions did not work for you, these following instructions will be useful, since we are going to activate Office 2016 without the use of programs, via CMD code.
This code makes, directly and forcibly, the Suite recognize that it is activated, and in this way, you will be able to use all the functionalities of the programs.
Without further ado, perform the following steps to carry out said activation:
1.- First, go to the Windows search bar, and search for the word processor of Notepad and open it.
2.- Once the above is done, there you will paste a Special CMD code to activate Office 2016 at 100% without programs. The code is here:
CODE to activate without programs
3.- Copy ALL the code, and then paste it in the Notepad. Now, you must save that document in the file format «.cmd«. For example, you can name it «codigoActivarOffice2016.cmd«.
4.- Now, open the file as administrator (right click on it, and click on «Execute as an administrator«), And accept the permissions.
5.- When you open the application you created, this CMD window will appear: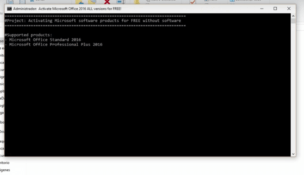 6.- WAIT A FEW SECONDS. After that, you should see the message ««.
This is how it can be activated the famous Microsoft Office 2016 Suite without the use of programs, using CMD code.
Download Office 2016 Activator
An activator will help us to verify the product without the slightest need to investigate within command lines, or things for geeks.
In this way, we can have our Office 2016 activated completely in a matter of a few clicks.
If you want download an Office 2016 activator directly in order to verify the suite, click on the following text:
DOWNLOAD KMS AUTO, OFFICE ACTIVATOR 2016
Microsoft Office 2016 keys
If on the other hand you do not want to know anything about activators, you can use keys or product activation keys.
If you want enter Office 2016 keys, you must access within the software settings. Keep in mind that you can only use one Activation key.
If one does not work for you, you should try another to see which one is. correct to activate the product.
Then we leave you a list of keys or valid keys:
DR92N-9HTF2-97XKM-XW2WJ-XW3J6
NKGG6-WBPCC-HXWMY-6DQGJ-CPQVG
JNRGM-WHDWX-FJJG3-K47QV-DRTFM
9C2PK-NWTVB-JMPW8-BFT28-7FTBF
GNH9Y-D2J4T-FJHGG-QRVH7-QPFDW
J484Y-4NKBF-W2HMG-DBMJC-PGWR7
If the previous keys to activate Office 2016 do not work for you, we will leave you a updated list of current keys or serials in order to validate the product.
If you get a "default key" error, maybe this is your solution.
Would you also like activate Windows 8, 8.1 or 10?
If for some reason it didn't work for you, try the new activator 2019 KMSpico v10.2.0
---
I hope this tutorial has been very useful for you. We offer you more related tutorials that might interest you:
Before concluding, in this blog you will find everything about Office: activation of other Suites, help, etc. Visit us!
Were you able to activate Microsoft Office 2016 successfully? Leave us your comment below!
See you in another new post.