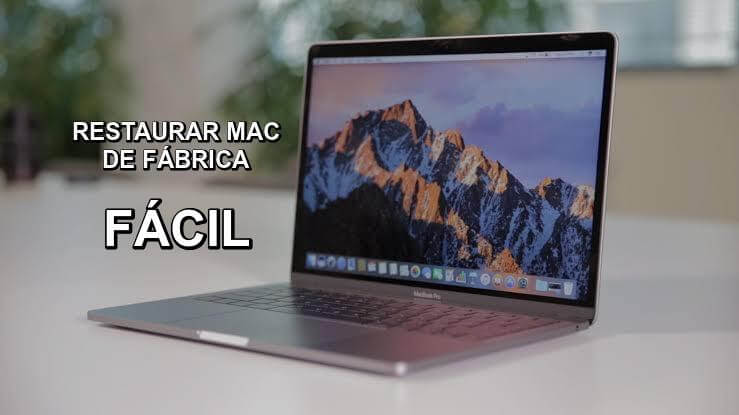 In this post you will learn how restore, format and erase everything from a Mac OS to factory version correctly, a necessary step when wanting to sell your Macbook laptop or restore from scratch. ENTERS!
WE START:
Welcome to this post.
There are many reasons why you want to restore Mac to factory version. Either due to poor performance, errors in the team, you want to sell it and you want to clean all your data, among others.
To do this, you must be very clear that returning to the original version of a computer means erasing everything that is inside and leaving it as if it were taking it out of its box, so you must be very careful when doing so.
Luckily, you are in the right place. Next, we will show you how to restore and format a Mac OS computer to factory version without taking any risk. Of course, you must follow the steps carefully and that's it. Let's get started!
How to restore Mac OS to factory version
Before proceeding to restore Mac OS to the factory version on your computer, it is necessary to complete a couple of simple but very important steps in order to carry out the process. For this you only need:
Sign out / Disable iTunes and other applications with limited licenses: To avoid problems with the authorization system for the maximum connected devices, please deauthorize your iTunes before factory reset. To do this, you just have to go iTunes »Account» disavow.
Make sure you are connected to the Internet in a stable way and to the current: Many of the data that Apple computers need are stored remotely on the company's own servers and to access them, you will need an Internet connection to download them. Having a stable connection will allow you to avoid setbacks when your Mac installs any service or program of its operating system.
Now, the most important thing has arrived: how to restore MacBook to factory version. Although you may think that the process is very complicated, we comment that it is not as difficult as it may seem, you just have to carefully follow the steps to do it successfully.
Steps to format a Mac
If you want to format your Mac OS computer and erase all documents, programs, and system settings, you will need to perform these following steps.
Completely shut down your Mac computer.
Turn it on and hold down the keys Command Y R simultaneously.
By performing these steps, your MacBook, MacBook Pro, Mac Mini, iMac, etc., will enter Recovery mode.
Go to option Disk Utility.
Click on Continue within option Disk Utility, then select the primary hard drive and click Disassemble.
Now, select the option Delete and exit the option Disk Utility.
On the initial screen you must click on the option Reinstall OS X and follow the instructions that will be shown below on your screen so that the process is carried out satisfactorily.
During this process, the computer will return to a new version of Mac OS X with all factory settings. Now, you just have to start installing all the programs and applications, as well as synchronizing your data so that you can use it again as it was before the restoration.
As you may have noticed, it is a very simple process that consists of few steps to achieve it. This is a more advanced option for erase everything and restore Mac to factory version. However, we tell you that there is another alternative to achieve this without losing your files or installed programs. Do you want to know how? Keep reading carefully.
Restoring a Mac to Factory Version with Time Machine
This option may be less "invasive" or "extreme" than the previous one but just as functional. Everything will depend on the reason, since if you only have some malware problems or annoying errors on your computer, it is the most recommended.
Time machine allows you to make backup copies of all your data and store it to be used when a restoration is necessary. It is very useful when you only prefer to restore settings and data on your computer and not the Mac OS in its entirety.
If you are a user of Time machine, follow these steps to restore a factory Mac:
Completely shut down your Mac computer.
Turn it on and hold down the keys Command Y R simultaneously.
By performing these steps, your MacBook, MacBook Pro, Mac Mini, iMac, etc., will enter Recovery mode.
Go to the window Utilities.
Choose the option Restore Time Machine Backup.
Let the team complete the process and voila.
Did you notice how easy it is to format or erase everything on a Mac? Just follow a few simple steps to understand how to restore MacBook from scratch and ready. Now that you know them, you can solve some problems you have with your easy team.
From here, we strongly recommend that you always make a copy your data and files safely so you don't lose any of them and always have a backup on hand. Share this content with those who need it and help more people, just like you, learn to restore Mac OS correctly without any risk.
---
We hope this tutorial has worked very well for you to be able to restore correctly your MacBook.
Before concluding the post, we want to tell you that we have technology tutorials available on our blog. Visit us!
¿You were able to restore Mac factory in a safe way? Let us know in the comments!
See you in another article.