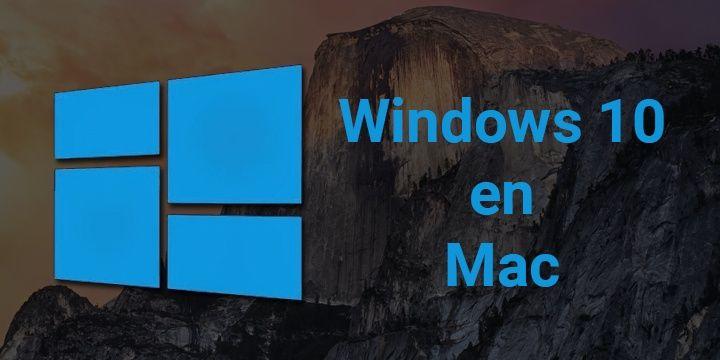 In this post you will learn how to install Windows 10 on Mac with Boot Camp, a program that will facilitate this task. We explain you step by step. ENTERS!
WE START:
Many times we may have the need to install windows 10 on a mac this is possible thanks to Boot camp which is software designed by Apple to install that helps the user in installing versions of Windows.
During the journey of this small tutorial we will be able to observe how easy and simple it will be to do this, without damaging our original macOS Operating System and we can always eliminate Windows 10 when we need it.
Requirements
Before starting the Windows 10 installation on Mac We must first verify that our device meets the necessary requirements to install it. The requirements are as follows:
That the device has a Intel processor.
An installation disc or ISO image Windows 10.
If you have a laptop or desktop computer, you should have a compatible Apple mouse and keyboard.
Minimum 60 GB of free disk space hard boot.
And finally, if you don't have an installation disc, you will need an empty USB drive that is at least 16GB in capacity.
Steps to install Windows 10 on Mac with Boot Camp
Get the Windows 10 image
First we must get the image of Windows 10, we can buy the physical disk that already has this version or, you can download the image from the official Microsoft website; If we have the physical version then we will not need the USB drive because we can use the internal recorder of our device for the installation.
Insert the physical disk or USB drive
Where we have the version of Windows 10; If you have it inside the USB drive then connect it to a USB port on the Mac, but if you have it on the physical disk, then open and insert it into your burner or CD-ROM drive.
Open Boot Camp
Once inside our desktop, we will go to the Applications folder and then to Utilities, there we can find the Boot Camp Assistant, open it and wait for it to detect the drive where we have Windows. If everything goes well then the option will appear to be able to assign the size of the partition where we will install Windows.
Create partition for Windows
In this step we will have to select how much space we will assign to the partition where Windows 10 will be installed, this Operating System uses 20 GB for its installation, therefore, if you want to install a program and give it regular use, it is recommended that you allocate a space of more than 100 GB.
Install Windows 10 on Mac
After carrying out the previous steps, the computer will restart and the installation of Windows will begin, once the black screen appears on the screen "Press any key to start from the CD" we pay attention to the instruction and it will load the interface of installation, we select our language and preferences and click Next.
Click on Install Windows, then we will write the product key and click on Next, it will tell us what type of installation we want, there we click on Custom, once inside we can see the partition that has the name BOOTCAMP, we select it and click on Format.
After it has Formatted, we mark it again and click Next to install Windows in it, after all the updates and features are installed we continue the steps that appear in the Desktop Configuration.
Inside Windows 10
Once we are on the Windows Desktop, the Boot Camp program will start automatically, we click Next and install it so that the missing Drivers can be installed, with this we will have installed our Windows 10 on Mac, we restart the computer so that the changes are applied correctly.
Dual Boot and default boot
When Windows 10 is finished installing, it will be designated as the default startup or boot, but if we want to start with macOS then we must hold down the Alt key when the computer is starting, then we can select in which partition we want to start.
That's how easy and fast it is install Windows 10 on Mac with Boot CampIf after this you want to delete Windows 10, you go back to Boot Camp and there you will see the option to erase that partition and recover the free space that your hard drive had.
---
Before concluding the post, I would like to tell you that we are passionate about Apple, especially the Mac devices. We invite you to see our other articles! Sure there will be something that catches your attention.
Similarly, we are passionate about writing tech tutorials For all our readers, you will surely find valuable information with us. Check us out!
Were you able to install Windows 10 on Mac with Boot Camp? Leave us your answer in the comments of this post!
See you in another post.