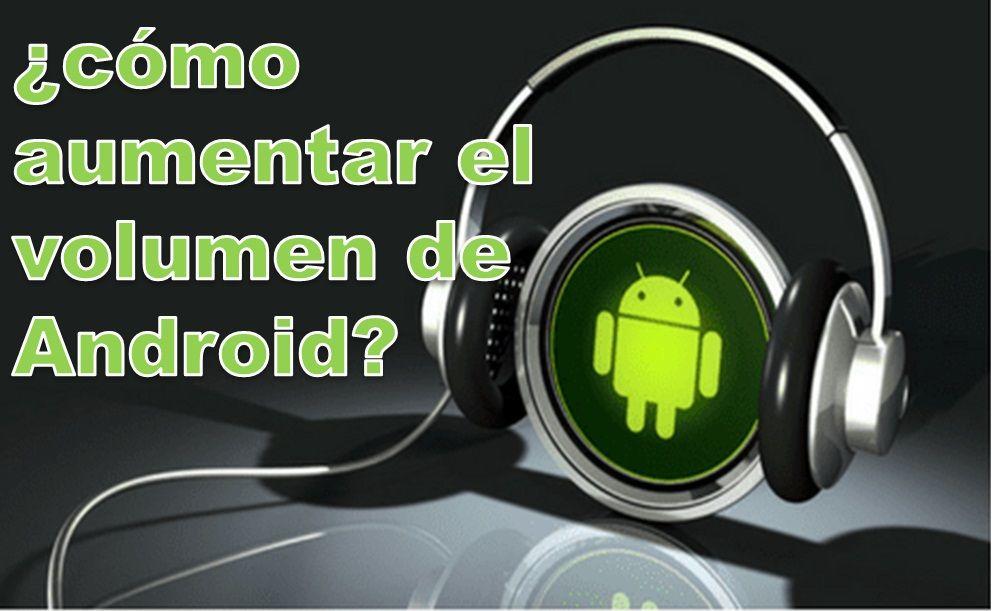 In this new post you will learn the necessary techniques to increase volume on Android either with root or without root; itself, everything related to how to increase the volume of the Android cell phone. ENTERS!
WE START:
Welcome.
In this opportunity we will talk about the subject regarding android volume boost. If you realize that your mobile does not ring enough, both in ringing of incoming calls, as alarms, notifications, among other functionalities related to the sound caused to warn or alert of an operation, we bring you some tricks or applications to solve this mishap.
These procedures are quite simple to applyYou just have to have enough ingenuity to perform any method you decide step by step. Before continuing, we must know that this is based in two fundamental elements, hardware and software.
When referring to the hardware we mention the DAC (Digital Analogic Converter) and the headphones or speakers; and on the software we have the program in charge of controlling the audio, and this is where we can manipulate the system to exceed the sound limit established at the factory, being able to increase volume on Android.
We can carry out the task of increase the volume thanks to the root of the Android; However, using applications specially designed for this operation, it is even possible to increase Android volume without being root, since it does not merit it as a requirement. We will now study these two forms of turn up the Android volume. 
Increase Android volume with Root              
We will see a step by step of this easy and simple process to apply for increase the volume of an Android device with Root.
Fundamental requirement: be root.

Have the application downloaded to your mobile Mobile Uncle Tools

, which you will find in the link that we leave you (it will not help if you are not root).

Search in the applications section «Mobile Uncle Tools» click on this and the menu of your options will be displayed, select «Modo Engineer«.

You will be presented with two options "Android Engineer Mode" and "MTK Engineer Mode"; select the one that fits the condition of your mobile.
For this explanation we will select the second option «Engineer MTK mode».
In this "Engineer Mode" section, the "Hardware Testing" options will be displayed, among them is the "Audio" option, click there, you will see another menu of options.

Depending on the type of volume wishing to increase should select "Normal Mode" (speaker) or "Head Set Mode" (headphones).

When selecting one of these two alternatives, we only have to modify in the section where «Max Volume» appears. It is recommended not to exceed 160, as the speaker or headphones could be damaged depending on the option you have made. A considerable margin would be between 130-140.

Finally click on "Set" and voila, you have completed the process to

increase the volume of the Android cell phone with Root.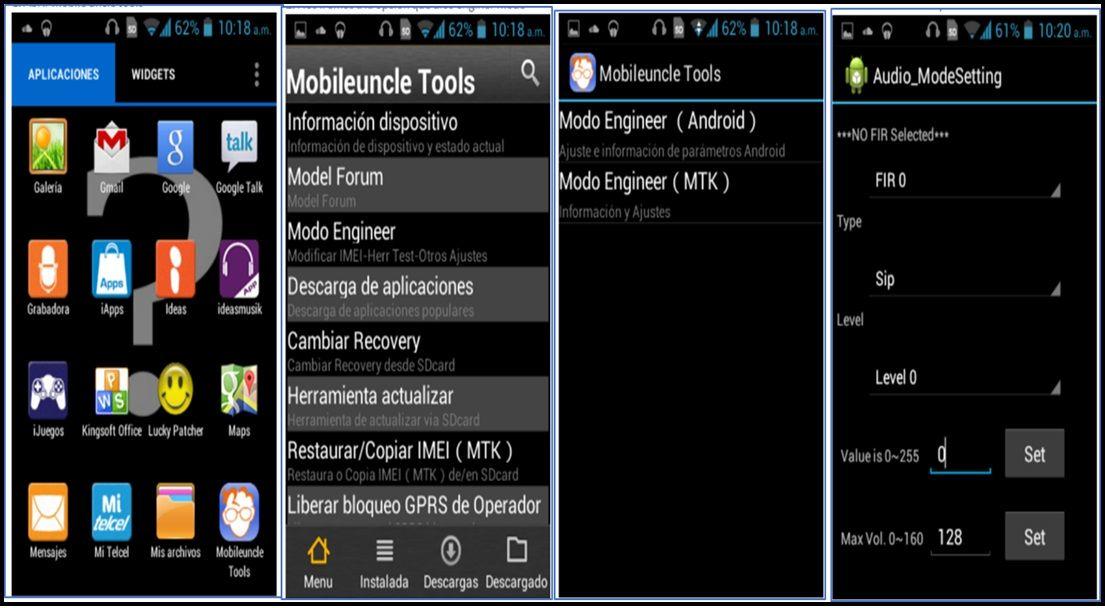 You saw how easy and simple it is to apply this procedure, you just have to be very careful not to access other options in the menus that are presented to you, since if you do not have the knowledge to manipulate them, you could deconfigure the correct operation of the device. 
Increase Volume Without Root
To do this operation of increase the volume of an Android device without Root, we will lean towards one of the applications most used by users, we refer to the Ultimate Volume Booster.
A favorite application by many since it offers two outstanding advantages: the first is a free product and; the second provides reliability, in addition to the practicality to download and use it. Let's see how this process is done:
You must install the application

Ultimate Volume Booster.

You will see how simple and easy to use. It is a basic but effective service that only offers a few options such as

increase the volume of the mobile,

and do your thing by limiting yourself to increasing the sound of calls, alarms and notifications.

Following this test your Android device, you should already be enjoying a louder level of sound just by pressing "Boost" on the application screen. You will not have any complications since you only have two

volume up or down options (boost and undo boost)

.

Finally you will see a loading window where Ultimate Volume Booster will show the progress of the operation; as well as the level of volume increase.

If you need to reverse the process, you must click on «undo boost», and the same treatment will be carried out, but in reverse.
You must be aware that in the process of using this application you will see advertising pop-ups, remember that it is a free service that offers content of this nature.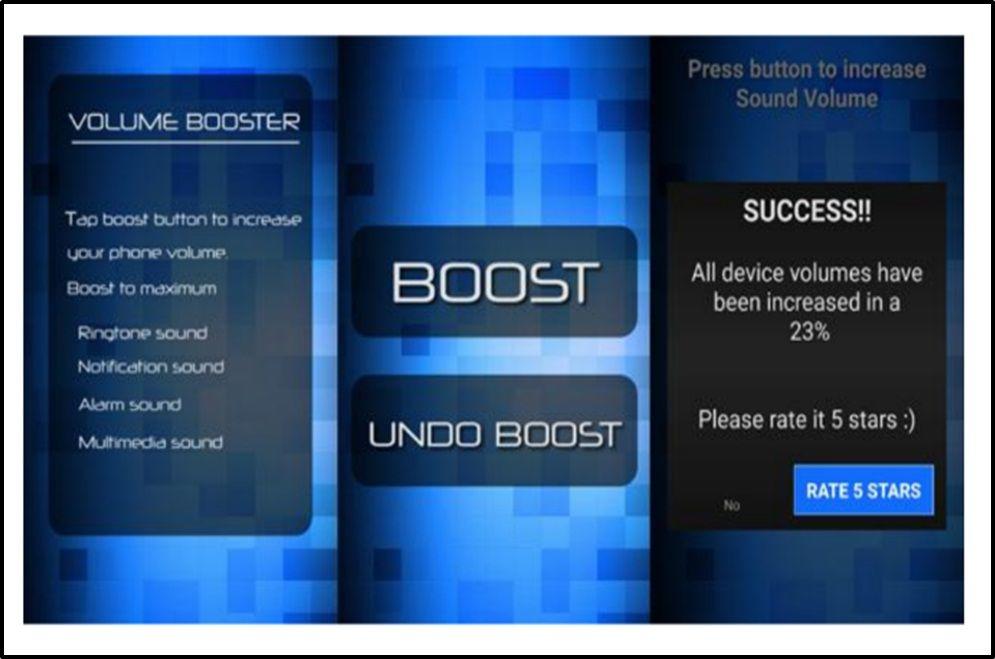 Carry out the application of this procedure to turn up the volume of an Android cell phone without Root, It is clearly easy, not complicated at all. Try it you will see that it will be of great help.
Use of apps
It is important to note that regardless of the application of any of the previously exposed methods, you must bear in mind that each device has maximum limits acceptable volume for the human ear; however, the risk of exceeding these manufacturing limits will be your responsibility.
---
We conclude our post, we hope you have found it satisfactory. We invite you to read other contents of our blog that you will like:
Have you ever tried to practice this procedure to increase android cell volume?
Did you find the methods to increase the volume of the Android device with Root and without Root simple and practical?
Leave us your comments in our mailbox we would like to read your opinions. Until a new post.