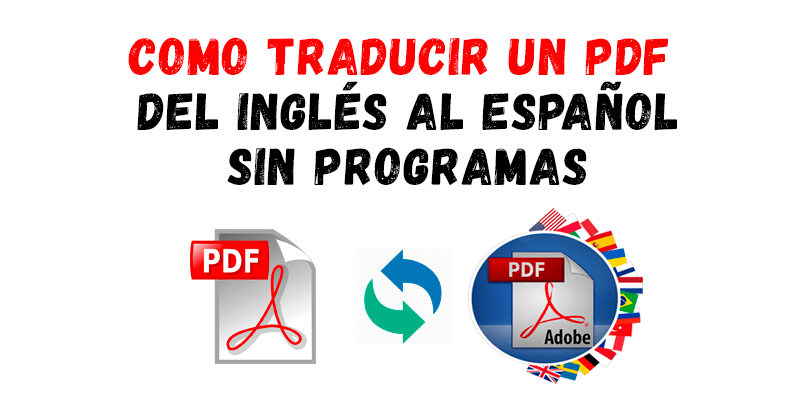 Would you like translate a file from one language to another? Well, this tutorial is not only for translating PDF, but many more files. ENTERS!
WE START:
When we are in the academic world, on more than one occasion we have to consult documentation in English, and sometimes it is very heavy when you do not have a command of the language. But as they say, for big problems there are big solutions. So in this small article we will try to help you with this work, so we will show you 2 excellent online tools.
How to translate a PDF document
Form #1:
The Google translator It is one of the best alternatives to translate a document in the event that you do not need an official translation. Google's free service instantly translates words, phrases, and even documents on your computer's hard drive.
What kind of documents can I translate?
Supports documents in various formats (PDF, Word, TXT, PPT) and translate between more than 100 languages, including from English to Spanish and vice versa. So from now on it will be your best ally. Now I will show you the simple steps to perform.
Step 1:
We will have to enter the Google translator and select the option Translate a document.

Step 2:
Choose the language of the original document and the target language (language you want to translate it to) then we proceed to upload the document.


Step 3:
Finally, you just give click translate.
Translate a document without losing formatting
Form #2:
If what you are looking for is translate a document without losing formatting, you will love this tool, so I present to you OnlineDocTranslator, is one of the best and also with the ability to translate different formats such as (.doc, .docx, .ppt, .pptx, .xls, .xlsx, .odt, .ods, .odp, .pdf, .srt,. txt) the mode of use is very easy and we will see it in this short video tutorial:
Video Source: Digital Computing Madness
Doubts questions?
I hope I have helped you and I hope you are done with the post. If you don't understand something, contact our team using the floating chat (located in the lower right part of your screen) to leave us your question.
You can see our most recent posts on our page start from the blog. Like us on our Facebook page so you don't miss any news.
GOOD MORNING AND GREETINGS FROM OUR TEAM!