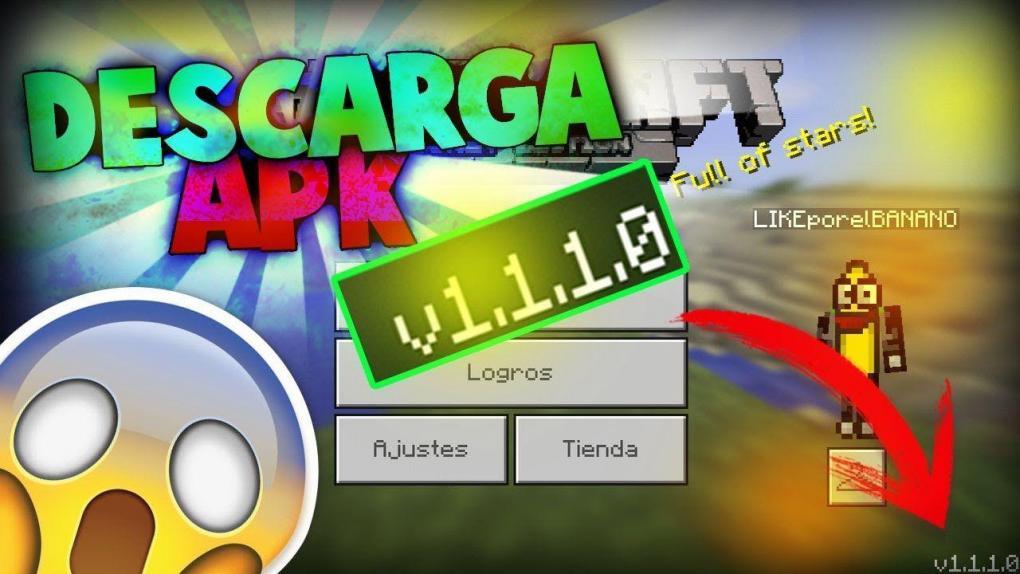 In this tutorial you can download completely Minecraft version 1.1.1 for your Android device. Now yes, hours of fun creating cities and entire buildings without limits with this game! WHAT ARE YOU WAITING? DO NOT MISS IT!
WE START:
We return with a new post on how to fully install the Minecraft PE version 1.1.1. But for those who don't know what Minecraft is ...
What is Minecraf?
Minecraft is primarily a survival video game in which the user has to, from the first moment, collect food and materials to build your own home before night comes and, with it, the dangers that lie in wait.
At the same time you have to develop own tools to be able to build everything more quickly; is an independent construction video game, of type «open world» or sandbox originally created by the Swede Markus «Notch» Persson, and later developed by his company, Mojang AB (now developed by Microsoft).
Download Minecraft version 1.1.1 Full
Today we bring you the Minecraft Pocket Edition 1.1.1 APK in this new update, which includes some bug fixes. There are also other things like it is:
Add-ons
Updated resource and behavior packages are available at minecraft.net/addons
Various updates and fixes to the documentation can be found in the behavior package.
Polar Bears, Endermites, Vexes and Area Effect Clouds will now load correctly with behavior packs
Bug fixes
Fixed various crashes and improved stability.
Creative Inventory can no longer be accessed in Survival.
Redstone torches will no longer reproduce the burning sound when they lose power.
Shulkers are now immune to fire.
TNT blasts now apply the correct amount of force to players.
Mutated biomes will now decorate correctly.
Various fixes to Marketplace screens.
NOTE: This version 1.1.1 is not the latest currently in this year. If you want to check the most recent, download the latest version here.
With nothing else to say, here is the APK:
Download Minecraft 1.1.1 (without INTEL)
to downloadDownload Minecraft 1.1.1
Download Minecraft 1.1.1 (with INTEL)
to downloadDownload Minecraft 1.1.1
Once you've downloaded it, go to where it is (where it was downloaded) and launch it. It will install and you can play like never before. I HOPE YOU LOVE IT!
Doubts questions?
I hope I have helped you and I hope you are done with the post. If you don't understand something, contact our team using e
l floating chat (located in the lower right part of your screen) to leave us your question.
You can see our most recent posts on our page start from the blog. Like us on our Facebook page so you don't miss any news.
GOOD MORNING AND GREETINGS FROM OUR TEAM!