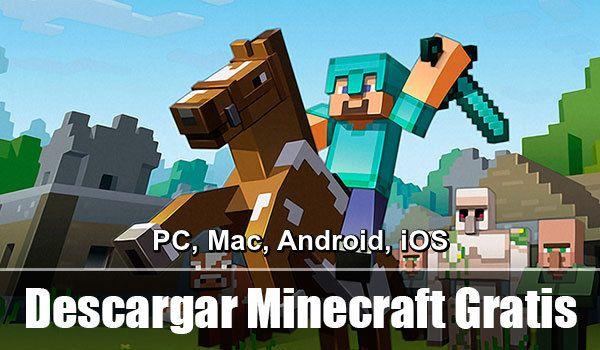 In this post you will learn how you can install Minecraft for free for your Windows or Mac PC, or Android or iOS (Apple) cell phones, with a free Premium account. ENTERS!
WE START:
Minecraft was created in 2009, for the date of May 17. It can download and install Minecraft for Windows 7, Windows 10, Xbox 360, PlayStation 3 and 4, Android, iOS, among others.
This is a construction video game, and is classified as being "open world" in which the player can create and destroy various types of blocks.
Thanks to the medium of a character, you can be in three dimensions, having the freedom to build whatever he wants, until you can do some artistic work.
Install Minecraft for free for PC
This game has become easier to install Minecraft free for PC Windows 7, 8, 8.1 and 10, and for other devices by the new option it gives, which has become known for its "Pre-launch" that allows us to test the new inventions of the game.
Pre-launch has allowed players Meet the famous horses in Minecraft 1.6, a generation of new worlds that Minecraft 1.7 brought with it, and various elements that impressed more than one in Minecraft 1.8.
His way of downloading it is very simple, you just have to follow these steps:
1.- Access the official website of Miencraft for download. If you have Windows, click «Minecraft.exe«.
2.- Now, you must download McLeaks Launcher, a program to be able make Minecraft Premium.
3.- When it is installed, open it and click «MCLeaks»And then you close it.
4.- Now, you will have to go to the McLeaks home page to create an account for Minecraft Premium totally free.
5.- Once created, copy the «Alt Token»That will give you the section and paste it in the« email »section and the« password »of your Minecraft launcher.
Note
If you get a login error, click «Get another alt»To generate another new account.
6.- READY! That's how easy you can install Minecraft for your Windows PC.
If you did not understand the steps in text, I leave you this explanatory video that will explain it to you graphically.
Install Minecraft free for Android
Many ways have been found and used to be able to download e install Minecraft to Android devices.
In this case we will talk about a new way that came out to be able to download this game without problems.
If you are looking for the latest version of the APK, you can know how to download Minecraft Pocket Edition for Android from our post Mcpe.
If you want to install the Miencraft directly from this post, we explain it to you easily:
1.- You will have download the «TutuApp» app. There you open, and you will get the indicators of what it is TutuApp and how to download it.
Recommendation
It is recommended that when downloading TutuApp, it is chosen by the method of «Mediafire«; It will take you to another window where it will give you the other option for completion and you just have to click "Download".
2.- Once the application is downloaded, you enter it and then go to search engine for that app and you will put "Minecraft".
3.- Once found Minecraft, you just have to give «to download«, And voila, Minecraft will be installed without problems and completely free.
Steps to install it on iOS
If what you want is to install the game Minecraft on your iOS, you will have to follow these present steps:
1.- Locating us from a mobile device (such as an iPhone), you must go to Safari, and search for AppEven application, and install said app (it will help us install Minecraft for free).
2.- Once we have AppEven installed on the device, we go to the search part that is at the top, and you put the name "Minecraft", "Minecraft Pocket Edition"Or" MCPE "...
3.- Having found the game, at the bottom you will see "pay", but there is nothing to worry about, you do not have to pay anything at all, only an ad will appear and you will have to wait for it to finish to continue.
4.- After having allowed the announcement to pass (from 15 to 30 seconds), a bar will begin to charge, indicating that the game is already downloading.
5.- The game will download if there are any failures, and will appear in the part of phone menu.
---
I hope this tutorial has been to your liking and you have been able to install the famous Minecaft, either on your Windows PC, Mac or on your Android or iOS devices.
These posts related to Minecraft They may be of great interest to you, we have selected them:
Could you install the video game Minecraft for your Windows PC, Mac or your Android, iOS cell phone? Let us know how you did below in the comments!
See you in a next post.