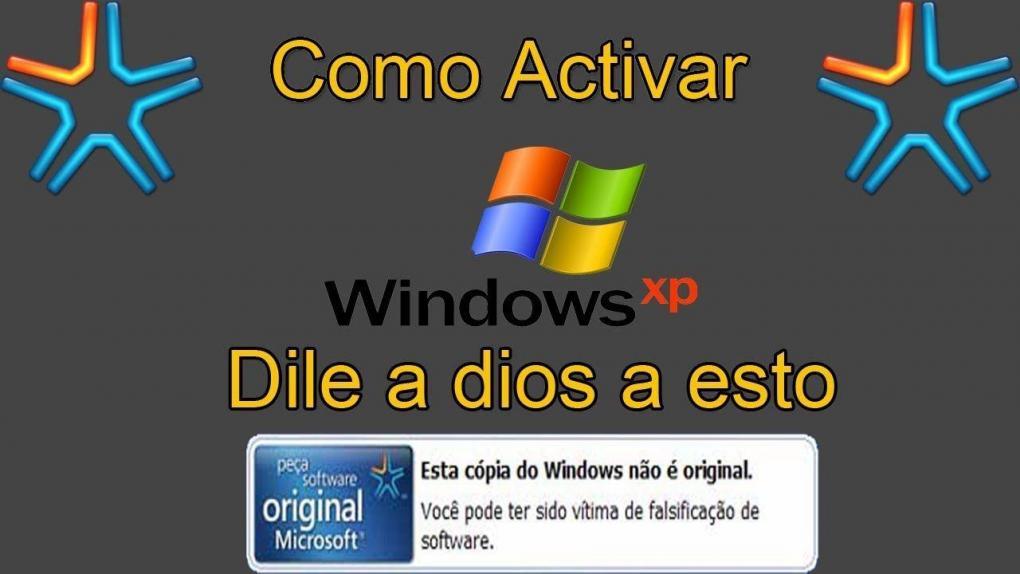 In this post we will teach you how to use an activator or licenses / serials to activate Microsoft Windows XP for life for FREE. ENTERS!
WE START:
Welcome.
Windows XP has long proven to be the most loved operating system by the entire Microsoft audience, and that is that it had 17 years of support.
Just knowing that the government of UK paid 6.5 million euros to extend XP support (to finally give yourself time to switch to another version), talk about how much the system was estimated.
The reason for this step-by-step guide is to show you how using some serials you can activate completely the Windows Xp, so go to the activation steps section to learn how.
Why is XP still being used?
As we mentioned in the introduction to this post, this operating system is still used.
In its heyday, it was used on 46.3% by computers around the world, but with its disappearance from support in 2014, in March 2019 the stats dropped to just 1.97%, which IS STILL A LOT.
Here are the 2 reasons why people keep using Windows XP:
They got used to the operating system and do not want to learn how to handle a different one.
The programs they use in their organizations or institutions only run under XP.
Today, with the lack of security updates, attacks like WannaCry they are causing fear among those who continue to use this system.
Steps to activate Windows XP
Many people believe that since there is no longer support it is not necessary to activate it, and no, they are wrong.
The operating system internally has a count of days, that if you let them pass, then the system will crash and you will not be able to do much.
In this section you will find a step-by-step guide to not only learn how to permanently activate Windows XP using serials, I will also teach you to identify if you have it activated or not. Let's go!
How to identify if it is not activated?
Surely you have the question that other readers will be asking: how can I validate if the system is not really activated?
Well, it's actually a relatively straightforward process.
Locate the toolbar, the one at the bottom, yes, the blue one. On the right side, there will be like a silver key and a gold one.
If you pass the mouse over that icon, a message will appear that will tell you the following:
If that message appears, don't worry, let's move on to the steps for activating Windows XP!
Permanently activate Windows XP for free
If you do not want to know anything about those annoying product activation messages, and if you have already detected that you do not have it activated, welcome to this section.
So, in order to activate the product for life, we must use Windows XP serial numbers. Here are the activation steps:
1.- While on your home screen (that is, the desktop), click on the "Start" button.
2.- After that, click on "All programs", located at the bottom of the menu that opened for you.
3.- Then, at the top of the menu that appears, click on the "Activate Windows" option, as you can see here:
4.- Once you have done the above, a window will open where you must enter the 25 characters of the Serial for Windows XP. Copy and paste the serial from the section of this post.
You must enter part by part. Each box corresponds to 5 characters of the license. If you look at the licenses that we leave below the post, they are separated by a «-«, you must copy these fields from left to right in each box.
5.- Then click on "Update".
6.- Then, click on the following box:
7.- Click on «Next». The activation window will close.
Ensuring permanent activation
In the following steps we will only make sure to permanently activate Windows XP. Continue with the tutorial.
8.- On the desktop, press the command "Windows + R", and in the window that opens, type "regedit":
9.- Then a window will open for you. Extend the "HKEY_LOCAL_MACHINE" folder, and then the "SOFTWARE" folder, as you see it here:
10.- Then more folders will appear. It extends the one called "Microsoft." Then, within that, extend the one called "Windows NT".
11.- Afterwards, you will see a single folder called "CurrentVersion"; spread it out.
12.- You will get more folders. Don't worry, we've almost finished the process to activate Windows XP. Find the one called "WPAEvents" within the one you opened earlier.
13.- Click on that folder, and 3 contents will appear on the right side. Double click on the file «OOBETimer»:
14.- Some numbers will appear, delete them all and click on "OK". Reopen it and paste these following into the OOBETimer:
FF D5 71 D6 8B 6A 8D 6F D5 33 93 FD
15.- Then, right click on the "WPAEvents" folder, and click on "Permissions", as you can see in the following image:
16.- Now, a window will open for you. Click on "SYSTEM", and make sure you have the following configuration:
17.- READY! You have finished the tutorial.
If you did not understand the steps in text, I leave you a video that will explain it to you in detail:
How to know if it is activated?
First of all, you shouldn't get the icon of the silver and gold keys that is bothering you and bothering you to activate the system.
But to know once and for all, you must check from the Windows XP activation wizard; he will tell you the final answer.
1.- Go to "Start".
2.- Access in «All programs».
3.- Locate the option "Activate Windows", and enter it.
4.- If you get the following message, you have done a good job with the activation:
Serials for Windows XP
If you want to proceed to verify and activate the Windows XP system, you must enter a password to do so.
These keys are unique and represent an identifier within the system that confirms that you have activated the operating system.
If you want get the serials, you can do it in 2 different ways. The first is via a trigger, and the second is with Windows XP direct serials.
Windows XP Activator
An activator is one that allows you to search for the corresponding Windows XP licenses without the need to manually search for them yourself.
The way these systems get licenses for you is by looking at the core of Windows XP itself to see the factory license.
In this way, it gives it to you so that you only copy and paste it in the activation wizard.
You can download the Windows XP activator from the following link that I will leave you below:
Windows XP activation licenses
If you don't want to know anything about activators, or you just don't want to install a program to search for licenses for you, you can easily find them.
We will leave you a list of several licenses which you can copy and paste in the Windows XP activation process.
Here are the product activation serials for the wizard:
PM732-VDYT8-27YHH-QMMB7-CXPYW
JD3T2-QH36R-X7W2W-7R3XT-DVRPQ
BVRH3-T3V7Q-J7KR2-MKTTP-HVV33
If neither works, search YouSerials.
---
I hope this post has been of your help.
In this blog we write more about Windows and all known versions. Visit us!
Were you able to permanently activate Windows XP using any license? Let us know how you did down!
See you in another post.