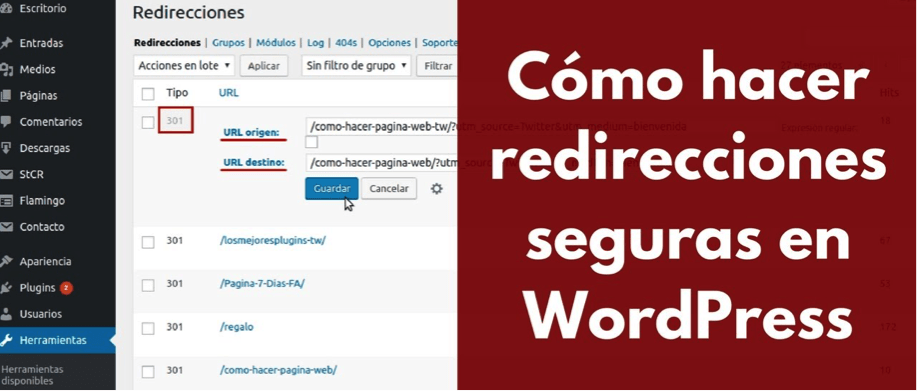 Do you know the importance of make a redirect in WordPress? Well, if not, here we tell you and by the way we help you make redirects. ENTERS!
WE START:
Welcome to another post. If you have had experience writing a blog, you will know that we can make mistakes, the kind of fatal ones, such as making a mistake in the permanent URL once the entry is published. In a previous case, we will have to update the old URL with a new one, and redirect the old URL to the new one.
I explain:
When updating our article with a new URL, the previous one will be obsolete, that is, when the user visits it, they will see a "404 Not Found" error, and you will say: "Well, let him visit the article with the new URL ». But if you do this you will be making a VERY SERIOUS ERROR, especially if you have already passed several URLs like this.
I tell you that Google takes this into account, and these URLs type 404 hates them a lot, Google does not like them. Imagine that you wrote an article and you change the URL permanently for another… that old URL will already have been indexed by Google, and what do you think your visitors will see when they reach that old URL ?: 404 Not Found! And they will go immediately, which Google will know and will subtract points from your SEO ranking.
Ok, would you like to fix this? Well pay attention to the following tutorial:
How to make redirects in WordPress?
For this tutorial, we will need to use the «Redirection by John Godly«. Download it and install it in your WordPress, and once activated, we will have to go to the control panel. To do this, we will go to "Tools> Redirection".
You will see a table with multiple columns, without any rows. Scroll down a bit until you find the following section:

In the "Source URL" section, you will paste an old URL, and in the "Target URL", the URL to which the old URL will be redirected. The "Regex" section indicates that everything it contains after the term will be ignored and will still be redirected. Example:

Suppose the prefix "/ en /" indicates that it is my blog in the English language. Therefore, when you enter the path "blog.mastercoria.com/en/tutorial" or "blog.mastercoria.com/en/other-tutorial" you will see the content in English. What "Regex" does is indicate that it will ignore everything after the "/ in /" prefix and redirect to another URL. In this case, it will redirect you to "blog.mastercoria.com/english/tutorial", or to "blog.mastercoria.com/english/otro-tutorial".
Now, without the "Regex" case, an example could be simpler:

Also, if you don't want to indicate that it is an HTTP status type "301 Moved Permanently" and you want to show another, or you want another additional configuration, the advanced options are for you:

At the top of the plugin, you will find the following menus:

Next, I will give a basic explanation of what each of the sections is:
Redirections: it is the default menu, where you will find all the redirections you do.
Groups: where you can create redirection groups. By default, "Redirections" is created.
Log: the latest actions by your users regarding redirects (when was the last time an old URL was redirected).
404: web pages not found within your website that have been detected.
Import / Export: import or export in CSV / JSON redirects.
Options: options of the plugin to change some configuration.
Support: get help regarding the plugin.
Doubts questions?
I hope I have helped you and I hope you are done with the post. If you don't understand something, contact our team using the floating chat (located in the lower right part of your screen) to leave us your question.
You can see our most recent posts on our page start from the blog. Like us on our Facebook page so you don't miss any news.
GOOD MORNING AND GREETINGS FROM OUR TEAM!