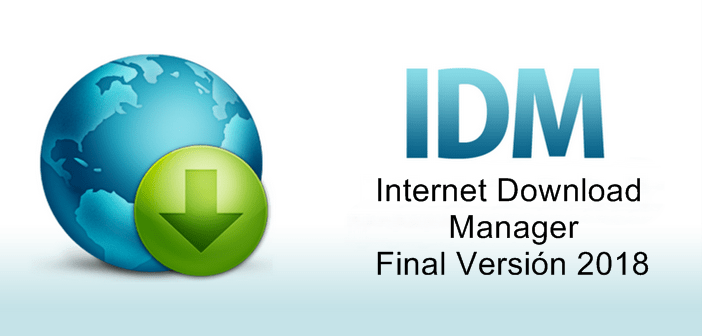 In this post you can download Internet Download Manager 6.3 Full in Spanish (also known as IDM), with an explanation of how to install it step by step + Extension for Chrome. ENTERS!
WE START:
Welcome to a new article.
Internet Download Manager, or IDM for its acronym, is a tool that will facilitate activities on the web.
Today we come to bring you fully Full IDM and in Spanish so you can use it.
In case you don't know what this program is, we'll tell you about it (if you already know and want to download it now, go to the download section of this post):
What is Internet Download Manager?
IDM is a program that will help you better manage your downloads on the web. It has a VERY big improvement to the issue of downloading files over the internet:
You can manage downloads, as well as schedule future of them.
It gives you the possibility to restore failed downloads due to connection problems, electricity, etc.
IDM Features
Divide downloads into smaller packages for faster file downloads.
You can import or export download tasks.
Supports batch file download.
It shows the most recent downloads as well as your easy access to the file.
It makes dynamic segmentations in the download processes.
It works in collaboration with a large number of browsers, such as: Chrome, Opera, Firefox, Edge, Safari, Netscape, Flock, IE, among others.
Screenshots of Internet Download Manager
How to install Internet Download Manager
In order to install IDM Full in Spanish, follow the following step by step:
1.- Download the program (download section a little further down this post).
2.- An installer will open for you. Select "Spanish".
3.- Click on «Next».
4.- Accept the terms of use of the program.
5.- Make sure the IDM installation is in the indicated path of program files on your computer. Click on «Next».
Also, there is an option that says "Create an IDM icon on desktop". Leave it checked if you want it.
6.- Again, click on «Next».
7.- Now, wait for the Internet Download Manager to install on your computer. When finished, you will see some messages. Close them.
8.- In case you didn't notice, a program icon will appear on your taskbar. Right click on it and close the program, as you see in the following image:
9.- Extract the compressed file called "Patch". When that happens, right click on it and press "Copy".
10.- Now, on the IDM icon on the desktop, right click on it, and click on "Properties". Then, click on "Open file location."
11.- Paste the file into the folder that was opened for you.
12.- Right there, run the program you pasted as administrator.
13.- A window will open for you. Click on the icon that says "Patch."
14.- It will ask you to enter a first and last name. Enter fictitious names if you wish.
15.- When you see "REGISTRY KEY" or something like that, you're done. Now you know how to download and install IDM 6.3 totally Full.
Download Internet Download Manager 6.3 Full
IDM extension for Google Chrome
---
Before ending this post, we mention that in this blog we are passionate about talking ALL about Windows: tutorials, programs, help, tips, etc ... Visit us!
In the same way, we have more Full programs apart from IDM in our section of Programs and Systems. Surely there will be something else you want to consult!
Were you able to download and install Internet Download Manager 6.3 Full? Send us your answer through the comments on this post!
If for something you did not understand the steps in this tutorial, I leave you the original video that I consulted.
We will see you again in another article.