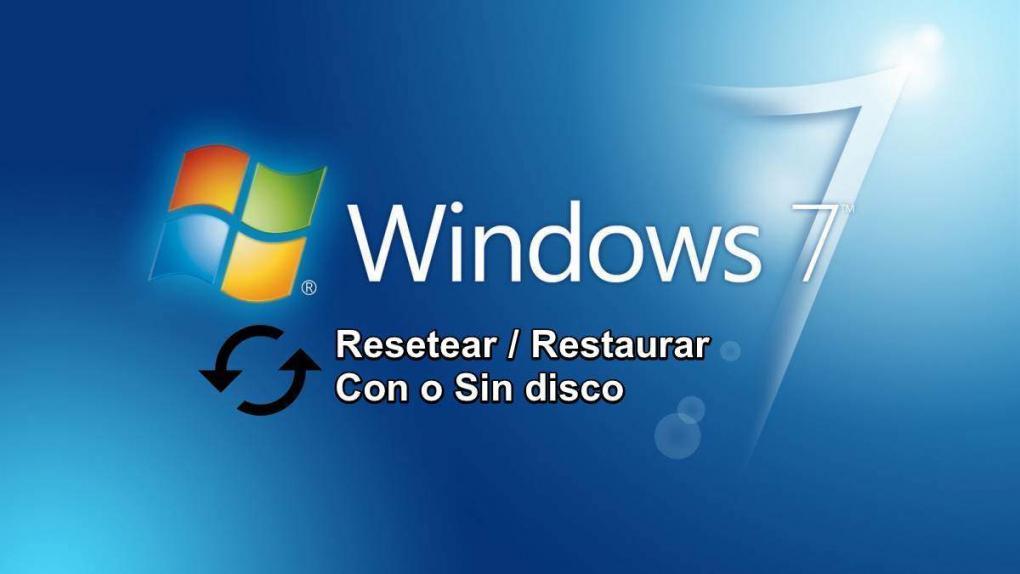 In this post you will learn how to restore factory windows 7 step by step in two ways (with and without installation disc) and thus be able to optimize the performance of your PC and get rid of viruses. ENTERS!
WE START:
Welcome to this post.
Your pc presents some kind of fault? Not starting correctly? Then your team need a reinstall from scratch, and if you don't know how to do it, don't worry! Here we will teach you. Go for it!
Even though your equipment is working pretty well you must not neglect it. Sometimes habit can make you completely forget about its maintenance, however, remember that one day and without prior notice, it can start to fail.
The causes? The causes can be due to different reasons, a list of the problems that can occur would be quite long to list, although not all the reasons can be bad. Thus, it is always better to be prepared for any eventuality.
Reasons to restore your factory PC with Windows 7 system
Below we will name the main reasons for restore factory PC with Windows 7 system:
It has flaws in its performance.
When some Windows update has accidentally deleted an important file.
The presence of a virus is compromising our team.
Sell our PC or laptop and we do not want to leave any trace of files.
Maintenance and complete cleaning.
Whatever the reason, you must remember how important it is to have a backup, which you can update from time to time.
Need help?
If the moment has come and you see yourself in need of restore Windows 7 to its factory version, the first thing you should know is that it is not necessary to take your equipment to someone who is an expert in the field. That is, yes you can, but, if you are one of the people who loves to learn new things, then, here we go teach you how to restart Windows 7 from scratch.
How to restore Windows 7 to its factory version step by step
Pay close attention to these two ways that we give you below so that you can do it without leaving your home, and even do a favor to your family and friends.
With installation disc
For restore system windows 7 with installation disk you must do the following:
You should go directly to Control Panel. Press «Home> System and Security«.
Then head over to Backup and Restore. As soon as you enter, go to the Recovering System or Equipment Configuration part. Lastly, click on Advanced Recovery Methods.
Now go to the Reinstall Windows option (Remember to have the installation disc on hand). It will ask you if you have the disc, you must say yes. Then, it will ask you if you want to make a backup copy of your files (if you have done it or not, you must click Skip).
Insert the disc, and follow each of the steps that you will see on the screen. Wait for the computer to restart automatically.
A command will appear on the screen, called «System recovery options«. Continue until a list of recovery tools appears on the screen.
Click on "Restory Manager" and then Restore OS to Factory Defaults, this will all reset the initial settings.
Finally, you must click Next and the restoration will begin.
The only thing left to do is follow the steps on the screen for the Windows 7 installation process. As you can see, the restoration process through the installation disc is quite simple. Now, What happens when you don't have that CD? No problem, we also have a solution for that.
No installation disc
For restore factory Windows 7 without disk you must do the following:
First of all, you must reboot the system.
At the boot screen (Computer BIOS), you must press the key that will send you to that menu. This key may vary depending on the brand of the PC. Here are some examples: HP: F11, Samsung: F4, Acer: Atl + F10, Dell: F8, Sony: F10.
It is recommended press the key several timesThis will ensure that you enter the menu for restoration. As time is very limited, there is the possibility of having to restart the computer again.
After entering the menu, the system recovery program (may also vary by brand). All you have to do is enter the command and follow all the instructions that they give you, to the letter, remember that you are within the system.
The process can take from thirty minutes to an hour, it all depends on the type of process, sometimes, due to the number of files, the formatting usually takes time.
Finally, there is only an automatic reinstallation of the operating system.
Points to consider when restoring Windows 7 from the factory
If you are going to carry out the restoration process, in either of the two ways, it is important to do a backup files at least in the Cloud, since despite having passed everything to an external memory (pentdrive or external disk) there is a probability of losing important documents due to damage or breakdowns.
Once your information is protected, you can start and have your PC or laptop almost the same as you had it at the beginning.
As you can see, resetting Windows 7 to factory version is very fast. It does not require advanced technical knowledge.
With this, you could save yourself some money by taking your equipment to a technician to do just what you can do by following these steps.
However, we do not rule out the idea that learn some basic concepts on your part Before starting, we know how important is the operation of your system and the protection of your files. Therefore, it is best to be safe and confident.
---
If you liked this tutorial, it is time to put it into practice and we remind you that here you can find more quality information and variety in technology. Visit us! Here are some topics that may be of interest:
Were you able to factory reset your PC with Windows 7 system? Was it difficult to restore Windows 7 from factory with or without installation disc? leave us your comments. See you!