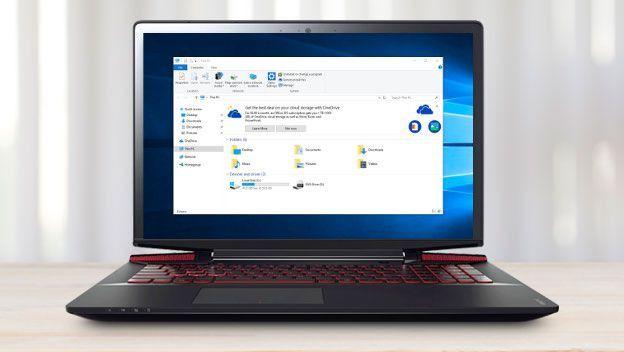 In this post we will show you the folders that should never be modified in Windows (under no reason) and we will tell you why. ENTERS!
WE START:
Any inexperienced user in this program gets files or folders of which he has no idea, and therefore does not know what they are folders that should never be modified in Windows.
Because of this, you may even have to completely reinstall Windows. There are many folders in this program that are more important than others.
If you are lucky, you may delete one of them and your computer continues to work as normal.
However, there are others that, by deleting or modifying them, can wreak total chaos on your computer in an irreparable and definitive way.
What are the folders that should never be modified in Windows?
There are 5 folders that should never be modified in Windows, since they can generate an unnecessary headache.
By modifying these folders, you will surely have to take your computer to a technician quickly because it stopped working directly.
These folders that have to have a sign of untouchability on your computer, both for others and for you, are the following:
System32
This directory is totally untouchable. If someone tells you that if you delete it, your computer will go faster, it is false; it's a bad joke.
Hundreds of DLL files are stored in System32, keys for your computer to function as it should.
You can just delete a file, a number of errors occur on your computer in a domino effect.
In fact, if you can avoid entering this folder, it will be the best for you. There is nothing in it that can be of use to you.
This is one of the folders that will appear hidden when installing Windows, and believe it: Microsoft has a good reason for it.
Pagefile
In order to fully understand why you shouldn't modify this folder, you first need to know a little more about RAM.
Also, you must take into account how this memory works.
When we execute a program on the cell phone or computer, it is placed directly on the RAM.
The more memory, the more programs can be executed simultaneously.
However, when RAM is completely full, the computer uses pagefile as a second alternative.
It is disk space that, sporadically, works as a complement to RAM, although in a much more limited way.
Thanks to this, if you perform a system scan, you will see that the pagefile takes up a lot of space.
Never be carried away by the temptation to delete this folder, or even disable it.
If you do this, it may be that the next time your RAM is full, your computer will not run at a fast or normal speed.
The safest thing that will happen, if this happens, is that it shuts down.
Program Files and Program Files (x86)
This is another of the folders that should never be modified in Windows for NO REASON!
In this folder are all the programs that you have installed on your computer. If you use 32bit Windows, only one of the two will appear.
On the other hand, if you installed the 64-bit version, Program Files (x86) will also appear.
This file will appear in the directory where the 32-bit software is stored.
Although we are talking about a systems folder that should not be touched, this is not as critical as the others.
The worst that could happen would be that some of your programs stop working as they normally should.
Note that even software that has already been uninstalled can retain a folder in Program Files.
This folder may be used to save settings and preferences. If you think there is a lot of garbage in this directory, do not resort to manual removal.
Instead, you can use a specialized tool to remove useless files without compromising OS performance.
One of the best tools for this is CCleaner.
System Volume Information
This is another gadget that most people don't understand. This folder is there, you can't access it normally and it takes up a lot of space.
But why would there be a need to modify or eliminate it in such an abrupt way? Not everything is as easy as it seems.
The first thing to keep in mind is that again keep your hands calm and turn a blind eye to this folder.
Everything has a why in an operating system, even if you don't know what it is. This folder, located in C: / is the one delegate to accumulate the restore points.
These points are very similar to a backup. It is the photograph that Windows saves of your system in case you want to restore it to how it was previously.
This is something that is commonly seen when the settings are critically altered.
As with the System32 and other directories that are protected, there is no reason why you want to modify it.
Leave it where it is quiet and your computer will be perfect.
WinSxS
And finally, this is the last of the folders that should never be modified in Windows ...
In Windows there is a file called DLL, which works for the operation of the system, and therefore you should never modify any.
All programs have their respective DLL, which is why it is very common that when uninstalling a program, these files are deleted.
However, there are times when some programs require access to nonexistent DLLs.
This causes the well-known "DLL hell", which is based on a succession of headaches in Windows.
To fix this, Windows created WinSxS. It contains many versions of DLLs that have passed through your computer.
The more time you spend without modifying this folder, the larger the size and space it will occupy on your hard drive.
However, try not to do this formatting manually, but by using a tool that is responsible for cleaning the hard drive.
CCleaner also works for this.
Thanks to this, we can understand a little more which are the folders that should never be modified in Windows, as well as the reason for this restriction.
It should be noted that as long as you obey these instructions, the better the functioning of your computer will be, as well as the peace of mind that it generates.
---
Before finishing the post, I would like to mention that WE ARE WINDOWS LOVERS; we write tutorials, tips, help, offer programs, and MORE!
Similarly, as this article tells of Informatic security, We teach you to protect yourself from all danger! We talk about Hacking, Protecting Against Malware, among more. Visit us!
Do you think they are actually folders that should never be modified in Windows? Leave us your comment below!
See you in another post.