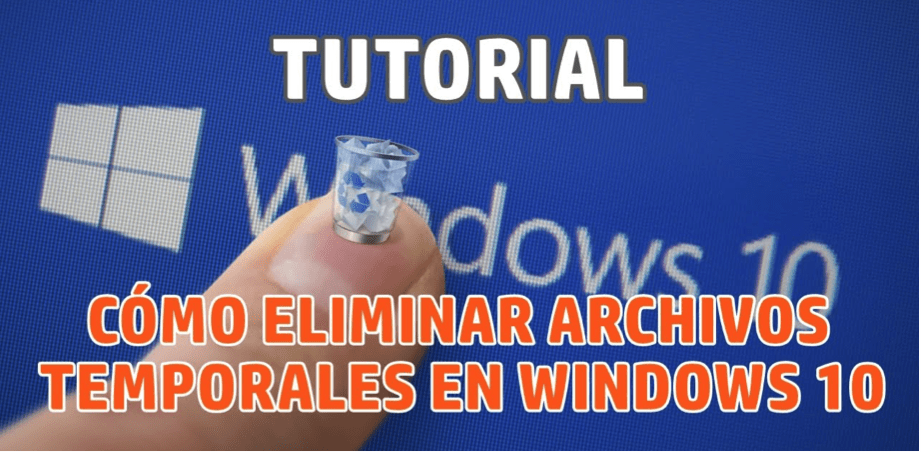 In this post we will explain how to delete TEMPORARY FILES in Windows 10, so that your computer is TRASH FREE and FASTER. ENTERS!
WE START:
Deleting Windows 10 temporary files supposes a considerable increase in the speed and response of your Operating System.
These files accumulate little by little and then with the passage of time they do not have a specific function or utility.
Temporary files theoretically have the utility of speeding up the operation of the computer, but when there are too many, performance begins to decrease.
This is because system memory dedicates space and capacity to these files that are not being used.
Clear temporary files in Windows 10
In order to erase temporary files from our Windows 10, all we will need will be the tools that the Operating System itself offers us.
But if we want a deeper cleaning we can use an additional program to complement the performance improvement.
File deletion method 1
This is the main way you can remove them, do the following steps:
1.- To begin, go to the Windows Settings menu.
2.- Then, click on the System option, and in the column that will be displayed on the left side of the window, you must click on the Storage option.
3.- Once this is done, you will be able to observe the hard drives that are installed in the computer.
You must click on the one named «This computer (C :)», and thus you will be able to access the memory configuration of the main Windows hard disk.
4.- You will have to wait a few seconds, so that the entire distribution of space will be loaded correctly, which occupies the main categories of files on your computer's disk.
Look for the Temporary Files category and click to access it.
5.- When you are inside you can see different options you have to select and delete those files from the system.
Be careful with deleting the files from the download folder since you can lose all the files that you have downloaded from the internet and are there.
6.- When you finish selecting then click on the Remove files button so that you can free up that space on your hard drive.
File deletion method 2
If you don't want to do the above method because you don't have much time or because you want something faster and easier, then use the Disk Cleanup application.
With this application you can delete temporary files in Windows 10, just like method 1, but in a simpler and less detailed way.
To access this application follow the steps:
1.- First, hit the start button and type "Disk Cleanup" to search for it.
2.- Once done, press Enter and you will have to wait a moment until the program finishes calculating.
3.- When the window with the options appears, select the ones that suit you best and press the "Clean system files" button.
File deletion method 3
And to finish with the tools that the Operating System offers us, we can go directly to the location where the most common temporary files of the system are housed.
To do this, follow these simple steps:
1.- First, open Windows File Explorer and go to Local Disk (C :).
2.- Then, go to the Windows folder and look for a folder named Temp, open it.
3.- And finally, delete all the files that are in there, this is the manual way to delete them.
Remember to clean the Recycle Bin after you do these processes.
Programs to erase temporary files in Windows 10
There are free programs on the internet that can make our lives easier and perform all these actions for us, helping us save time and several more Clicks.
One of the most prominent programs is CCleaner, is used to erase all the garbage that Windows stores, especially the temporary files of the main web browsers.
A very good alternative to CCleaner is the tool called System Ninja. You have most of the options that the first program can offer us:
From a complete scan to locate temporary files and in the same way, find duplicate files that may be in your Windows 10.
It's that simple to delete temporary files in Windows 10!
Performing at least one weekly cleaning of temporary files guarantees optimal operation and performance of our Operating System.
If you have Windows 10 or earlier versions, it is always advisable to keep the accumulation of these files at bay.
---
To conclude, I want to tell you that WE ARE WINDOWS LOVERS. We write with passion for all our readers. We invite you to take a look at our posts!
In the same way, we impart tech tutorials very interesting, we invite you to take a look.
Were you able to delete temporary files in Windows 10? We want to know your answer. Please leave it in the comments!
See you in another post.