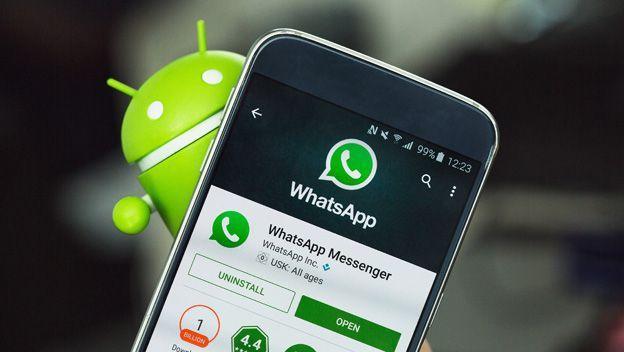 In this post we will teach you how to block WhatsApp with a fingerprint, so that so no one can see your conversations and your secret chats. ENTERS!
WE START:
WhatsApp has become one of the most popular applications today, which is why it has become important to lock WhatsApp with a fingerprint.
It is essential to keep this application properly secure, for personal, work, financial reasons, among others.
Thus, there is a way you can protect this application, either because you will lend your phone, or for other reasons.
For your safety it is important to have a good security system on your mobile to protect all your data.
How to block WhatsApp with fingerprint SUCCESSFULLY
Currently there is a possibility to block access to your applications through the FingerSecurity app.
It is a very useful app so that all your data and conversations are kept very safe.
In turn, this application has been adding users over time and has become more popular.
The veracity and good reputation of it has been greatly noticed, because many have tried it and have been quite satisfied with it.
In this way, what you should do first is download the FingerSecurity application from Google Play on your device.
Download FingerSecurityDownload from Google Play
Also, this app it's totally free, although it has a Premium mode that requires money, but wait ...
To block your WhatsApp with a fingerprint it will not be necessary!
Next, for FingerSecurity to work, it must have access to all the applications on your device.
If you do not want to accept this permission, it will be impossible for you to block WhatsApp with a fingerprint, so your app will not be as safe and protected.
Check your device's compatibility with FingerSecurity
On the other hand, when configuring this application, the compatibility of the device will be checked, since not all mobile devices are compatible with this application.
In this process, your mobile will need to have a fingerprint reader and it must also have updated software.
Thus, you can check the compatibility in a part of the application's settings menu.
Then, follow these steps to be able to block WhatsApp with fingerprint successfully:
1.- After this, you must enter a password of at least four digits.
This will be necessary in the event that you cannot use your fingerprint to unlock your applications.
2.- Afterwards, you must choose and select which applications you want to protect with the use of your fingerprint.
It should be noted that most applications are compatible with FingerSecurity.
In addition, to select the applications you want to protect with a fingerprint, you must go to "Applications" and click on the "+" symbol.
There you will see the list of services and applications that are compatible with this app.
3.- Then, select WhatsApp, and doing so will open a new window where you will activate the protection.
Ending protection for WhatsApp
And so, you will have already established the WhatsApp lock with your fingerprint, so you can quietly close FingerSecurity and return to the home screen of your device.
Finally, your WhatsApp will be blocked, so from now on you will have to use your fingerprint to access this application.
In addition, your application will be safe and secure, as will your data and conversations.
---
Before finishing the post, I would like to tell you that we have many more articles related to WhatsApp: help, tips, TRICKS, among more. Visit us!
Additionally, this blog imparts many tech tutorials of all kinds: help, tips, hardware, programs, settings, among many more. In case you are looking for something, you will surely find it there.
Were you able to block WhatsApp with fingerprint? Leave us your answer in the comment box of this incredible post!
See you in a next installment of the tutorial. See you soon!