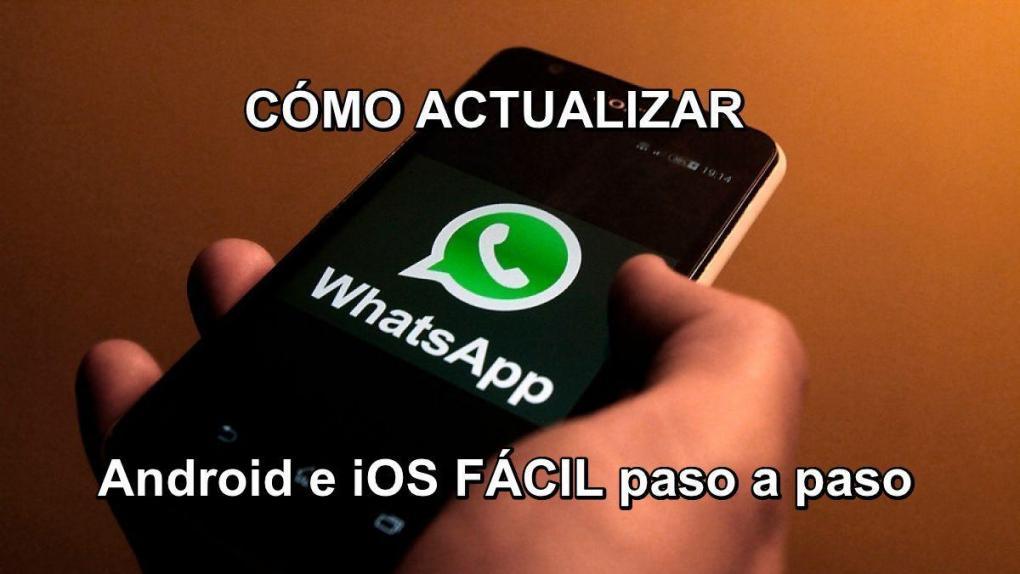 In this article you will learn how to update WhatsApp and WhatsApp PLUS, without Play Store, from Google Play or third-party stores and thus avoid possible system errors on your device, both Android and iOS. ENTERS!
WE START:
Welcome again.
If your smartphone already has the world's most popular messaging app and it recently asked you for an update, don't worry! Here you can learn how update WhatsApp to its latest version for Android and iOS EASY and fast.
This small tutorial will be focused on various types of users, so be very attentive to the steps that we are going to take later. But before we start, we are going to clarify why it is so important to keep the WhatsApp version updated (if you already know the reason, you can go directly to the steps).
Importance of downloading the latest version of WhatsApp for free
Why is it so important to keep this app updated? First of all, there is the internal support, that is, everything that keeps the application working correctly.
In case your WhatsApp has certain errors and bugs, sometimes all you need is have the latest version, since the constant update always brings bug fixes. There is also the issue of internal security against potential hackers.
On the other hand, there are the new implementations at the visual level. These can be, changes in the messaging interface, inclusion of new tools, emojis or stickers, etc. If the last update came with important changes to the app, and you don't have it, then you won't be able to view that content.
Update WhatsApp without Play Store step by step
Is it possible to update the application without going through the Play Store? Spoiler alert: The answer is yes, and here's how to do it.
The process is much easier than you might imagine. Sometimes, updating through the Play Store can be somewhat uncomfortable when at the end of the download it launches the typical «download error»Or some unexpected internet failure. Also the problems of little space in the device influence in the correct update.
To update WhatsApp to its latest version without using the Play Store, this is what we should do:
You must have him WhatsApp APK file. You can download directly by APKPure.
When you locate it, you open it. It will ask you if you want to replace the latest version, answer yes.
You will get a warning which you should ignore, as this is part of the process. And remember that you are working with an APK file.
The next thing is to follow each of the installation steps, which are not complicated at all.
In a matter of seconds, you will be updating your WhatsApp.
Update WhatsApp from Google Play
Now, if you want to update WhatsApp from the official Google Play store. The process is much simpler. If you have the automatic update option, you won't have to lift a finger. But if this is not the case, or you still don't have the new version. This is what you can do:
Update for Android
For those who need to know how to update WhatsApp for Android, just follow these steps:
Enter the Play Store.
Open the menu on the left. You can just swipe or press on the three horizontal bars above.
Among the multiple options choose All applications.
There will be a list of all the apps to update, look for WhatsApp.
When you locate it, you open it and press Update.
You just have to wait a few minutes for the update to download and that's it.
Update for iOS
If instead, they are Apple users, update WhatsApp for iOS it's pretty straightforward too.
iOS generally alerts you periodically when an update is available by making a red dot appear on the app icon.
If this happens, open the store and enter «To update«. There you will see a list of applications with an available update.
Locate WhatsApp, and you just have to give the option Update.
Wait a few minutes and voila.
Update WhatsApp from third-party stores
In case we want to know how to update the app through other options. One of the best that we can find, in addition to the Google and Apple stores. It's the APKPure store. It is an app store for APK files.
To update WhatsApp through this third-party app, the steps are very simple:
Enter the APKpure page and search for WhatsApp.
When locating it, enter it and all you have to do is press update.
Another option is to scroll down, look for the latest version manually and enter.
Update WhatsApp from the web
If you want to update from the WhatsApp official website, all you have to do is go in and look for the download window. There you will see several options, you will have to choose between Android, iOS, Mac and Windows. Depending on where you want update the app, select the option and the download begins.
If you already have the application, it will ask you if you want to replace it with the most recent version, you must accept. After that, it is only necessary to wait.
Download and update WhatsApp PLUS for free to the latest version
Because this app is unofficial, You will not find it in the official Play Store from Android. It is only available in APK file. Therefore, you must turn to the reliable APKPure.
Download the file, and keep in mind that to install WhatsApp Plus it is necessary uninstall the original version. The installation will proceed in a simple and safe way, you just have to follow the steps that it gives you for the process.
For update WhatsApp PLUSYou just have to do something similar, as if you wanted to update an APK version of WhatsApp. Locate the file in the folder where it is stored and open it, if an update is available it will ask you if you want to replace with a newer version, to which you must accept. The process will be the same as a normal installation and should only take a couple of minutes.
Now you already know how to update WhatsApp and WhatsApp PLUS, without Play Store, from Google Play or third-party stores both for Android and iOS and keep the latest version of this messaging app up to date. Start enjoying new content and bug fixes.
Remember that having an updated app is important for security reasons, so, run to do it!
---
We hope you know how to make the most of the information in this post and don't forget that you will always find quality information on our blog. Visit us!
We have other topics for you that may be of interest to you:
If you want more topics like these, let us know in the comments below, we will respond as soon as possible. Until next time!