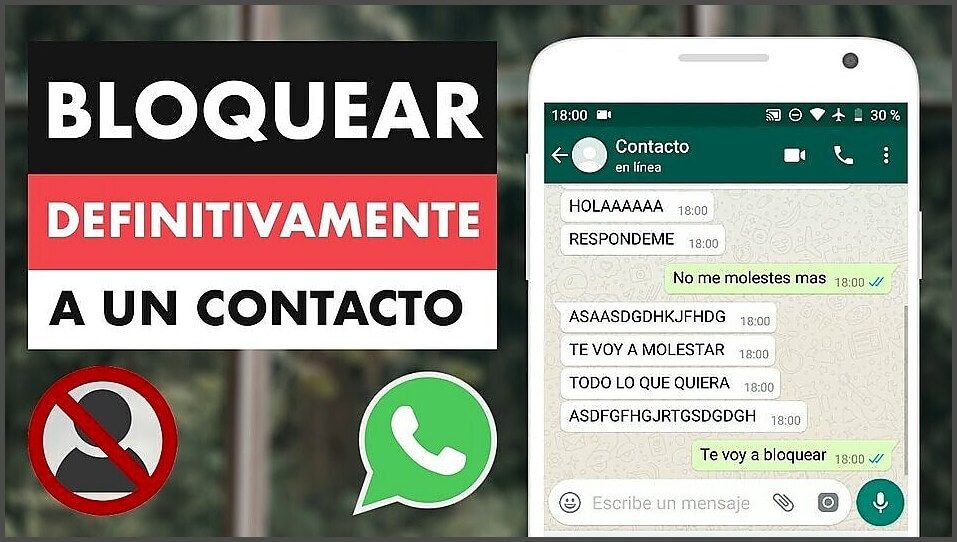 In this post we will teach you how you can block a contact on WhatsApp, either on Android or on an Apple iOS, so you won't be bothered or harassed ever again. ENTERS!
WE START:
There are many reasons to want block on whatsApp to a contact: either because we are being harassed or we just don't want someone to see our statuses.
The important thing is that the designers of this application have taken customer demand into consideration.
If we want to block someone, but also know what the blocked user is going to perceive when doing so, read the following article so you know what it is about.
Ways to block the person
Blocking a contact in WhatsApp is quite simple and very similar in all mobile systems.
If you wish block someone on Android and iOSPlease scroll down this website a bit to find the instructions.
In the case of WhatsApp Web, only contacts can be silenced and cannot be permanently blocked.
The blocking action is completely reversible, which means that the person will continue to appear on our contact list, as long as they are not removed from the agenda.
In the case of deciding to reactivate the blocked contact, we can repeat the same operation and unblock it.
What does the blocked contact perceive?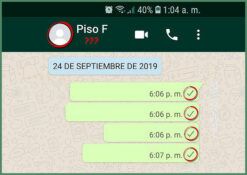 The WhatsApp application does not include any mechanism that allows you to find out if you have been blocked or not.
Due to privacy policies, this is not allowed because it would be a violation of user rights.
However, there are some indications that allow us to intuit if there is a blockage in WhatsApp.
Some of the signs that can help you know if a contact has been blocked are the following:
Does not show the last hour online
One of the things that can make the blocked contact suspicious is that their activity cannot be perceived through the last hour of connection.
This is an option that can be disabled, however most people do not.
Double check does not arrive
The double check is what indicates that the messages have reached the person, as well as the double blue check is the one that indicates that it has been read.
In this case, if the double checks never appear, there are two options or you lost the phone or you have blocked the contact
There is no photo in the profile or in the status
When someone's photo or status cannot be seen, it may be due to a crash.
There is the option to block photos on your own and it is not necessarily by blocking.
In any case, any of the situations described above can be done optionally, however when all three coincide, it may be due to blocking.
How to block a WhatsApp contact on an Android?
Steps to block a contact saved on your Android phone in WhatsApp:

First, in WhatsApp, press the menu button> Settings> Account> Privacy> contacts.
Then press the "Add contact" icon.
Finally, select the contact you want to block.
Another way to do it is the following:
Open the contact's chat, then press the Menu button> More> Block> Block
Steps to block an unknown phone number on WatsApp:

First, open the chat of the unknown number on WhatsApp.
Then tap Block twice.
If the message from the unknown number is SPAM, you can report it with the Report and Block option.
Before blocking a contact on WhatsApp, you must take into account the following questions:
You will not be able to receive messages, calls or some status updates of the blocked contact.
Information about your online connection, status updates and profile picture changes will not be visible to the blocked contact.
Block a person, does not mean that their number will disappear from your contact list. If you want to delete it completely, you must do it in the phone's agenda.
When the time comes to want to unblock a contact that we have previously blocked, the following steps must be followed:
Enter WhatsApp and press the Menu button> Settings> Account> Privacy> Blocked Contacts.
Long press on the contact's name.
Click on "Unlock".
You should also bear in mind that when you unblock a contact, you will not be able to receive the messages or updates that they have sent you while they were blocked.
If you unblock a number that was not previously stored on your phone, you will no longer be able to retrieve that number.
How to block a WhatsApp contact on Apple iOS?
Steps to block a contact saved on your Apple iOS phone in WhatsApp:

First, press the WhatsApp icon,
Then, click on the settings icon in the lower right corner of the screen. This resembles a sprocket.
Then tap on accounts> privacy> Blocked> Add new
Finally, by clicking on the contact you will be adding it to your blocked list.
To unblock a contact, just tap on the name from the blocked contacts page.
Scroll to the bottom of the screen on contact information and tap on "Unblock contact".
---
We hope this post has been of great help to you. In this blog we share more tutorials and curiosities about WhatsApp. Visit us!