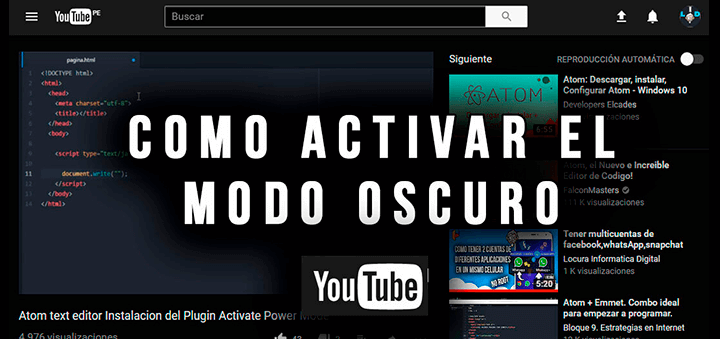 Like what YouTube has a dark mode?! Yes, that's right, it does, and in this post we will show you how you can activate it. ENTERS!
WE START:
Youtube It is one of the most used Google platforms on the planet. Even so, until not too long ago, the design of the web platform left a lot to be desired when compared to some of its rivals.
Luckily, after the arrival of Material Design to the video platform par excellence, Google has not ceased in its intention to incorporate new features to improve the YouTube interface, and thus, the experience of users when using it.
The latest news that we have known today thanks to Android Central, it is a built-in dark mode on YouTube web that, although something is hidden, it is possible to activate it in a simple way by following a few steps that we will leave you below.
How to activate YouTube dark mode:
More and more applications and platforms offer the possibility of activating a dark mode or night mode, which turns the background colors into dark tones to avoid discomfort to the eyes when consuming content in low light situations. The last to join this trend has been YouTube, although at the moment this mode can only be accessed from the web.
For turn on YouTube dark mode, it will only be necessary to access the YouTube website from our computer using Chrome –or any other browser–, and follow the following steps.
Access the YouTube website.
Access the command console using the browser developer panel. To do this, in Chrome for Windows, you will have to perform the key combination Ctrl + Shift + I, and in MacOS, Option + Command + I.
Once inside, you will have to access the tab Console, which will appear at the top.
Inside the console, write the following text –Copy and paste may give an error– and press enter:
document.cookie = »VISITOR_INFO1_LIVE = fPQ4jCL6EiE; path = / »
Finally, exit the console and refresh the Chrome tab. Once reloaded, we will click on our YouTube profile in the upper right part of the screen, to activate dark mode from dropdown menu, as you can see in the image above.
As you can see, it is very easy to activate the new YouTube night mode. Now that Google has decided to incorporate this novelty into the platform, we hope that soon it will be possible to enjoy a similar tool in the application intended for Android. As always, we will keep you informed about any news.
Have you activated the new YouTube night mode? What do you think?
Doubts questions?
I hope I have helped you and I hope you are done with the post. If you don't understand something, contact our team using the floating chat (located in the lower right part of your screen) to leave us your question.
You can see our most recent posts on our page start from the blog. Like us on our Facebook page so you don't miss any news.
GOOD MORNING AND GREETINGS FROM OUR TEAM!