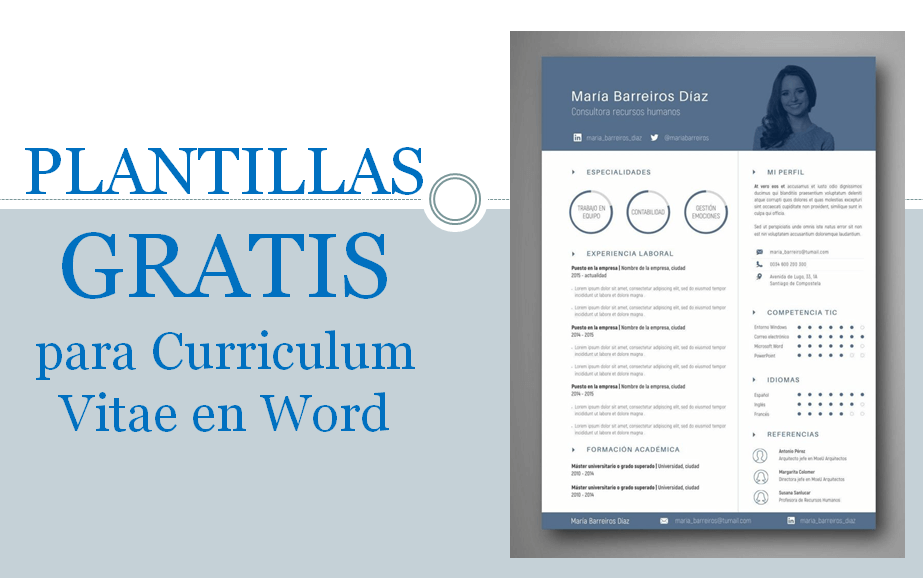 When you are looking for a good job, it is not only necessary to have a career in our professional branch, but it is essential to know how to translate all that experience on a resume sheet, so that it can impact the employer. And precisely, that is the purpose of our post, today we will show you the top of the Best Editable Resume (CV) Templates in Word. ENTERS!
WE START:
As we said at the beginning, the goal of this article is to help you choose a good resume template, and in this case, we bring a selection of resume templates, or better known as CV, editable in Word, a word processor that brings with it a complete collection classified from the simplest to the most professional.
However, before entering the subject, we will explain what a resume template is and what aspects you have to take into account before selecting it.
What is a CV template?
A CV template (Curriculum Vitae) It is a structure that includes certain predetermined items that allows you to incorporate your professional information, and it also comes with a good design so that you do not have to worry about the aesthetic part. However, this statement is not entirely true, as some are too simple; For this reason, here are some aspects to consider before choosing a template.
How to Select a Curriculum Vitae Template
The first thing to keep in mind is that the template you choose must provide a perfect balance between attractive design and functionality. Ideally, the design complements and enhances the content.
Then, you should keep in mind that a template should look like a resume. Although it sounds laughable, it is important that the design of the template reflects on all sides that it is a resume.
And since basically the success of a template revolves around its design, you must also make sure that it has a original and creative design. Resume templates should be distinctive; Therefore, our recommendation is that you choose an original template that reflects an air of elegance, that does not have excess ornaments, icons, symbols, etc.
Now the stencil background color it is also an extremely important aspect to take into account. Although the tendency is to want a resume with a colored background, it is often uncomfortable to read the information with a background color other than white. Our recommendation is that you choose editable templates for Curriculum Vitae with white background and with any other detail in color.
In accordance with the previous premise, the use of colors in the details It is essential to provide luminosity and dynamism to the curriculum vitae.
Likewise, you can incorporate touches of color in text. The most recommended to use are: black, as the base color for texts; blue in different shades as a secondary color, for example for headlines or to highlight important words; colors like green and purple also work well. And as a recommendation, do not use red as it tends to be a somewhat aggressive color, if you are going to use it, it should be for something very specific.
Knowing the aforementioned aspects, our most important recommendation is then that you select a template for a curriculum vitae that is original and fully functional, that combines a perfect combination between its colors and its structure.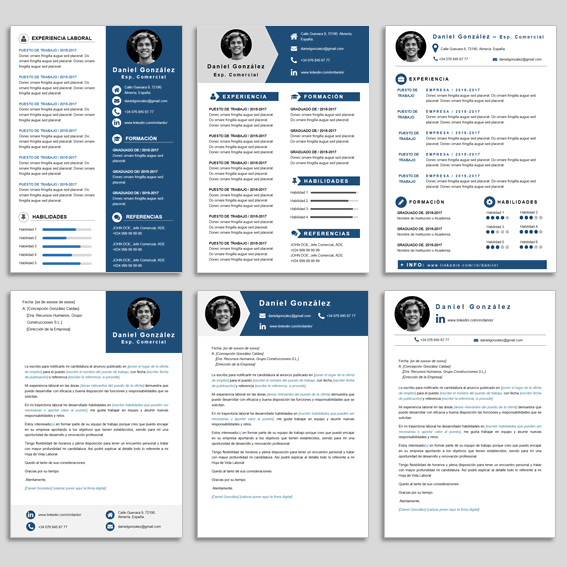 How to edit a CV template in Word?
Now, speaking of the structure of a CV template mention must be made of its sections and how to edit them.
In general, CV templates for resume in Word They bring with them most of the necessary sections; however, they do not always come in the order that interests us. And this is where our first point comes in, you will have to start by doing a little editing work to reposition each section as you wish them to be.
And to carry out this task it is also important to know how to take advantage of the spaces very well, for example, give priority to the content and less to the aesthetic elements, in this way you can put together your resume on a single sheet, if you want to.
Regarding the content, keep in mind don't overload the template. Do not copy very large paragraphs and use a suitable font size. Try not to make the text look too concentrated.
Regarding the professional profile section try to perfectly condense your trajectory. This will be the section that the employer reviews first, so make sure that the template you choose has it included and, in addition, allows you to write enough information.
In the case of Word, with the option of the brush you can copy the formats that interest you and then it allows you to use them in the elements that you have added.
Also suits you edit the titles of each section including keywords that manage to attract the recruiter's attention, for example: positions, functions, achievements, tools, among others.
Finally, once you have copied all the information in each of the sections and you have the template ready; it is recommended that you transform it into PDF to avoid altering its format.
Keep in mind that, despite being templates with a predetermined format, you can transform it and adapt it completely to your liking by following the advice that we gave you before.
Websites to Download Word Resume Templates
Here is a small list of sites that contain a good selection of Word resume templates; thus your work of choice will be greatly facilitated.
---
We hope you have been able to find the ideal template for you and that all the information has been of great help to you.
Do not forget that in this blog you will find more tech tutorials unique. Visit us!
Until next time.