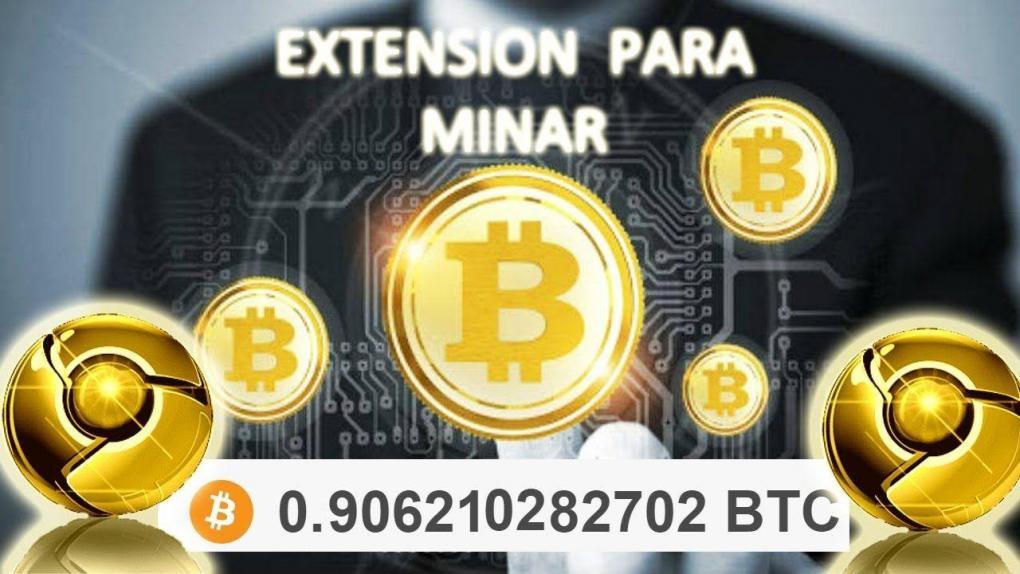 In this post we will show you how you can mine Bitcoins using your Google Chrome browser. As you heard: mine Bitcoins automatically thanks to Chrome! ENTERS!
WE START:
Welcome to another post. On this occasion, I come to talk to you about cryptocurrencies; that's what a lot of people have been talking about lately. There are various cryptocurrencies, but the queen has always been Bitcoin, but ... how can I mine?
The 'mining' process means 'obtaining cryptocurrencies', and it is a difficult process because it requires specialized equipment, but guess what? Now you can mine bitcoins while browsing there using Google Chrome, if you don't have it,download it!
So ... how can I mine Bitcoins with Chrome?
If you want to mine while wasting your time on YouTube or Facebook, follow these steps:
1.- Click on the following button to download the extension for Chrome.
Download minerDownload bitcoin miner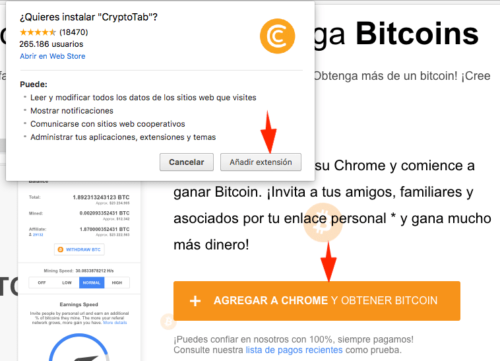 2.- Click on the blue button that says «ADD TO CHROME AND GET BITCOIN«. When you do, you will see the Google Chrome window that adds extensions, click the "Add extension" button. When you do, it will install in your browser.
READY, WELCOME! 🙂 Up to here you will not have anything else to do, just leave the computer to do its work while you waste time in your browser. If you want to know how it works, stay !:
How does CryptoTab work?
When you install it, it will automatically redirect you to your bitcoin generation panel: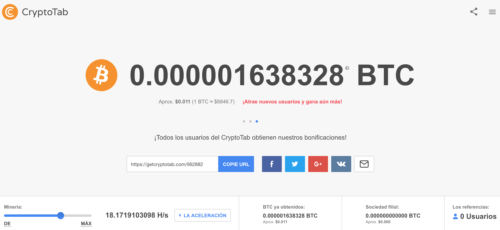 In the central part you will have your balance that you have mined. A little further down, you will have your affiliate link so that you invite more people to do the same, and some buttons to share that same link. At the foot of the page, you will have different sections:
The blue bar: regulates the speed of mining. Keep in mind that the default value that appeared to you is recommended for the characteristics of your computer, since CryptoTab uses your computer's resources to mine and give you Bitcoins.
H / s: is the mining speed meter. The measure is Hash per second.
BTC already obtained: the total balance of Bitcoins obtained also converted into dollars.
Subsidiary company: If you affiliate people using your affiliate link, you will earn more bitcoins!
Referrals: number of people who have referred thanks to your affiliate link.
You earn more Bitcoins by affiliating people!
CryptoTab reminds us and places great emphasis on the importance of inviting people to download and use the extension, since it has 10 levels unlimited width, which means that on the one hand you can directly invite all your friends, family, your acquaintances that you want to invite, and you will earn 15% of the bitcoins they generate, and, on the other hand, thanks to the spill You will also generate the 10% of what your affiliates' affiliates generate up to level 10 deep that has CryptoTab.
It is an incredible bitcoin mining opportunity that we should not miss, since CryptoTab assures that thanks to this we can generate more than 1 BTC per month. I DO NOT DOUBT IT!
Does CryptoTab pay or is it scam?
Personally, I have little use of the extension and I do not know first hand if it really pays or not, but through the next page you will see the payment transactions that CryptoTab has made to its affiliates. There is no need to worry about that!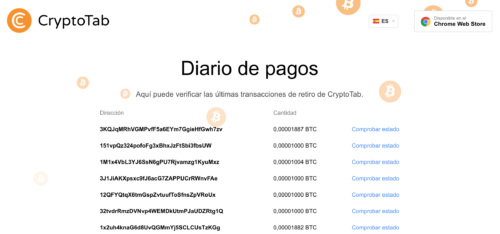 CryptoTab makes payments from the 0.0004 bitcoins generated, which is equivalent to 0.00744 to 0.008 USD (depending on how much the dollar is).
Earn Bitcoins TODAY!Download bitcoin miner
We hope that this tool has been useful to you and you see that mining Bitcoins is possible with a browser. We invite you to see more interesting tutorials, or if you wish, more topics about from web browsers. Until another post!
Doubts questions?
I hope I have helped you and I hope you are done with the post. If you don't understand something, contact our team using the floating chat (located in the lower right part of your screen) to leave us your question.
You can see our most recent posts on our page start from the blog. Like us on our Facebook page so you don't miss any news.
GOOD MORNING AND GREETINGS FROM OUR TEAM!