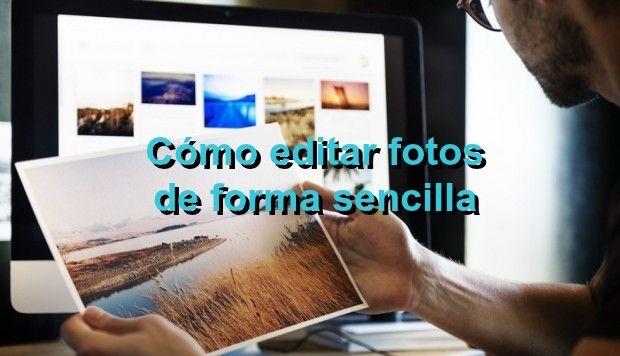 In this post we will teach you how to edit professional photos with different tools (both in Photoshop, Tumblr, Android, iPhone, Instagram, etc), as well as the most popular free online photo editing programs of the moment. ENTERS!
WE START:
Photo editing is something that has become very common today. Today we have at our disposal simple tools to make the necessary adjustments to a large number of images. And is that who would not like to improve a photo?
Thus, image editing tools they are available in almost all digital media involving the internet. And the best of all, is that we can acquire these photo editors totally free.
That is why this time you will learn how to edit professional photographs in the simplest way possible. But, before we get to this point, let's review some basic knowledge that can give us a clearer and broader idea of what we can achieve with these editors. (If you already have a notion of the subject you can go directly to how to edit photos).
At the end of edit all photos, you can upload them to Instagram, Tumblr, Facebook or any social network you want.
What is a photo editor?
A photo editor is a program or application that can be used in three ways: as a web program on the internet, a program installed on our PC, or through applications on our smart devices.
In other words, it is a very useful for applying or changing certain features, as well as eliminating some details or improving them, with the intention of having a better finish so that an image can be seen with better clarity.
On the other hand, professional photo editors they are very common for design, they are used a lot by expert photographers to give a better finish to their work.
Benefits of a professional photo editing program
In general, all these programs offer the same benefits, they are tools with which we can improve details in the photographs. Nevertheless, some programs offer greater benefits than others.
For example, professional editing programs like Photoshop (of which we will talk in detail later), they have at their disposal more tools with which we can do a more precise job than with the photo editor of our smartphone.
However, all of these programs have things in common, and they are:
You can change the dimensions of the image.
It is possible to crop it, to remove parts of the image.
Use filters to give a better finish.
Use alteration of the brightness, saturation, shadows and intensity of colors.
With more professional editors we can:
Delete or erase elements of the image, to make it appear that they were never there.
Insert or add elements and make them look like part of the image.
Employ brightness and lighting functions that give it an artistic touch.
Now, knowing all this, and having a clearer vision of what we can do, it is normal for us to ask ourselves the following question: With what programs can we edit photos?
There are many programs, and it is not an exaggeration, this time we will talk about the most essential, those that may be within our reach, or that already are, for free, or with little investment.
The program that we are going to use will depend on the needs we have. Remember that some have more functions than others. In this list we are going to talk about the most popular ones, whose tools can be adapted for every occasion.
Edit photos in Photoshop
Adobe Photoshop, is one of the most used programs for photo editing. It has endless tools with which we can do almost anything. For some, this program may be difficult. But don't worry, we just need some tips and some practice.
Here we are going to explain some fairly simple functions for the photo editing with Photoshop. Retouching with which we can give images a better appearance without having advanced knowledge.
These are the things that we will explain to edit photos in Photoshop:
Sharpen photographs.
Remove red eyes.
Remove spots on the skin.
If you want to edit your photos from Instagram, Facebook or Tumblr with Photoshop, here we list what we will do above. Let's go for it!
Sharpen photos
We start the tutorial with to edit all the photos you have and put it in focus in Photoshop.
We open the photograph in which to work.
Then, we must go to Image and then to Double. And we are going to work on the layer that we copied.
We paint the image, go to the menu and enter Image> Mode> Grayscale.
Going to Image> Adjustments> Contrast we increase the contrast up to 100.
With the stabilize filter we look for the edges.
We will reverse the photo by going to Image> Adjustments> Invert.
We are going to blur it about 6 pixels, for this we will go to Filter> Blur> Blur.
That layer is now prioritizing the white areas, it will be these that will be in focus.
Now we go to the menu and search Image> Adjustments> Levels. We will move the lower left tab until the white tones are defined and the blacks are uniform.
On the menu To select we will choose the option of Color range and we will raise the tolerance to 120.
We are going to return to the first image and on it we will load the entire selection.
We are going to Filters> Sharpen> Unsharp Mask and we apply the amount in a 120%, the radius at 1.0 and the threshold at 0.
With this we will achieve that the photographs in our post look sharp and have no noise. Two things we always want to achieve.
Remove red eyes
This is a very common problem, the good news is that with this program we can eliminate that, and it is one of the most important functions. If you want to edit the photos you have of this in Photoshop, follow these clear steps:
We open the photograph and we zoom in until the eyes can be seen clearly.
In the tools menu we must find and select the one of Elliptical frame. With it we cover the pupil of the eye with a round section.
Selected the pupils, we will go to Image> Adjustments> Hue / Saturation. In this sale we will focus on the saturation bar and move it to the value -100.
Afterwards, we place the Illumination bar at low values, in this way the pupils will be blacker. After this we give to accept.
This is one of the easiest tricks to edit photos in Photoshop, of course you can edit more professional photos, but that would cover a complete course.
Remove spots on the skin
Another problem whose solution has a fairly simple procedure when editing photos in the famous Photoshop.
After open the image we duplicate it with the same tool we used above.
We are going to position the mouse cursor over an area that is close to the skin, we hold down the Alt key and at the same time we will click. It is important to select a patch of skin that is practically the same in shade and color.
Now, we move the cursor to the spot and we hold down the left button. We will move it slowly until the stain is covered.
There are many more tools, but these are the most used and you need. You can see that they are not very difficult procedures, and they are the basis for being able to perform much more professional tasks, download Here.
Edit Tumblr Photos
Tumblr is a platform for displaying multimedia content. Here we can see photographs of all kinds, many of these are edited and now we are going to know some of the most efficient tools to edit and upload photos with a professional touch on our tumblr profile.
Afterlight: is an application available for iOS and Android, with it we can apply very good effects, combine filters and use shapes and stickers to edit our professional photos for Tumblr. Download here.
Huji: It is a version capable of adding colored lights to the photos we want, an effect that can be very good if used correctly. Download here.
Photogrid: With them we can join photos and videos in a collage, this gives a more creative and professional finish to the photos, this makes it one of the best editors for Tumblr photos. Download here.
Cymera: It can be done from the simplest to the most professional edits, this gives you an innumerable amount of tools and effects, ideal for an image on Tumblr. Download Here.
As you will see, they are very simple applications, but they meet from basic to advanced topics to manually edit photos for Tumblr easily.
Edit photos online for free
To give you the details we need in our photographs, no need to install a program on our computer.
There is an incredible variety of online photo editors that have the tools we need, and they are also free.
They are a good option in case we do not need or want a program occupying memory.
Features of the most popular photo editors
Canva: is he Most used online photo editor. This platform has an incredible amount of tools to edit your photos online and for free.
With it we can make publications for practically all social networks, and in all possible dimensions. With Canva we will be able to give a very professional finish to our photos.
Pixlr: It's one of the best free photo editors. It has a fairly simple and attractive interface. With this tool we can add filters, effects, text, stickers and even layers. Having a general knowledge of its characteristics, we can give a very professional touch to any photograph that we want to improve.
Photoshop Express: is one of the editors with a lightweight, online version of the Adobe program. However, if he has half the functions of his big brother, that is saying a lot.
With Photoshop Express We can change sizes, crop and adjust basic elements such as brightness, contrast, saturation, and other more vital to edit all our photos online, in addition, this program is completely free.
Fotor: It is distinguished from the others by being much faster, so it is good for light connections, but this does not detract from its efficiency. With Fotor We can edit, collage and even design our photos online, and best of all, it's free!
All this puts at hand a amazing online editor to give the best touches to our photographs.
Photopea: It's a pretty good online option for experienced Photoshop users, since the interface and functions are quite similar.
With Photopea We can edit both basic and professional photos in different formats, we have a layer tool, guides and even a magic wand and many more options to give a professional style.
Edit photos on Android
This is very simple. Why? For years the devices of Android allow us to edit photos from the image gallery. Although this application is not as sophisticated as third-party programs, it allows us to make basic changes quickly.
The first thing we must do to be able to edit the photos is to have the Google Photos app in our Android device.
The first thing we must do is open the app. We select the photo we want and in the options we give Edit.
If you want to add filters we just have to look for the option Filters for photos, we select the one we like the most.
In case of wanting adjust lighting settings, in addition to adding effects. We just have to look for an icon that will be displayed as three horizontal bars, hamburger style.
To cut, or in that case rotate photos, we look for the icon which looks like a rotating box.
While we are editing, we can long press the photo to compare with the original version, in this way we will see if the changes we like
Once we have made all the changes we want, we just have to give Save.
As you can see, these steps are too simple, and best of all: you can repeat it with all the photos you want to edit for your Android.
Edit photos on iPhone
We can edit photos from iPhone device (or any other) without the need to install an external program. That is, like the Android system, we must have the Google app, Google Photos and open it:
We look for the photo in the gallery and in its options we enter Edit.
Here we can make the basic changes to edit photos on iPhone, such as adding simple filters, cropping photos, changing dimensions, adjusting the brightness values, saturation.
Once everything is finished, we click Save when we finish editing the iPhone photos.
The procedure is the same as in the previous section, since we are using one of the most useful tools that Google puts at our disposal. provision to edit on iPhone, regardless of the number of photos, and being able to upload them to Intagram, Tumblr or Facebook.
As we have already seen, it is not necessary to be a professional to edit photos, we simply require the tools, the appropriate knowledge and some practice. Applying these three things, we will have great results with our photos.
---
We hope you liked the topic and if you want to see more of our content here we leave you some that may be of interest to you.
Once again THANK YOU for reading and we remind you that here you will always find quality content.
Now, which of these tools have been best for you? Were you able to edit professional photos in Photoshop, Tumblr, Android, iPhone with free online websites? Tell us about your experiences.
See you next time!