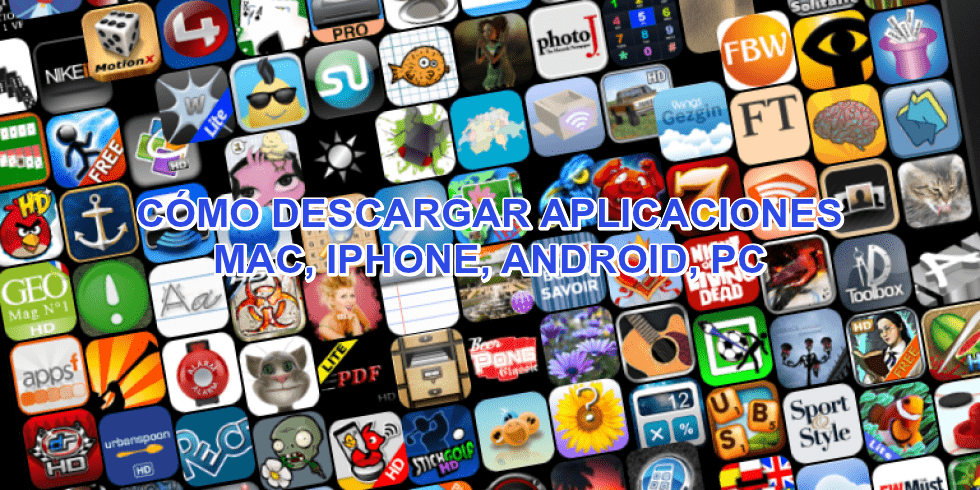 In this post we will show you how you can download free apps for your Android (Play Store) / iPhone (iOS App Store) or Windows PC or Mac. ENTER!
WE START:
Today there are many forms of power download apps free of charge due to limitations that some may present for individuals.
Although downloading applications in this way is considered an illegal action and can incur severe consequences, there are ways to avoid being illegal when carrying out these processes.
Although this type of protection is somewhat annoying, it is a form of get recognized quality software.
Download applications for PC
To be able to choose the best application for your PC, either for download music apps, of games or other uses, you have to be very clear that it is not a simple task.
In fact, computers that possess the latest versions of the operant mechanism of Microsoft Windows 10, for example, they already include a wide range of pre-installed programs, which should serve people for the vast majority of tasks and tasks they need to carry out.
However, all people are aware that all these programs are not enough, and sooner rather than later that moment will come when they will be immersed in the need to see how to download new paid or free applications.
Each computer is a totally different world. However, it has happened to many that at some specific time the tools that the system brings they are not enough to fulfill the activities that have to be carried out.
Most of the applications downloaded for the PC they are based on the same procedure: go to the page, download the application, unzip it, install it, and start enjoying it.
Download free Android apps
Google Play Store is a distribution platform through the digitization of mobile applications for devices with Android operating mechanisms, as well as a kind of online store managed and developed by the monster of the Internet: Google.
The process for download applications through the Play Store for free is based on the following:
Open the app from Google Play Store (you can access directly from your phone or clicking here).
Inquire a bit about the content or browse the app.
Choose an item.
Click on the «Install» area (for those free elements) or in the price that said element has.
Follow the instructions that will appear on the screen to the letter in order to complete the procedure and obtain the content you want.
Download iOS apps
There are two ways to download any free app on your Apple device, and these depend a lot on the type of device you have.
We will tell you the ways that exist to download those free applications from the App Store that you want so much in your iPod, iPhone or any Apple mobile, and on a Mac OS X computer.
Download them from an Apple mobile
The App Store is a benefit enjoyed by iPhones, iPods, iPod Touches, and Mac OS X Snow Leopard or later, manufactured by Apple Inc., which allows all its users to investigate and carry out the app download from the computer branch of the Mac App Store, in the case of Mac OS X, or iTunes Store.
These, in turn, are carried out with the iPhone SDK and released by Apple.
To be able to carry out app downloads via App Store, you will need to have an Apple ID. This is an account that you will have to use in order to access the services that Apple offers you. If you don't have an Apple ID, you can create one for yourself.
When you find the free application that you want to download to your iPod Touch, iPhone or iPod device, you have to do the following:
Click on the app so you can see the product page.
Select «Get» if you want the app for free.
Or if on the contrary it is a payment, select the price that appears on the screen if you want to buy the app.
Download them from a Mac OS
On the other hand, when it comes to a Mac, download apps free has another similar process but at the same time different, you have to carry out the following procedure:
Open the App Store (you can access from your Mac PC or clicking on this link).
Enter and search or inquire a little about the application you are looking for or want. Keep in mind that many times app developers for iPod, iPhone and iPod Touch, they do not have apps for Mac.
Press or click on the application.
If the app is free of prices, select «Get» and proceed to the installation of it.
If the app is subject to a price, select the price and then go to "Buy".
Lastly, if you want to find the apps on Apple TV, head over to open the Apple Store. When you manage to find the app that you plan to download or buy, carry out the following steps:
Choose the app.
If the app you selected is free, then choose "Get" and proceeds to its installation.
If the app you chose is subject to prices, then select the price and proceed to pay for it and then carry out your corresponding installation.
Thanks to this, we can learn a little more about the technological world and the ways of download apps for free without having to be involved in illegal actions or that may later harm the individual and everything that involves him at the time of the procedure.
---
We hope this tutorial has worked very well for you to be able to download any app for your Android, iPhone or PC.
Before concluding the post, tell you that we have more tech tutorials available on our blog. Visit us!
¿You were able to download apps on your Android, iPhone iOS or PC Windows and Mac for free? Let us know in the comments!
See you in another article.