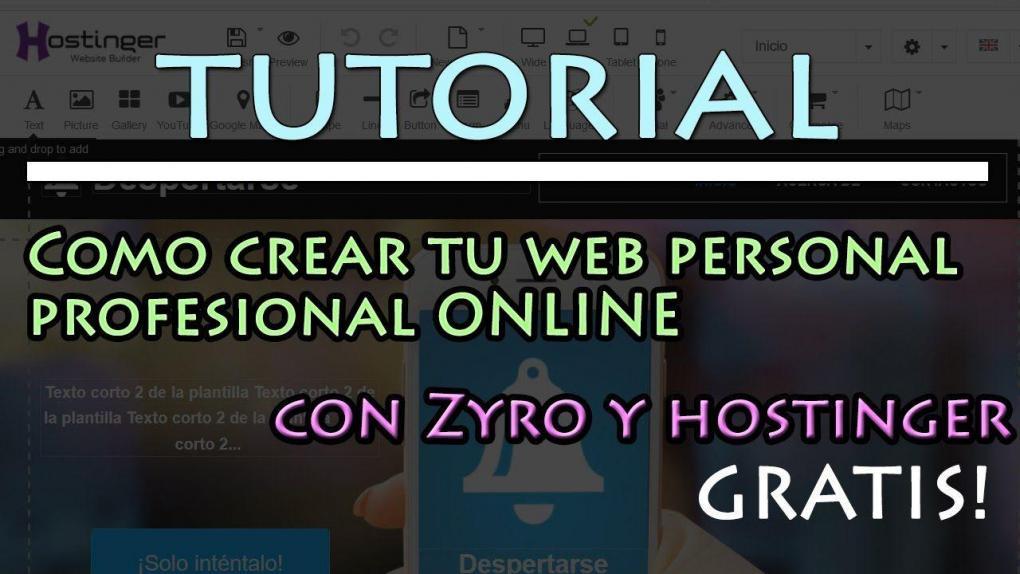 In this tutorial you will learn how to create a PROFESSIONAL website from scratch in an estimated time of 10 minutes, for your company. ENTERS!
WE START:
A website today is more than essential for a company, because that way they can show the world their services, location and who they are. Almost all companies have one today, but ... how many of those companies had to contact a specialist to have it done? Phew, if we think about it, too many companies did that. Now, how much have they been charged, $4,000 pesos? I don't even want to imagine.
Well, TODAY you will learn to create your OWN PROFESSIONAL WEBSITE from scratch with me, and you will NOT have to pay someone to do that work for you. For people who are just starting out on the internet, I explain what a website is (if you want you can skip the tutorial):
What is a web page?
A web page is that virtual place that everyone can access, a space dedicated to disseminating information related to something or someone, in the case of a company, it is with the aim of reaching more people, getting more CUSTOMERS, and of course get more profit or money.
The information is accessible through a URL that points to the server that contains said information, when we write down said address our browser connects to the page and shows us what it has.
Tutorial: how to create your own professional website from scratch
The first step is to create a new account at Hostinger Mexico, which will be where our website will be hosted. When you enter you will see this following aspect:
Click on "Get Started Now" and you will then enter another part of the site. Scroll down a bit and click on "Order" for the Free plan:
Then, you will see how a purchase section, you will not spend anything, click on "Finish purchase":
Then click on "Create a new account":
Fill in the information, or you can log in using your social media accounts:
Then click on "I agree to the Terms […]" and then click on "Complete Order":
Then, you will enter the following page, and it will show you that the receipt is paid:
If we go to HOME (in the site menu; top left), we will see that it tells us to check our email:
Let's check it out !: Log into your email account and click the "It's Me" button in the Hostinger verification email:
When you click, the following will appear:
Now, click on "Configure", and then you will have to create your new domain (if by accident the window was closed, refresh the page). To configure the domain! (In this example we use a free subdomain, if you want a domain like .com you will have to pay for it):
Fill in the sections. The name of the company goes in the name of the subdomain. In this example it will look like «yourcompany.esy.es»(That will be the URL of the web). Now, the server region will be in Europe (if it is the only option, but if another one appears closer to your location, mark the one that is closest), and you have to define a site password (you can enter the same that you put when registering the account). Click "Configure" once you have completed the form.
It will then redirect you to HOME. Refresh the page once and you will see your domain. In my case I will see «yourcompany.esy.es«. In the blue section of "Hosting account", click on "Manage":
When you click that button, you will enter the Main Control Panel of your web page, which will look like this:
What matters to us now is to start creating our website. Since if we access «yourcompany.esy.es»In the browser, you will see this:
Okay, head back to the Main Control Panel of your website and scroll down the page a little until you find the «Website«, And click on the button called« Site Builder »:
It will open a new tab containing the site builder. From here, I leave you the following video tutorial that I made (it explains in detail the interface and creation of the web using that site builder):
Doubts questions?
I hope I have helped you and I hope you are done with the post. If you don't understand something, contact our team using the floating chat (located in the lower right part of your screen) to leave us your question.
You can see our most recent posts on our page start from the blog. Like us on our Facebook page so you don't miss any news.
GOOD MORNING AND GREETINGS FROM OUR TEAM!