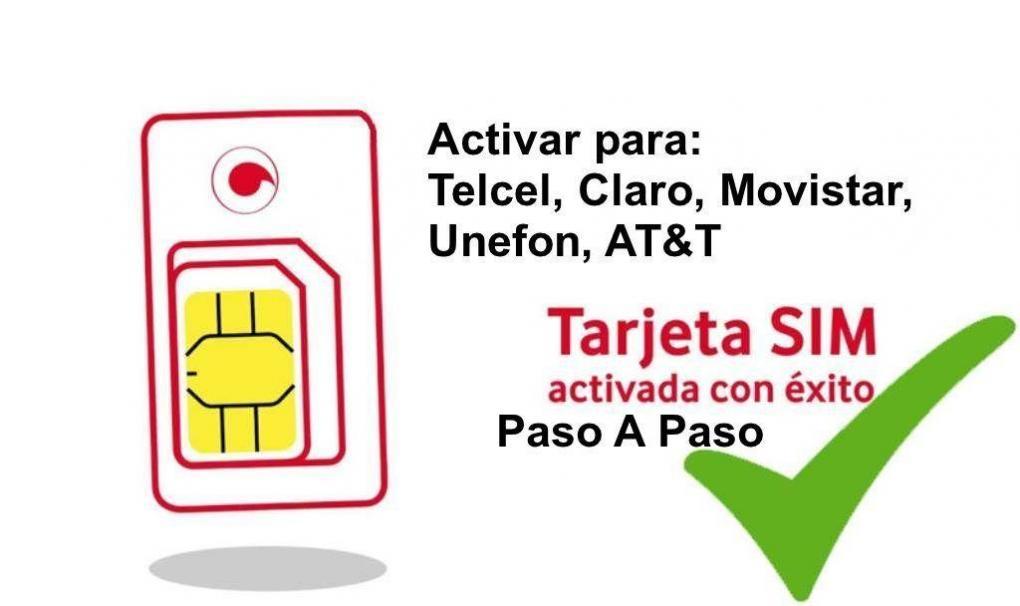 In this post you will learn how to activate personal chip / SIM card (Both for Telcel, AT&T, Movistar, Claro, Unefon and thus be able to communicate through calls, messages and internet on your mobile device step by step. ENTER!
WE START:
Welcome.
Currently, to achieve the optimal functioning of a mobile device it is necessary activate a line through a telephone company service. It will not only give you access to calls, text messages and the internet, but it also offers you connection benefits from anywhere in the world.
But it is not enough to have a chip to be able to enjoy telephony services, also it is necessary to activate personal chip to connect with a company network and streamline communication.
We could say that this piece is the fundamental basis of any cell phone. If you don't know how to activate a chip / SIM card for various telephone companies such as Movistar, Telcel, AT&T, Unefon and Claro, keep reading that here we are going to explain it step by step.
Before we get down to business, let's learn a bit about how SIM cards or chips work. (If you already know the subject, go directly to the activation of the SIM card)
What is a chip / SIM card?
A chip or SIM card is a Small, plastic smart card that serves to activate mobile equipment through a SIM reader. This chip is easily removable and contains access to the database of the country's operating company.
In other words, it is the information that a cell phone needs to connect to the system networks, which will provide a number with which you can identify yourself with the rest of the world.
Operator services have great benefits and plans for users who hire it, which is why there is great diversity, among which are: Telcel, AT&T, Movistar, Claro and Unifon.
How to activate a personal chip
Regardless of the phone company, there are some essential steps to take when toactivate a personal chip:
Initially you have to have a chip or SIM card. This can be purchased at a local or telephone service. It will be necessary have identity documents and sign a contract that establishes the conditions of the service.
It is also required to have some available balance.
Once you have your chip, you must insert it into the phone when it is powered off. Depending on the model, the SIM slot is located on the back or on the sides of the phone.
Place the chip in the slot as directed by the phone.
Turn on the phone.
Then it will be necessary configure the chip depending on the telephone operator or network. For that, we will teach you the step by step with each of the telephone companies.
Activate chip for Telcel
Telcel, is one of the oldest and most recognized telephone companies in the world. It is estimated that at least 2.37 million people use this network, especially in countries like Mexico, where it is the main operator of telephony services due to its wide coverage and accessible plans for users.
If you are thinking of acquiring a Telcel SIM card or device and you do not know the procedure to insert the chip, here we will teach you easily and without problems.
Activation can be through several channels: A phone call, text message or by entering the official website.
Steps to follow to activate it from the web page
Go to the official Tecel website here

 and go to the "Activate" panel.

In the window choose the Telcel service and press continue.
Fill in the form data without leaving an empty space.
Requested data: 
Zip code of your residence 

Plan you want to activate

User account. If you don't have one you can create it. 
Activation of the Telcel line will take place within an hour approximately. 
Steps to follow to activate it with text message
You must send a text message to

number 4848.

In the message field put "HIGH"

Upon receiving the reply, please send your first and last name without accents or special characters. 

You will be asked for your email address. (This step is optional)

Finally

you will receive a welcome message

and you will have your Telcel line active.
Steps to follow to activate it with a phone call
You must

be registered on the site Web.

Call the call center from another Telcel phone by dialing:

* 264 for prepaid lines

and * 111 for postpaid lines.

Follow the steps indicated by the operator.

Wait for activation.
Following any of these three ways you can get activate chip for Telcel easily.
Activate chip for AT&T
AT&T is a telecommunications company, a subsidiary of AT&T Latin American. It is also a division of the leading American telecommunications company AT&T, whose headquarters is located in Mexico City and provides telephone service to a large part of the city's users.
Activate chip for AT&T can be done through a call or through your official website, following these steps:
Steps to follow to activate it with a phone call
You must insert the SIM into the phone.

Check if it has compatibility with the AT&T signal.

Press * 228

, followed by option 1 and 3, "Send", then press 4.

The operator will inform you when the phone is programmed.

You will receive a text message with your phone number. 
Steps to follow to activate chip for AT&T from the website
In case of wanting activate an AT&T chip online, you must follow the following sequence of steps:
Enter the website of the company.

Select the option for activation of mobile terminals or AT&T PREPAID.

Put the requested data in the registry and press "continue".

Finish the process and

wait for the activation of your line

.
In case of any problem or doubt when activating chip for AT&T you can call 900 901 9878 and speak directly to the service operator.
Activate chip for Movistar
Movistar is one of the most used companies in america, include telephone service, cable television and internet. It has broadband and customer service for any need. For toctivar chip for Movistar, you can do it through a PIN code or phone call.
Steps to follow to activate it with PIN code
Enter the SIM in the phone.

Turn on the computer and

dial PIN code

that accompanies the SIM.

Make a call to any number to check that it is active.

Movistar SIM card
Steps to follow to activate it with a phone call
Enter the SIM and turn on the phone.

Call 1004

and make the activation request. 

Wait 24 hours for activation.
Another way:
Insert the Movistar chip in the phone.

You will receive a message announcing the corresponding telephone number.

You will have to restart the mobile.

Once rebooted, make a call to this number * 611. Movistar will automatically welcome you.
It only remains to recharge your balance (at least 50 pesos if you are in Mexico) so that you can start using the service.
Activate chip for Claro
Expensive, is a subsidiary of América Móvil and is the leading provider of telecommunications services in Latin America. It is based in 18 countries on the American continent and the Caribbean, including Mexico, with a large number of registered users. For activate chip for Sure perform the following steps: 
Steps to follow to activate Claro chip with phone call
Insert the SIM and turn on the phone.

Enter PIN code

that accompanies the SIM.

Call * 411#.

Place the

17 digit password

that comes with the SIM and marks "Send"

Go through the process again.

You will receive a successful activation message.
For Claro Prepaid line
Send a text message to number 258.
Write the word YES in capital letters and then send.
The SIM will be active in 48 hours.
For Claro Post-payment line
"When the line is postpaid, activation will be carried out at the time of purchase without the need to make any adjustments to the cell phone."
Activate chip for Unefon
Unefon, is the company most important in Mexico in regard to mobile telephony. It provides services to its clients such as: social networks, music, messages, 4G internet, videos, calls, totally mobile, movies and series.
To activate Unefon chip follow the following steps that we will mention.
Steps to follow to activate chip for Unefon
Recalibrating a Unefon chip
Wait between 24 and 48 hours

for Unefon to activate.

Put the SIM card or chip in the phone.

Press * 288, then option 2 and 2 again.
Setting up a Unefon chip
Enter the chip into the phone.

Press * 288

followed by option 4.

Restart your cell phone.
If you acquired your Unefon chip with control plan follow these steps to activate your SIM:
Put the chip or SIM in your cell phone.

Press * 100

.

Select section 0.

Turn off and on your mobile phone.
Have you been able to activate your personal chip successfully? We hope this guide has been able to help you. Remember buy the chip or SIM card only from authorized sites and official stores to avoid inconvenience. 
---
Has the information provided been helpful to you? In our blog you can get more quality content. Here we leave you some interesting topics:
Do not forget to visit us frequently.
Could you activate personal chip / SIM card (Both for Telcel, AT&T, Movistar, Claro, Unefon? If it has served you, leave us your experiences in the comments below.
Until a next installment!