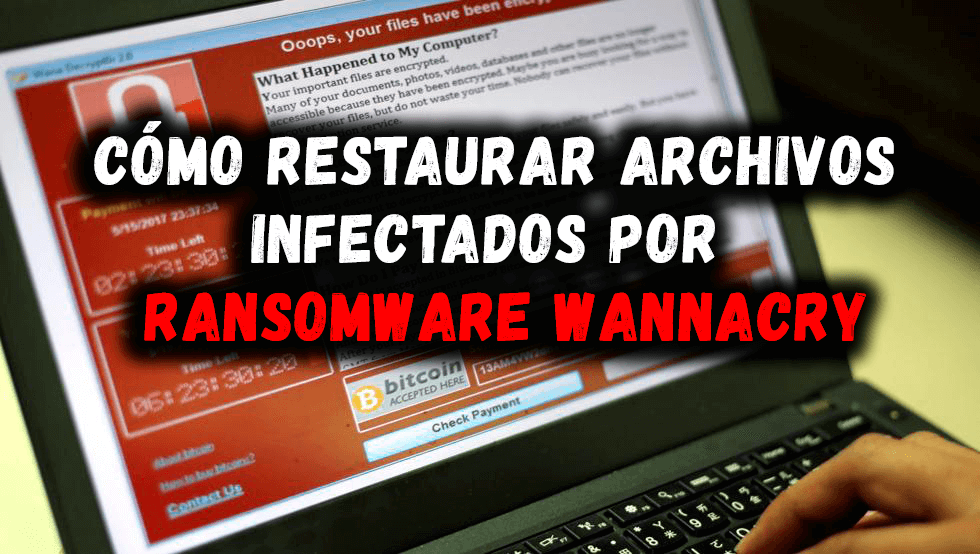 You'll learn WHAT IT IS, HOW IT WORKS and above all, how REMOVE or remove the WannaCry Ransomware virus and RECOVER FILES damaged by its attack. ENTERS!
WE START:
Generally, most people do not know what to do in order to recover files encrypted by RansomWare.
The RansomWare virus it is something that has been around for a long time. For their part, most virus developers' decoders have managed to "learn" their lesson.
Because of this, they have managed to create some much more powerful encryption scripts than the previous ones.
What is and how does the RansomWare WannaCry work?
Usually when the person wants recover files encrypted by RansomWare WannaCryThey do not even know why this happens, or why.
Encryption or encryption can be understood as the process of scheduling the investigation so that only the parties with access to it can read it.
Basically, that may mean that the virus infects the computer subsequent to carrying out a set of processes that generate a original file copy.
How the crypto worm works
This copy replaces parts of the data with those of the manipulated encryption algorithm (AES, RSA, among others). After this, the original file is deleted, and the virus leaves the file to appear as if it is damaged. After the encryption has completed, the RansomWare creates a decryption key, which can be public or symmetric (private).
Currently, the virus search trend is based on those that use both combinations, making direct decryption much more complicated than before. So how does the WannaCry Ransomware attack work?
This may not be achieved, unless the person has access to decryption software, which is encrypted by the RansomWare authors again. The RansomWare virus of the WannaCry variety it is a kind of computer attack that uses the "crypto worm" cataloged as WannaCry.
This virus is aimed at the mechanism Microsoft Windows operant. During this onslaught, the data of the injured is encrypted, and a kind of financial ransom is requested.
Said ransom must be paid with the cryptocurrency Bitcoin, to allow the person to enter the system again.
This onslaught started on May 12, 2017, on Friday, and after this it has been classified as unprecedented in size.
Saying virus has infected more than 230,000 computers in more than 150 countries since its inception.
The countries that have been most affected, according to the reports given, have been Ukraine, Russia, India and Taiwan.
However, Telefónica de España, parts of Britain's National Health Service (NHS), Deutsche Bahn, FedEx, and LATAM airlines were also affected.
How to recover encrypted files
Once your computer or any other storage equipment has been infected by the RansomWare virus, it prevents you from entering the infected system.
The storage devices that can also be infected are the notorious CryptoLocker, Locky, Zcrypt, CryptWall, TorrentLocker, among others.
Your data, for the most part, will have been erased, hidden, or even encrypted.
To be able to recover those lost files, the person has to pay a kind of ransom to gain access to the system again.
However, it is very likely that this can put your system back in another dangerous situation.
There are 4 methods that can serve a person a lot to achieve recover encrypted files and remove or remove the WannaCry virus attack in a much safer and more efficient way.
If the file was hidden and / or deleted by the virus, you can scan the infected drive and recover the infected files with data recovery software.
Method 1 to recover from damage
First, you can try EaseUS Data Recovery Wizard. This is a data recovery software highly reputable that can rescue files infected by the WannaCry variant Ransomware virus attack.
You only need to complete 3 extremely easy steps:
Scan the infected disk.
Preview the files obtained.
Choose what you want to rescue and save the rescued files in a different place.
If the file was encrypted or even changed the file extension, you can restore it from backup.
To do this, the person must check the files from the computer that were encrypted.
Once found, the person will need to separate them and remove us from their computer, and then copy and paste your backup from your backup mechanism to your computer.
You can also perform the restoring a previous version of files (or a folder). For this, you have to follow the next 3 steps:
Locate the directory in which the file is located.
Perform a right click on the file, and then select Properties.
Click on the Previous Versions tab.
Method to remove the virus
Other method To remove or eliminate the WannaCry virus that can be carried out, it is the system restore.
In the restoration of system on Windows 7, 8, 10 there should be some difference in your method. Usually this is done from the Following way:
Go to Start> Control Panel> Recovery> System Restore> Next>
After that, choose the restore point prior to the RansomWare virus infection> Choose "Next"> Finish.
How to prevent WannaCry attacks
Although the person is one of the few who have not been affected by the RansomWare WannaCry virus, I should anyway take some precautions into account, very useful in the long run.
First of all, we recommend that you learn what this peculiar virus that is affecting thousands of computers is and how it works: WannaCry Ransomware; if you learn this information, the virus will not be able to harm you.
These precautions are as follows:
Carry out a backup of data on hard disk on a regular basis.
Install current MS17-010 security patches.
Block ports 445, 139, 138, 135, 137.
Install the current Windows Defender antivirus.
Do not open email attachments, much less click on links of dubious origin.
After this, we can understand a little more the methods that can be carried out to recover files encrypted by RansomWare.
With these methods, it will not be necessary to resort to the monetary outlay to be able to recover said files encrypted by this virus.
---
I hope this post has been to your liking.
In our blog we write everything about Cybersecurity, we recommend you read our articles full of information for your security.
Likewise, we recommend that you read these articles of interest to you:
Were you able to remove / delete the RamsomWare WannaCry virus? Let us tell you how it went in the comments!
See you in another post.