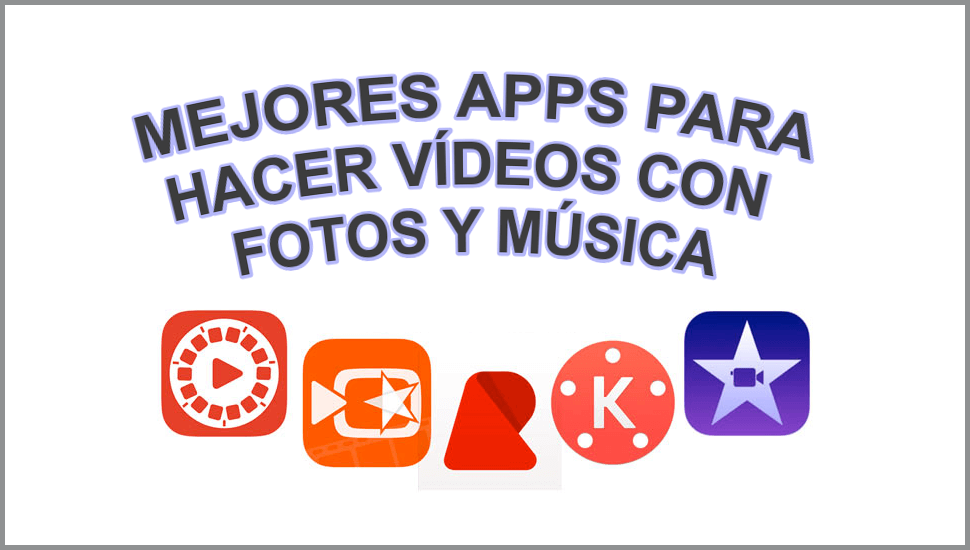 In this post you will learn how make videos with photos and music with Apps for Android and iOS in a free and easy way. Record those special memories!
Surely you are going through or are going to go through a memorial moment, and you have a series of photos, which you would like to make a type of "collage" with them, accompanied by a song to preserve them with more feeling. We bet yes!
Today, and with the help of the internet, we have at our disposal wide variety of tools to choose from, since, in addition to apps, there are online websites that do the work for us, although they are more difficult to use.
¡Apps are the best option! Today we will show you a list of the BEST apps to be able to make videos with photos and music from your Android and iOS. Go!
List of the best apps to make videos with photos and music
All the apps that we will show you in this list have many editing features, filters, collage speed settings, and, in addition, export options to your favorite platforms, such as YouTube, TikTok or WhatsApp.
You will then see the list. Compare all the apps and see which one is best for you. As we told you,they are all amazing! but it is up to you to choose the best.
Video Show
VideoShow is a very complete app that offers quite attractive features for a FREE app. Among its functions we find the following:
does not put a mark of water in your projects.
He offers you editing tools like filters, transitions, and themes for Halloween, Christmas, Valentine's Day, and every special day of the year.
The export is in high resolution:HD.
More than 50 pre-designed themes instantly to use in your own projects.
Among many other things!
Download VideoShow and learn now how to make that free video with photos and music that you can share with all your friends!
Perfect Video
PerfectVideo is an excellent app to make videos with photos and music, which allows you to edit scenes in seconds with its intuitive video creator.
Although it does not have a great variety of tools to offer, it does have an incredible design that is easy to understand, since the specialty of this app is for cut and delete scenes.
If you have an Apple device, such as an iPhone, iPod or iPad, this app is more fully equipped than its Android brother.
VivaVideo
VivaVideo is an app to create videos with photos and music in a professional way, thanks to its easy and simple-to-use video editor. It is the most recommended app par excellence for Android users.
This great app offers you different functionalities, and some of them stand out for the following:
Aggregate of photos with music of any kind.
Functions of edition par excellence: cut, trim, video fusion, among others.
Export to gallery or social networks.
FilmoraGo
FilmoraGo is an excellent app to be able to make your videos with photos and music, since it not only allows you to do that, but you can also add emojis and texts with transitions like a true professional.
The most notable features of FilmoraGo are the following:
Video editing with tools like cutting, trimming, adding text, emoji and images.
Added special effects, background editing and filters.
Export in HD both to gallery and to different social networks.
FilmoraGo does not add any watermark.
PowerDirector
Although this app is not clearly available in the App Store, it is very useful when creating videos with photos and music.
If you have an Android device, let us tell you that this app is the most complete and functional, thanks to its wide variety of design and editing tools.
The features of PowerDirector They will help you edit your videos like a film director. Look what you can do!:
basic edition: Cut, trim and retouch videos.
Pre-designed templates: More than 400 pre-designed themes, including video effects, transitions, stickers, color filters and many more.
Create videos with photos and music with this app and adjust them with its multi-clip timeline interface.
Adjust the color and brightness of your videos.
Among many other things.
---
We hope these apps to create videos with photos and added music have been very useful for you. Do not forget that in this blog we have more programs and systems of use to you.
See you in a next post!