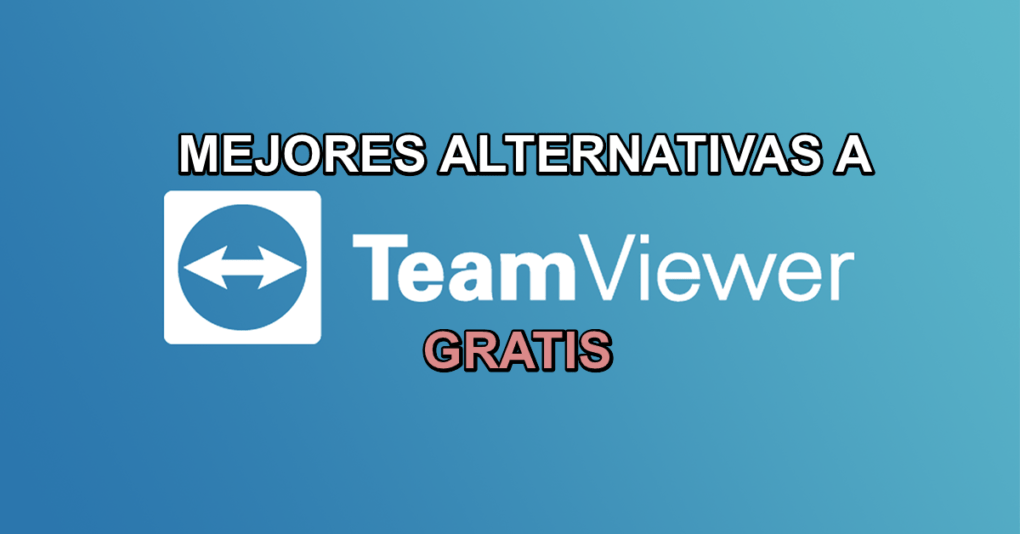 In this post you will know the best alternatives to TeamViewer, tools or programs similar to TeamViewer but free, which can surpass this software, both in image quality and in connection. ENTERS!
WE START:
Welcome to this post.
TeamViewer It is one of the most used programs in the professional environment. What is this about? It is a software by which we can communicate to any part of the world with anyone who also uses the program. It has become the most widely used remote videoconferencing and meeting tool today.
However, this has its limitations, of which many people complain and for which they have decided to use best programs to TeamViewer.
Best free alternatives to TeamViewer
Here we will explore the best programs similar to TeamViewer for meetings and conferences free:
Ammyy Admin
This is one of the programs or tools similar to TeamViewer and also totally free. Thanks to Ammyy Admin the remote communication experience is quite optimal. We can do presentations or even chat with any of the connected people.
It is a software developed and thought for large companies, which means that it offers a incredible securityIt is somewhat complex when configuring it, but it is something that can be understood. Each person who wishes to enter the system needs an identifier, with which he is able to enter from an external computer.
It has a multitasking function, which is very easy to use. We can also manage networks and servers, easily and remotely. To have a better experience, you need a fast connection.
Mikogo
It should be clarified that this alternative is not free, but the payment to use it may be worth it. The reason you need to pay is simple: security. Is a software designed by a German company, and it is maybe one of the safest from this list. Is the program perfect for secure meetings.
Just a maximum of 25 participants is allowed per session. The one with the presenter role is able to assign their role to another user, provided they have the necessary authorization. To use it, you do not have to install anything, this program is accessed through the browser, and has compatibility with Windows, Linux, Max, iOS and Android.
It offers many tools, such as a screen recorder and an electronic whiteboard to make the presentation more dynamic.
UltraVNC
This is a open source program which is governed by the principle VNC (Virtual Network Computing), which stands for virtual network computing, a function that works according to an RFB protocol.
It is one of the best alternatives to TeamViewer for free, aimed especially at Windows users. It is a program developed to create good remote connections, thanks to the VNC principle that was mentioned at the beginning.
Its functions facilitate and improve data and text message transfer. It also includes various forms of authentication to add more security to the system.
AnyDesk
One of the developers of this software has described it as "The World's Fastest Team Viewer Alternative". And we can't take the credit for that phrase, after all, some of the creators of Team Viewer were involved in the development of AnyDesk.
This program improves in many ways compared to its older brother. First of all, the image quality is superior. The frame rate has doubled, which means the presence of less lag. We also have to be reduced time for data transfer, which will avoid wasting time during presentations and meetings.
The only drawback that it presents is that, to be used by large companies, the paid version is necessary. Instead, only private users can use it for free.
Chrome Remote Desktop
We are not talking about a complex program because part of google, no. This is nothing more than a Google extension that we can download for free in the store. It is a service that we can use from any platform that has the browser installed, it is also necessary to have a Google account.
Once you install this software you are ready to configure the remote control, there will also be a series of steps to create a code for access.
This is an extension that offers very simple functions, we will not have a chat, nor will we have shared screens. However, it is one of the very optional TeamViewer-like tools.
DOWNLOAD Chrome Remote Desktop
Webex Meetings
It is developed by the Cisco company. With this program the company has designed a good alternative for Team Viewer, which is more focused on video conferencing experience. This application can only be accessed through the cloud Cisco WebEx, which gives all its users a quite optimal bandwidth.
It is a software with a free function, but at the same time it is limited, since only a maximum of three people can join per session, in addition to the fact that we will not have all the tools that this app has to offer. The paid version comes in the form of three packages, which offer different services and functions, the most expensive allows us to have one meeting with up to 100 people involved.
LogMeIn Pro
Another tool similar to TeamViewer, the difference is that it is fully paid, but this disadvantage is compensated by offering us quite optimal functions, ideal for the user experience, not to mention the safety aspects what's wrong with it.
All sessions are totally safe, since they are protected by means of a SSL / TLS encryption. A PKI is required to verify the identity of the server and a key to access the host. We can see that they take security very seriously.
The service offers up to 1TB of storage in the cloud for important files, which can be accessed at any time. One of the drawbacks is the lack of a function for team meetings.
We have already known the alternatives and programs similar to TeamViewer free with which we will have a better experience, obviously some are better than others, and we must bear in mind that those that are fully paid offer better security, if that is what we are looking for.
---
Before concluding the post, we would like to tell you that we have more tutorials that you are probably looking for. Check us out!
In the same way, we are passionate about writing quality content for our audience, there will surely be something you like.
Did you like these best alternatives to TeamViewer for free? Do you know other similar tools or programs? Leave us your comment below!
See you in a next post.