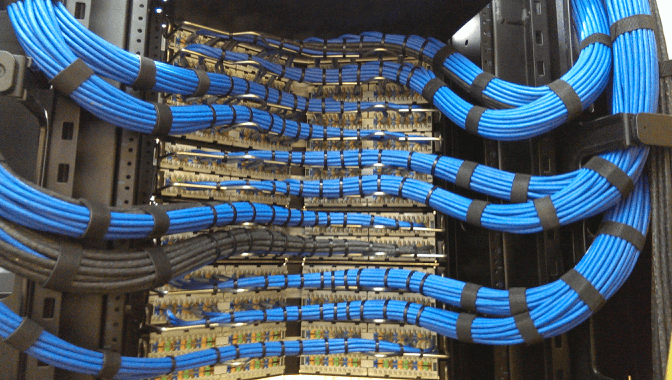 The "wire porn»Or #CablePorn is a new trend that has developed, and consists of organize cables and turn clutter in order. What are you waiting to implement it? ENTERS!
WE START:
Let's be honest, the 70% of computer scientists, programmers, systems engineers, we are a bit messy, regardless of whether we are at home, in college or the office. If you're from the other 30% which is tidy, and wants to keep everything impeccable, you've already earned heaven. For some years now, Wi-Fi and Li-Fi technology have been promising to replace the use of cables in many places such as technology centers, offices, universities, etc. However, to date it has not been easy, in such a way that encountering a spider web of cables is almost a frequent thing. As an antivirus for these inconveniences, #CablePorn has arrived.
#CablePorn, is the art of organizing cables and turning mess into order. Good management and the organization of large webs of cables will make any office or data center a pleasant place where the word work is reduced to happiness, beauty and lots of color. Cable porn is simply a phenomenon specially created by geeks.
The fascinating and practical #CablePorn philosophy is created by the Reddit community. There they have been created subrreddit where those who are passionate about wire porn they will be able to meet and share their experiences on this wonderful technological art. We can also see examples of colorful and beautiful cables very well organized in PCs, Servers, Offices, Technology Centers, etc. Maybe you dare to transform your workplace.
#CablePorn a philosophy created by geeks where order becomes beauty and color:
There are many advantages when the #CablePorn philosophy is implemented, since we can optimize space, work and time, Since when we see the need to change a cable in a Patch Panel, the process will be easier.
This is a movement that will surely stay for a long time, there are even accessories that combined with the cables look very beautiful. A clear example is the manufacturers that are already putting tables on sale, which allow you to organize the cables in an office in such a way that everything is pure order.
#CablePorn, It is also being implemented with great creativity in homes, work offices and with much more passion this excellent movement is being implemented in PCs and electronic circuits. The benefits of having each of the cables ordered is a pc or computer can also allow cooling to be effective.
Among the disadvantages that could appear when implementing #CablePorn in a messy office is spending a lot of time ordering everything from scratch, but if you have the right staff for this type of task, the benefits will surely be the best. Are you ready to implement cable porn in your workplace?
Doubts questions?
I hope I have helped you and I hope you are done with the post. If you don't understand something, contact our team using the floating chat (located in the lower right part of your screen) to leave us your question.
You can see our most recent posts on our page start from the blog. Like us on our Facebook page so you don't miss any news.
GOOD MORNING AND GREETINGS FROM OUR TEAM!