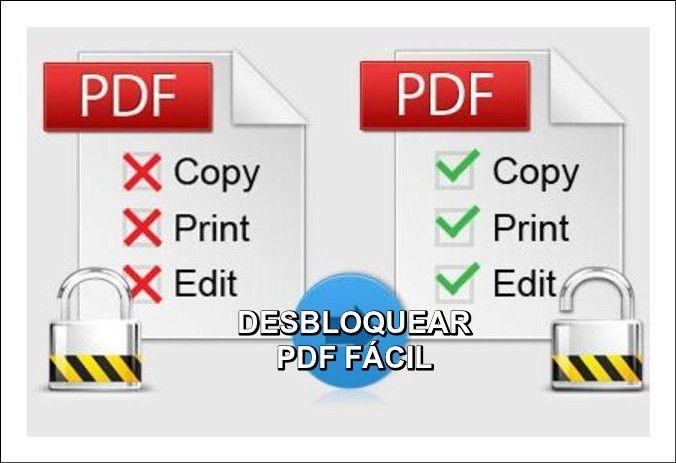 In this post you will learn how you can remove the password or unlock a PDF file that has been encrypted or protected easily and for free, either via program or online. ENTERS!
WE START:
Believe it or not unlock a PDF file Or, failing that, remove the password from it, it is quite simple, now if you wonder what we are talking about, it is simple.
When you review a file in PDF format which you cannot copy some lines of a paragraph or print it, it is because is protected.
Which means that you have restrictions so that not all readers enjoy the content to the fullest.
However, this is not a problem now, as we will give you the step by step so you can enjoy all the information available from your PDF file.
Unlock file via online
It is very common to find a document in PDF that is protected or encrypted.
So if you are going to edit or copy them in Word, and even if you want to print them to study or do some kind of work, it is not allowed.
However, this is not a problem as below we will show you a first option to unlock an encrypted PDF for free and fast.
Although it is not effective to password protect a PDF, people still use option.
The first method that we are going to recommend you to remove the password from a PDF is through Google Drive:
1.- With this tool that is online you can upload the PDF file to your account. You do this through the option that says "new".
2.- Once you have the file in your account, when you press the right mouse button you will have a range of options, including "to open with".
Which will allow you to select the option open the file by Google Document; which automatically transforms the file Protected PDF to an editable format, so you can unlock that PDF file online and for free.
Carrying out this method, you can copy and paste text, modify content, copy or insert images and even graphics, just like a word file, only online.
Also, through these alternatives you will be able to print all the information to study or work, even share it with other people by mail for editing.
Unlock with PDF Password Remover
The second option that we present to you also requires that you have an internet connection.
Certainly, there are programs that allow you unlock easily and quickly so you can edit the PDF files.
There are even programs with which you can transform those PDF files to another kind of format that is of your preference.
However, most of the people do not have these programs but they do have the Internet.
Browsing you can find many web pages, where you can upload the file and transform it, so you can edit or print it.
Access the PDF Password Remover
It really is very simple with the PDF Password Remover portal, since it gives us the possibility to remove the password just by uploading the file PDF that we want to process.
Now you don't have to worry about the files you upload to this page because they stay private and after a few hours they are automatically deleted.
PDF Password Remover it works perfectly, regardless of your operating system, be it Linux, Windows or Mac.
Once the files are uploaded and processed, you can download them having already removed the password from the heavily encrypted PDF file.
Program to unlock PDF file
An option on how to unlock a protected PDF file is download and install a program specialized in that.
This is recommended only if you constantly have to be working with files of this class.
Since a program of these is much more complete and it allows you to perform a wide variety of actions with your files.
You can add watermarks, print the file, work the document from your computer, add page numbers, among other options.
Among which, depending on the program you install, you can convert a PDF into a Word, Excel or other file formats.
However, it is essential that before choosing a program, you inform yourself as best as possible about each one, so that you choose the one that best suits your needs.
It is also important that you see the references that other users have left and also the rating assigned to each one.
It should be noted that of the options presented, this is the only one that does not require you to have an internet connection.
Which may be the most convenient if you don't have a good connection or if you don't have Internet.
Or also if you are an entrepreneur who does not want to give his employees the option of being distracted by browsing.
One of the considerations to keep is that most of the options are free, especially the first two.
Download PDF Password Remover Tool (FREE)
Download Instant PDF Password Remover
Regarding the programs there are some that can have a certain cost but it is due to the company that supports the program.
However, any of the options that are taken for free also tend to have reliability.
---
I hope this post has helped you to be able to unlock a PDF file, either online or with a special program to remove encryption for free.
Before closing, I would like to tell you that in this blog we write all about PDF files: export tutorials to other formats, create PDFs from scratch, etc ... Visit us!
Were you able to remove the password from an encrypted PDF document? Let us know in the comments!
See you in a new post.