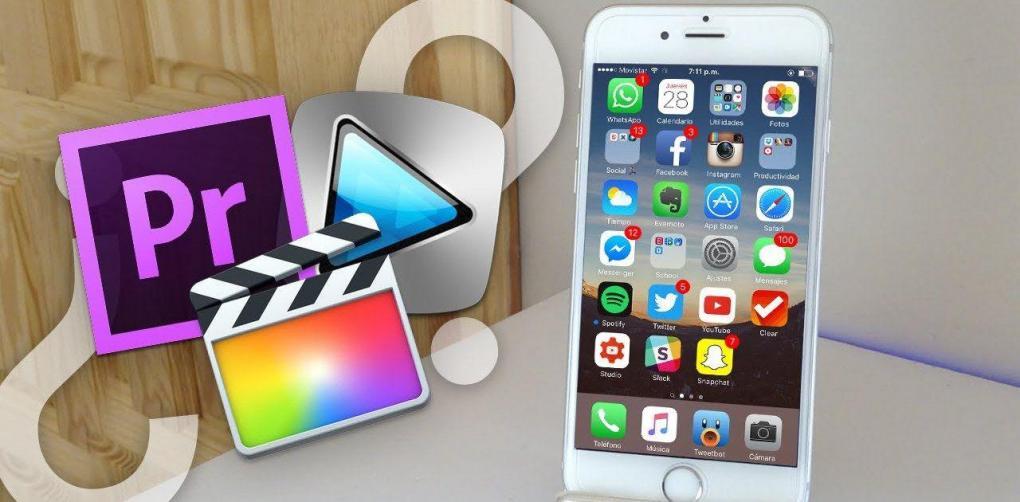 In this post you will learn to how to edit videos easy (both on YouTube, Windows 10, iPhone, Mac, Android) with Free online programs and apps to create professional quality multimedia content. ENTERS!
WE START:
Welcome.
Working with multimedia content is one of the most popular and highest paid professions today.
The video editing tools They are very useful for the creation of this content, animation, promotional videos, even content on television. All this possible thanks to video editors.
For that reason, in this article we are going to talk about video editors. We will know what they are, how we can use them, what are the different video editing programs for our PC, Android and iPhone.
They don't need to be professionals to do this, nor do they need to pay to use a good program.
What are video editors and what are they for?
These tools are software with which we can add, remove or modify various characteristics in audiovisual content. With a video editor we can count parts, add tracks, place visual effects, improve the atmosphere, sound, lighting and much more. All with the intention of having a final result that will be shown to an audience.
Some are simpler than others, there are those with which we can carry out basic touch-ups and those with which we will have a professional finish, the latter require certain knowledge.
Edit YouTube videos
YouTube is the most popular video platform and successful in the world. Here you can find practically everything, and its information is divided into two types: there is one that is useful, and another that is not very attractive.
Whatever type of content we upload to this platform (preferably the first one), from YouTube we can make some small edits to our videos, and although they are not as sophisticated as those that can be made with third-party programs. It is important to learn how to edit a video from YouTube.
Useful editing features with YouTube
When it comes to editing videos from the YouTube platform, we have many features, such as the following:
We can add annotationsThese can be of different types.
We will be able to attach links of any type.
Another tool, and perhaps the most important, is that we can configure these annotations and links so that they appear and disappear at a certain part of the video.
All these options to edit YouTube videos will be shown to us on the screen when we are uploading a video to the platform. We can visualize a very friendly interface with these tools.
It is a simple and fast way to edit videos for free on YouTube, not to mention that we are taking advantage of the tools that we have at our disposal. All this is very useful when we are offering products or services.
Edit videos online for free
It is not necessary to use a program or application that takes up space to be installed on our devices. There are many online video editors. Of course, we must bear in mind that they can be very limited, so they are very useful for easy video editing and without many professional touches.
In itself, editing videos directly from YouTube can be considered an online way, but we will go further than that ... we are going to see websites that will allow us to edit videos online and for free.
These were some platforms that you can use to edit videos that you need to make changes online and also for free, but there is more, we have only filtered the ones that we believe are the best.
Programs to edit videos for free
We already went through online publishers, now the time has come to talk of programs to edit our videos, those of professional level that we can install on our computers. We must take into account that not all of them will be free, but they may be worth it to have a video that leaves «surprised»To our viewers.
The best programs to edit videos on PC
Adobe Premiere Pro: An Adobe program could not be missing from this list, and that is one of the favorite options for those who are dedicated to video editing. Although it takes some time to learn its interface, once this is done we can have fun with all the incredible tools that this program brings to us.

Edit videos with Adobe Premiere Pro

Camtasia Studio: a good one free option with which we can add visual effects, and even create animated content with a very good finish. Not to mention that it has the option to record from our computer screen. Personally, it is one of the best programs you can use to edit videos for free.
Sony Vegas Pro: a powerful software that is among the best for this job, it has an interface that is ideal for not very experienced users. Not to mention all the amazing features available to us.

Edit videos with Sony Vegas Pro

VideoPad Video Editor: Other free software which is available for Windows and Mac. It has many functionalities, with which we can edit videos and give them a unique touch.
There is no doubt that with these programs to be able to edit the videos to the maximum we will be able to finish our multimedia content that we are looking for so much.
Edit videos in Windows 10
Just like on the Mac, there are hundreds of programs that are responsible for editing videos for free in Windows 10, but what if we told you that it may not be necessary install a windows editor?
That's right, since this operating system has its own default program. It should be clarified that it is not for professional use, it is a simple program to add basic things to our audiovisual content.
This program is perfect for editing videos in Windows 10 with photos, adding music, cutting some parts. They can make a photo slideshow with background music and texts appearing in certain parts.
And obviously, we can also do the same with the videos, we can put two videos in one. Or make a combination of photos and videos.
Windows Movie Maker Features
It has many functions ideal for editing videos in MP4 format and others:
It has all the basic tools of a video editor: We can cut, join parts, separate them, and adjust.
It gives us a catalog of default templates that we can use in our videos, with filters included.
It accepts almost any photo and video format, so this will not be a limitation when doing our work. These can be: AVCHD, Apple QuickTime, Motion JPEG, Windows Media, MPEG-2, Microsoft Recorded TV, Windows Media Video.
It allows us to add texts, background music and transitions.
Something we must know is that Windows stopped supporting it a while ago, so in the latest version of the operating system it could look a bit obsolete, however, it is still a great tool to edit videos easily in Windows 10.
Edit videos on Mac
Just as Windows users have good programs to work with to edit their videos for free, for those with an Apple computer it is also possible edit from a Mac. This program is called iMovie and it comes by default in all computers of this operating system.
iMovie It is an excellent program, with a very friendly interface, and although you may need to use it a bit to learn to handle it with total fluency, this will not take long. Edit videos made easy it is possible thanks to this program. We can modify our videos completely since it has many tools.
How to use iMovie to edit videos and presentations on Mac
The process to modify our videos using this program for the Mac is quite simple, just follow these steps:
Once on the main screen we go to the File tab and select «New Project».
A window will open where we can place the title and a topic. We give «Create».
In the File tab we look for the option to «import». Here we can select movies or videos that we want to edit in our program.
The only thing left is to edit our video. iMovie brings options to crop, add subtitles and create slideshows.
Once all the changes have been made, in the «Share» tab we can share our edition on different platforms.
iMovie is an alternative that is already predetermined within the system, but if you want to edit the videos in a more advanced way on your Mac, you can resort to other alternatives from the App Store.
Edit videos on iPhone
Is it also possible to do it from our Apple Smartphone? Yes, of course, unless we use a third-party application, the things we can do when editing videos on the iPhone will be limited.
Although that may depend on how new our device is, more default functions have been added to the current ones.
Many of the modern apps that are in the App Store only support recent versions of iOS, so it can be something that can cause annoyance when you try to download an app to edit your videos on your iPhone.
However, do not worry too much, since this generally happens when you have a very obsolete cell phone, so I do not think that will be the case. Anyway, you can try it, you don't lose anything.
Editing videos from an iPhone is very easy. We just have to follow these steps:
We open the multimedia gallery and look for the video that we want to edit. We press the "Edit" option.
The first thing we will see is a bar, which are the sliders that we can move to indicate the beginning and end of the video, in order to trim it.
We also have an option to place the video in slow motion, it works in a similar way to cropping, with the bar below we choose the part we want in slow motion.
As already mentioned, this form is more limited, but it turns out very fast if we only want to send videos to someone of our contacts. Although, if we want to, it is to edit in a broader way, being able to use several options, we can always resort to third-party programs.
Some of the best apps to edit videos on the iPhone are the ones that we list below:
One advantage of all of these is that they are free video editors.
Edit videos on Android        
The same thing happens with Android as with its competition. We can edit videos from an Android quickly, but limited. It only offers us options to trim the video, determine where it will start and end, as well as make a video in slow motion, otherwise there is not much that can be done.
But, there are many apps to edit videos from your Android cell phone. These give us multiple options, so we can give effects, filters and other characteristics to our audiovisual content, which will guarantee a better finish, making it more attractive. Some of these applications are:
Videoshop: This application is quite simple, with it we can group videos, apply filters, make a few clipping here and there. It is not the most complete editor, but it is very useful for making changes that the device itself does not offer.

Editing in Videoshop.

VivaVideo: one of the editing apps preferred by users. It has a simple and friendly interface. From our gallery we can make edits with photos, add effects and transitions, the same we can do with videos. The only disadvantage of this app is that it has a watermark that will only be removed if we upgrade to the premium version.
Quik: It may be the best on this list to be able to edit your Android videos, it differs from the rest for many things. Can you do touch-ups in a few steps, which is practical. But it is also possible to use the video styles that this app offers so that the visual content looks quite good and attracts the attention of many eyes.
FilmoraGo: the most complete app on this list. It has a toolbar and different options with which we can edit and modify even the smallest detail. Some features, like filters and layers, can be purchased.
As you can see, on Android we have several apps to be able to edit the videos, it is only a matter of choosing the one that best suits what we want to do with our editions.
Well, we have already seen what can be done with a video editor.
We learned about the different ways in which we can edit videos either online from YouTube, Windows 10, Mac, Android and iPhone. It's just up to us to practice a bit, and in no time we'll be able to work smoothly and do an excellent job without being a professional.
---
I hope this post has been very helpful.
In our blog we always write quality content and editing with first-rate programs. Here we leave you some topics that may interest you.
Were you able to edit videos easily both in YouTube, Windows 10, iPhone, Mac, Android with free online programs and apps? Remember to practice and become an editing professional.
Let us know how you did in the comments.
Until a next installment!