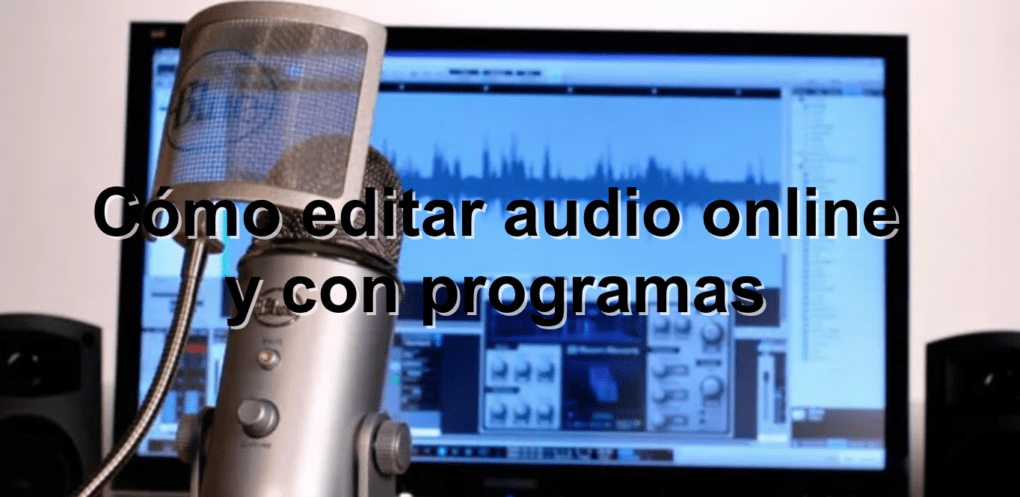 In this post you will learn how to edit mp3 audio with free online editors and professional software in all formats and thus be able to import sound and music in the fastest and easiest way. ENTERS!
WE START:
Welcome.
Many of the jobs done on the computer today require a adequate tool to obtain the results we want. For this article, we will talk about the best audio editorsWe will not only get to know software for sophisticated work, we will also talk about some online programs.
Why is it so important to know about various programs? Not all have the same functions, for this reason, not all are ideal for the type of work that we are going to do. We must bear in mind that just because a program is the best on the market and the most expensive, it does not mean that it is the one that suits us best.
Edit audio online for free
If we are not one of those who want to spend money on sophisticated software, much less want to fill the memory of our computer, we have the option of using a free online audio editor. It will no longer be necessary to use purely professional software for the work we want to do. Next, let's look at the online programs for edit audio most popular of the moment and Free online:
Beautiful Audio Editor
This is maybe the best online audio editor from this list. It offers users a very complete interface, with a lot of functions. Registration is not necessary to be able to enjoy all its features, so it already takes several points with that.
Everything in this tool is totally free. Not only can we edit an audio that is saved on our computer, but we can record one from the program through the microphone. With Beautiful Audio Editor we can work with various types of format, from edit mp3 audio until Wav audio.
We can control the volume, mute some parts, make the sound appear or disappear gradually, and many other things. Login here.
Hya-Wave
This online program is ideal for those who want a easy to use interface. This is a fairly simple editor, it has only the basic functions, such as: mute, increase or decrease the volume, make cuts in some sections. We can also copy and paste several audios in one.
It has some special effects to give it a better finish, it is also possible to make some mixes. One of the best advantages it has is that it is compatible perfectly with all browsers, so we can use it no matter what is new preference when browsing. Login here.
TwistedWave
It is one of the most versatile online audio editors. It is an application available for iOS devices, but an online version has also been developed which is totally freeYes, it is necessary to create an account, since if you are not a user our audios will be limited to 30 seconds.
It allows us to export and import files from our computer, it also has quite useful tools to do all the basic changes needed when editing an audio. As if that were not enough, it also allows us to go directly to Google Drive and SoundCloud. And it has its own extension of Google Chrome. How about? Login here.
FileLab Audio Editor
Use a very friendly interface, allows inexperienced users to quickly become familiar with it and thus can easily apply the various functions. Works with many kinds of format. The main problem with this web application, and it is not so bad, is that it takes time to load.
Some features offered for editing our audio are: distort, normalize, speed up, slow down, and even amplify. Of course, it offers many other functions, it is ideal for edit audio for free and fast. Login here.
How to edit audio online for free with Beautiful Audio Editor
To use this tool, the first thing we must do is access it through the Web.
Once we are loaded and we are in the interface of this editor, we can see two bars at the top, one, the gray one, is where we can choose the files and delete the changes. The second bar is made up of several buttons, these are all functions that this editor offers us to apply them in our audio.

How to edit audio online for free with Beautiful Audio Editor

In the first bar we go to File, and there we will open the audio that we want to modify.
Once open, we will have several options to apply to the audio. We can duplicate, drag, divide, remove and some other things. All of this is easy to doWe simply select the tools and with the mouse we will choose the parts that we want to modify. Remember that it is a limited tool so it does not offer many options.
Once we have made all the changes, we can choose if we want to download it in mp3 or Wav format.
Edit audio with professional editors
Now we are going to know the best professional audio editors. The online versions are not bad, but they offer very limited things. A true audio editing software offers endless tools that allow you to have a more professional result. The goal in having a quality audio without anything that intervenes clarity, or bother whoever hears it.
Audacity
This is one of the best free programs to edit audio. It is a good choice for beginners as it offers a very simple interface of learning. It is compatible with the three most popular operating systems: Windows, Mac and Linux. Also, it accepts many kinds of audio format.
It offers more sophisticated tools, such as mixing and noise suppression (something very useful to have a cleaner sound). Not only can we edit audios that we have archived, we can also record them directly from this program. Later we will teach you how to do it in the fastest and easiest way. Download here.
Free Audio Editor
Available for Windows and Mac, besides being totally free. It has 32 and 64 bit versions, so it is available for many computers.
Editing can be done easily. Some of the functions that we will find in this free audio editor are: cutting the audio, suppressing the noise, copying it, mixing it and many other things. Supports multi-channel sound files and plugins like ASIO and VST. Download here.
Adobe Audition
As is common in most Adobe programs, this professional mp3 audio editor is paid, but that ensures us a complete experience by offering tools to do what we want with our audio file. We can even mix and restore sounds.
All audio formats are supported by this software, so we will have a fairly wide field of work. It is employed by those who are engaged in this type of work. With Adobe Audition, we will have a guaranteed professional job. Download here.
Power Sound
It is a program for easy free audio editing and with which users can easily become familiar. Can be used in Windows and Mac, and is compatible with all audio formats that match the Windows operating system.
Like other audio editors, we can directly record the sound and work there, they were able to mix, cut, configure the bass, suppress echo, and many other things. Do you dare to try it? Download here.
How to edit MP3 audio with Audacity
We just have to go to the official page and download it. To edit mp3 format, and work with accessories and effects, it is necessary to download it separately from the web. All of this is completely free.
Once in the main interface, we go to the toolbar and look for "File", there we go and click Open, in this way we will search our computer for the audio we want to work with.

How to edit mp3 audio with Audacity

One of the first things we want is to eliminate background noise. So, we go to "Effect" and look for the option "High Pass Filter". We must adjust the modulation filters: Rolloff and Cutoff, until we obtain the result we want.

Audacity High Pass Filter

To edit the tone we go to «Effects», and then «Change tone». Here we can adjust the bass and treble of the audio.
To cut audio or eliminate spaces in silence we will go to "Edit" and then to "Delete audio or labels", finally we will "Cut". With a selection tool we can choose the parts of the audio that we want to silence.

Options for editing mp3 audio in Audacity

Let's not forget to save the changes and export it, in this way we can save it as a file that can be read by other audio editors.

Export as mp3 audio
Have you already chosen those that appeal to you? A software offers more comfort than a web program, since you never know when there will be connection problems, but again, it all depends on the work we are going to do. It is also a matter of each one, not for everyone it is necessary to install a program on the computer.
---
I hope you liked this article
Do you want to read more? In our blog we put at your fingertips tech tutorials most wanted by users like you. Here we leave you some topics that may be useful later.
However, Were you able to edit audio online for free with professional programs in mp3 formats? Share your experience with us in the comments below!
Until next time!