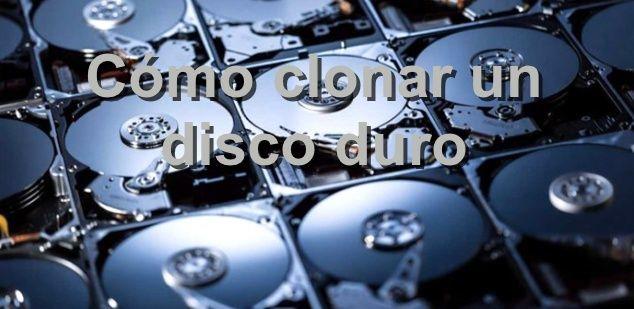 In this post you will learn how to clone a hard drive on different computers (both on SSD, Windows 10 and Mac) as well as the easiest ideal programs to duplicate your operating system safely and thus avoid annoyances with this practical method. Enters!
WE START:
Welcome.
We present a very detailed guide for those computer hobbyists who wish to learn how to clone a hard drive, and we will not limit ourselves to a single operating system, we know that while Windows is the most popular, it is not the only one.
This makes it an educational tool for different types of users and technicians.
Either because it is part of their job or simply because they want to learn, cloning a hard drive it is a quite practical method that can save us a lot of hassle. In this sense, anyone learns, it is easy and only requires precise knowledge.
But, for all those who are starting in this matter from scratch, we are going to give some basic concepts, and attentive connoisseurs, perhaps they will find something that they have overlooked.
We do it because it is very important to know how the parts of our computer work, especially one that is so important. (If you already know the basics you can go directly to cloning)
What is a hard drive?
Well, a hard disk is one of the most essential parts of a computer, through this electronic device, computer information is storedThis includes the programs and the operating system itself, pay attention to this second because it is one of the reasons to learn how to clone our hard drive.
Use principles of magnetic recording for reading and writing information. It is made up of several dishes that rotate quickly inside a box that protects them from external factors.
Characteristics of a hard drive
They are important to always keep them in mind when making a diagnosis, either from our hard drive or from a computer that we are performing maintenance on, which can help us find faults.
Capacity: It's what users tend to worry about the most. The capacity requirement can vary depending on the type of work being done on the computer, after all, it is not much worth having a huge capacity if it is not going to be used even half.
Speed: This is the speed of rotation of the internal discs, and it can vary by disc. Like capacity, those that spin faster are suitable for design and editing work, however they tend to overheat, requiring periods of rest.
Format: There are two, there are the normal hard drives, these are the magnetic ones, those that consist of moving parts that rotate. Then there is the solid format, which has no moving parts, therefore it does not have the typical rotating disk.
Write / Read Times: It is the speed with which a disc can save, edit or read certain information.
Transfer rate: According to this, the hard disk may or may not move information in and out of the computer more quickly.
Interface: Depending on the type of interface, old or modern, the data transfer speed of the hard disk can be achieved. The standard interface today is SATA, which quickly identifies a modern disk.
Considering all this basic information, it will be much easier understand the operation and use of this device, at the same time we can understand a little better the language that we will deal with below. It is time to begin the main topic of this article.
What is cloning a hard drive?
It is as its name indicates, it is a process that consists of copy all the information stored on a hard drive, to another. And when we refer to all the information, it is everything: operating system, programs, applications, configurations, all of that will be sent to a destination disk.
And what can this be useful for? Let's imagine that our disk is running out of space, when cloning it we can migrate all that information to one with greater capacity, and keep saving.
Also, this saves us from having to reinstall the operating system on a new computer, as we said above, it is practical.
This can even be done from one format to another, such as: clone a hard drive to an SSD drive, which is a solid state drive.
We will talk about how to do it, and also about how to clone a hard drive in Windows 10, on a mac, and the different programs that we can use for this method.
Programs to clone a hard drive
There are several programs with which we can clone a hard drive without problems. We are not only going to meet them, but we will talk about the most popular ones, explaining how to clone a hard drive step by step with each one.
EaseUs Partition Master
With this program, the process can be done file by file, which it's a faster way and that will save us time.
It is one of the best options when cloning a disk, in order to protect data against possible errors and accidental formatting. Starting because it has several functions. You can join and copy partitions, for example. All with the intention of optimizing performance.
To clone a hard drive with EaseUs Partition Master this is what we should do:
The first step is to download the program and install it on your computer. Once this is done, we open it and select the option "Clone" on the menu.
We must choose the source disk, the one from which we will migrate the information, and click on "Next".
Next, we select the destination disk. They will notify us that all the data will be rewritten, that is what we are looking for so we will click on "Okay".
In the next screen we can choose to choose the sizes of the partitions we want on our new disk. We click on "Okay" once it's done.
Now we confirm the cloning process and give in "Run", on top. They will notify us that this operation will require a restart of the equipment, we click on "Okay".
And ready. After doing all this the process will be automatic and must be successful. It must be taken into account that the disk to which we will migrate the information must be of greater capacity, otherwise the process will not be possible or will have errors.
AOMEI Partition Assistant Standard
AOEMI Partition Assistant Standard, is another excellent option with which cloning our hard drive will be easy. We simply have to take care of configuring and the program will do the rest, copy the information and restart the computer.
First things first, we must enter the official site and download the application. You must click on "Download Freeware" and we will be sent to the download page.
Once the program is installed and opened, we will see several tabs and windows. We must position ourselves on the left side. The eyelash "Attendees" and select the option "Copy disc".
A pop-up menu will appear that will give us two options: Quick Copy and Sector-by-sector Copy. Just choose the first option, it is not necessary to copy the sectors that are not being used. We will click on "Next".
Now we will choose the disk that we are going to copy, then press "Next" again.
The next thing is to select the destination disk. We click on "Next".
A notice will appear to notify us that the data will be deleted on the disk where the copy will be made, we will say "Yes".
We will have a window that presents us with three options. For example, we can decide if the copy will not be exact, by resizing the partitions.
In the next window we will be told that the configuration is ready. We just have to click on "Finalize".
We will return to the first window. Top left we will press "Apply" to start the process. The computer will restart itself, all we have to do now is wait.
EaseUs todo Backup
EaseUs todo Backup, it is simple software that also saves time, since the process can migrate information to a new disk without having to reinstall the operating system and programs. Plus, it won't alter any existing files, not to mention how easy it is to use.
It should be noted that with this tool we can also make backup copies of documents, files and others, even a backup in the cloud.
We download the program and install it on the computer where we are going to do cloning.
We open the program and at the bottom we will find the option to "clone".
We choose the source disc.
We select the destination disk. If we enter advanced options we can choose to make a copy sector by sector, we click on "Okay" and then on "Next".
We will have a preview of the disk once the cloning process is complete.
Finally we click on "Proceed".
Hiren's BootCD
The process will be quite similar to the other programs. Something that highlights Hiren's BootCD is that it is a free hard drive clone program.
We must install and run the schedule.
Once on the main screen we look for the option to "Open Mini Windows". This will open a virtual Windows with several tools, among those to clone the disk.
We open the Start menu and select the first option: MBCD Menu. A window will open and we will enter the tab "Programs".
A list of options will be displayed, we will choose "Backup", a collapsible list will open and we will click on "CloneDisk".
The interface that will open will be very intuitive, first we select the source disk. The format must be "Flaw" and in the Compress option, we say yes. Finally we click on "Backup".
Now touch choose the place where we will save all the information, the disk must already be connected. This will be done as if we were saving a file in Windows, we must put the extension: ".Ing.gz". We give to "Save".
Now the cloning process will begin, it only remains to wait for the backup to complete.
We restart the virtual machine from the Start menu.
Finally, we start from the hard drive, which is an option that appears on the main screen of Hiren's boot.
How to clone a hard drive in Windows 10
We already explained how we can do this process by using programs, this applies to different versions of Windows, so they already have several options for clone a hard drive in Windows 10.
Now, below we will explain how to clone storage devices (such as hard drive) in Windows 10 using the program Hiren's BootCD.
Identify the program: Once you have identified it, you will only have to select the option "Programs", then "Backup" and finally "CloneDisk".
Identify which is the physical disk: Select where the cloned information goes. This is the physical disk, not the logical drive. The easiest way is to enter the Windows disk manager and find all the information related to the disks, both the one to be cloned and the destination.
Check disk status: A good program to perform this action is Crystal DiskInfoWell, here you can check the brand, model and size. Afterwards, it is also recommended that you perform a quick surface test with HD Tune, to confirm that everything is in order.
Start cloning: Here you will only have to return to the "CloneDisk" option of Hiren's BootCD. You must select the disk to be cloned and place it in the "Source" option, while the destination must be located in "Dest". After checking the small summary that will appear in a window, press "Yes" to start cloning.
As you will see, it is a fairly quick, simple and useful process to backup information from one hard drive to another in Windows 10. With this little step-by-step, you are ready to start cloning!
How to clone a hard drive on a Mac
Devices Manzana They are well known for their inflexibility, and this makes it difficult to make changes of any kind at the hardware or software level without these being altered in a negative way.
The truth is cloning a hard drive on Mac only requires the right knowledge, it's actually not as difficult as it sounds. We are going to know a step by step method to clone a hard drive without programs.
The first thing is restart the Mac, and in case of using a CD / DVD to make the copy, the disc must already be inserted. While at the time of restarting we are going to press the key "C".
A series of languages will appear on the screen, we must choose the one that we understand best. You click on the top menu bar and choose the option "Disk utilities".
Now we enter the tab "Restore" and we enter "Macintosh HD".
We place ourselves in the Source text box and choose the hard drive that we are going to clone.
Later, in the box "Destination", you must enter the name of the storage unit where we will send the information. Be it a CD or another hard drive.
We click on "Restore" and the cloning process will begin.
The only thing to do now is reboot once the process is complete, this time without pressing the "C" key.
How to clone hard drive on Mac using programs
Just in case this whole process may seem very complicated, there is an even easier way to do it, through the program Superduper. A quick and easy-to-use tool to clone hard drive on Mac:
Its configuration is very intuitive and simple.
It is fully compatible with Mac OS Sierra.
Full copies of storage units can be made.
It is possible to use it on different operating systems.
Once the program is installed and executed, these are the steps that we must follow to clone a hard drive quickly and easily:
When we open it, we will have an intuitive interface that shows us options at once to choose the source disk and the destination disk.
We will have options such as: delete the data present in the destination, copy new files from the source to the destination, and if after completing the process we want to restart or turn off the computer.
With the initial parameters already configured, in the field "Using" we can choose the type of copy that we will do: all files, user files, restore files. Done this we give "Copy now".
All in a matter of minutes.
How to clone a hard drive to SSD
One of the ways to make a computer that has a hard drive faster is to change it to a solid state drive (SSD).
However, it is very tedious to make a backup in the conventional way, not to mention that files will always be lost in the process. And not to mention having to install the operating system again.
it's possible clone information from a conventional hard drive to an SSD, in this way we will make sure not to lose information and not have to reinstall anything.
If we want to clone the hard drive to SSD, we will use one of the cloning programs that we already talked about above, this will be AOMEI Partition Assistant. The process is practically the same, some slight changes when choosing the destination disk.
Clone a hard drive to SSD using AOMEI Partition Assistant
The process is extremely easy and it is a 90% just like the one we explained above:
We download and install the program. Then we open it.
We look for the option "Disk Copy".
The method will be "Quick Disc Copy".
Now we choose the source disk, remember that it is not always the Disc 1, we must find out how the team has identified it.
This step has a slight change, to be able to choose the destination SSD format, in which we will copy all the data, we must go to the section "Model" In the list of connected disks, this will help us to find the manufacturer and identify it. Once done, we give "Next".
They will give us a notice that will say the information on the disk where we will migrate will be erased, we must click on "Yes".
Now we can choose the mode in which the cloning will be done, just in case we don't want an exact copy, we can choose the size of the portions. When we have decided that we will click on "Next".
The last window will appear, here we will press "Finalize". When we return to the initial interface we will click on "Apply".
Most likely, the computer will restart. While cloning to the SSD we should not do anything, just wait.
conclusion
Well these are the different methods so that we can clone a hard driveWe now have several options, we must choose the one that is most comfortable for us. This information can also be used to learn how to do the same with different operating systems.
As we can see, we only need knowledge, but now it is up to us to put it into practice. Surely we will feel fearful at first, but if we follow everything to the letter we will see how easy it is to do this.
---
I hope you liked the article. If you like you can review more of our content, surely there will be something that may interest you.
In advance THANKS for reading.
Don't forget that you will always get quality content here. Visit us!
And you, were you able to clone a hard drive in SSD, Windows 10 or Mac? Did you download the programs to duplicate your information? Whatever your choice we would like to know your experience.
Until a next installment!