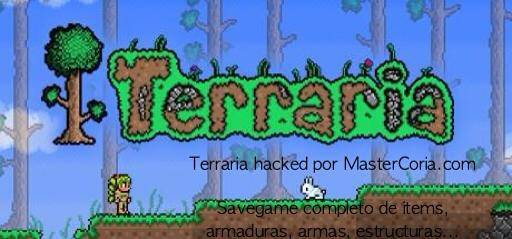 East Hack for Terraria from Android I will teach you to add everything, absolutely everything: all ITEMS FULL, unlocked characters and a MEGA MANSION. Enter and learn how to Hack Terraria!
Attention
This hack for Terraria is a mansion where everything is contained, your character will appear as you have it, just search the chests and grab the good things.
NOTE
Many times another world called «
SuperMegaHacked
«, This document is an extra of the map, the good thing about it is that if you do something in the world called«
MASTERCORY
»The changes made will not be saved.
Therefore, if you destroy it, it will not be saved, if you take objects and take them to your world on the map that you took them out, they will reappear ...
WE START:
Welcome to a new blog post.
Terraria is a very good game, similar to Minecraft, but it has more adventure, and the graphics are better.
This game has been on the market for a long time, and was created by the games company called "Re-Logic". It has been so popular that today you can even buy STICKERS for your NOTEBOOKS from the Terraria video game.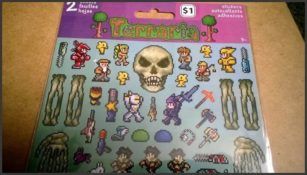 Well, back to the topic, today I'm going to show you how to Hack Terraria and add you absolutely EVERYTHING, for you to enjoy this 100% game completed.
THIS Terraria HACK IS VALID FOR VERSION: 1.1.933
How to hack Terraria for free
To be able to Hack Terraria, it is necessary that you follow these steps below:
1.- Download my Android Terraria hack folder (do click here to download).
2.- Unzip the file (if you don't have what, visit this next post), you will have a folder called «MASTERCORIA.world«.
3.- Access the contents of your mobile device (tip: use iFile) and locate the game folder.
4.- Enter that folder, you will see that it has different folders, among them is a call «Documents«.
5.- ENTER THAT FOLDER of the Hack for the Terraria video game for Android AND PASTE THAT FILE HERE.
6.- Close the game if you have it open in multi-task.
7.- Ready, you are done. ENJOY this Hack for Terraria! 🙂
As you see, the steps to hack the video game of Terraria for mobile they are very simple. So it was just copying a file to hack from one folder to another side.
It did not have much science, it was only a copy and paste, and with that it was enough to be able to have all the items and things unlocked from this spectacular game.
---
Did you successfully Hack Terraria? Before I go, and if you liked this tutorial, I would like to invite you to see other hacks posts of games, I know you are going to love them.
Similarly, we love talking about gaming, Please visit us! Until another post!