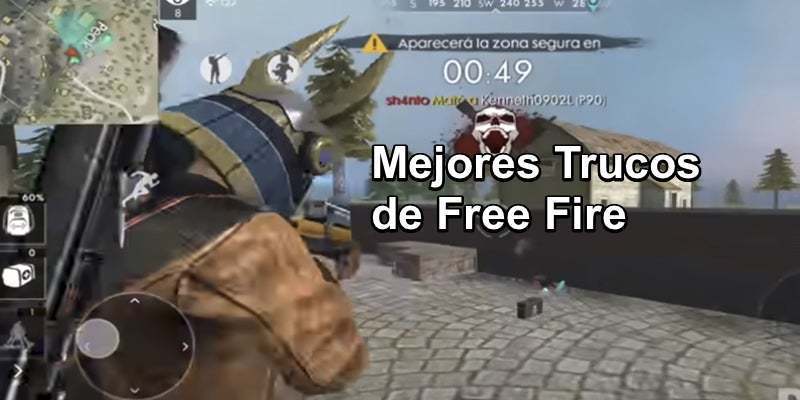 In this post we will show you the best tricks for Free Fire Garena that you can find for Android, very popular tips among the gamer community that can help you to be more PRO. ENTERS!
WE START:
Welcome.
As a true fan of video games, you surely want to know those little tricks that will help you get a little advantage against your rivals.
Therefore, today we want to share with you some of the best tricks for Free Fire fully legal to help you get the most out of it and lead you to victory.
It does not matter if you enjoy playing on an Android or iOS device, these tricks will be very useful in those determining moments of each game. Do you want to know them? Join us to discover them.
Free Fire tricks for Android
Within our selection of cheats for Free Fire Garena, we will share with you the best ones and that quite possibly lead you to see a great Booyah! on your screen.
keep on moving
Who has not happened that While you loot your resources shoot you hundreds of meters and eliminate you from the game? To prevent that from happening, perform random movements like jumping, going back and forth, and more.
This will prevent you from being shot from long distances. Also, when you go around the map, avoid doing it in a straight line, this way it will be more difficult to get shot.
Shoot smart
When you shoot your enemies, try to do it wisely for two main reasons: not to give away your position and to save ammo.
Especially at the beginning of the game where being as clever as possible to gain a good position and get good objects, avoid unnecessary shooting or try to have a clean shot, is one of the best Free Fire tricks.
Take shots like a pro gamer
As you know, there are categories of players within Free Fire and in general. Professional players usually take no more than two long-range shots when they have a clean shot and no more than four at close range.
Not only will this help you improve your aim, but it will allow you to save ammo and stay as covered as possible from other players.
If you are going to ambush another player, do it from the left
One of the best Free Fire Garena cheats And what few know is that when ambushing another player, due to the position of the camera, it becomes easier to hide to attack from the left side. This way it will be easier for you to visualize your enemies when they approach.
Use common sense when looting
If at the time of loot an area you realize that another player has already visited, avoid going there. Most likely, that or another is waiting to ambush you or maybe he has put a mine to get you out of the game. This is more common to notice already in the middle or end of the game.
Always playing with headphones
Although for many people it sounds unnecessary, in this type of shooter games, being able to know in which direction your opponent is approaching or determining from where they are shooting can be the difference.
As one of the best tricks for Free Fire for Android or iOS, is that whenever you go to play a game you put on your headphones. They should not be anything special, but no matter how simple they are, they will give you a great advantage.
Define a game strategy
Free Fire like all Battle Royale games are based on the same premise: be the last one alive. To achieve this, you need to plan a game strategy very well in each game.
Choose an area to fall that does not have a lot of concurrence, loot everything you can (and that is really useful), prepare yourself as best you can, move according to the safe zone and above all, be cunning with your movements when shooting and picking up objects.
Customize your controls
Although it seems like something without major importance, customize game controls it can be the difference between winning a PvP or not.
Customize the fire buttons, where you want to have the consumables, the movement controls and everything you need to feel comfortable and improve your skill when playing. Skill is necessary and you need every little detail to get the most out of it.
Height is your best ally
Not only is it a military strategy that is applied in real life, it is also valid in video games and especially if it is a shooter.
Being in elevated areas helps you better visibility of the battlefield and therefore your enemies. In addition, it will allow you to obtain a natural coverage area to protect yourself from your adversaries.
This has been our compilation of the best cheats for Free Fire Garena and that we know will help you achieve the Booyah! At the end of each game, if you want to know more, we will recommend the following portal:
---
Share these tricks with other players so that the community grows and we improve together. Are you ready to be the last survivor?
We recommend you visit our GAMING section, where you will find more about videogames.
Do you agree that these are the best tricks for Free Fire available on Android? Let us know your opinion by leaving us a comment below!
See you in another post.