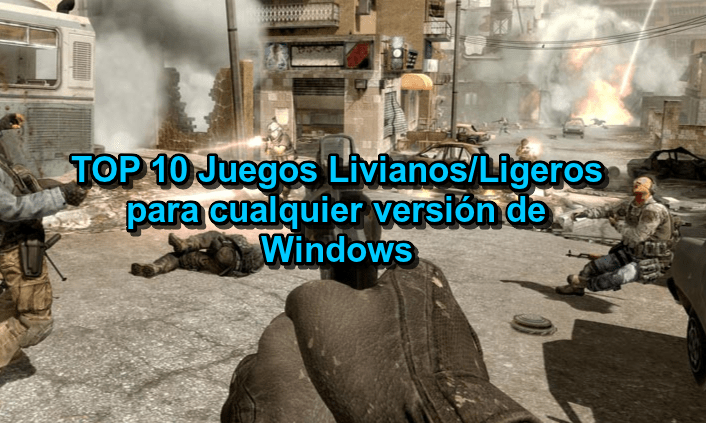 Let's talk about light / light games for PC: we present a TOP of the 10 games for Windows 7, 8, 8.1 or 10 with few requirements. ENTERS!
WE START:
Welcome to another post. I have seen many of the popular games like Fortnite Battle Royale, they require a little high requirements so that they can run optimally, that's a sad thing, and that's why I made this TOP, because I want you to not stop playing, so let's go for those light games for Windows!
10 Games for Windows 7, 8, 8.1 or 10 with few requirements
I have chosen these games for Windows 7, 8, 8.1 or 10 based on their graphics and playability. This is a personal TOP, it does not mean that they are the "best", but as always, you can tell me your opinion. Let's go to position 10!
Position 10: SWAT 4
It is a tactical first person shooter game, which was developed by Irrational Games company. The video game is centered on a SWAT team led by the player, which takes part in the resolution of different objectives, such as: liberation of reens or retention of dangerous subjects.
The arsenal of weapons is too interesting, being able to equip your brigade with the most useful weapons and tools for the mission.
A very interesting game, which falls into this TOP for the graphics and its playability.
Position 9: POSTCARD 2
It is a game that has a violent character, but fun, in which we can do quite a few things: it can be played in a peaceful mode (acting kindly at all times, fulfilling your goals without disturbing anyone), or be as violent as you can imagine , among other ways. You could say that this game makes use of violence for free.
Position 8: Z STEEL Soldiers Remastered
In this bloody sequel to Z Steel, you will find all the strategies and the same gameplay of the classic version with graphics, which have been modified and updated to the games of today: 3D landscapes with a graphics engine that will bring our game to the life of new generation of robots, with a taste for war, and a twisted sense of humor. It is a great strategy game, it has a pretty good and entertaining gameplay.
Position 7: Footbal Manager 2014
In this TOP you could not miss a soccer game, that is why I bring you this excellent game. It is a simulation game, where we have a soccer team in front, and performance depends on you. You can buy, loan players, etc. It is a game for coaches. It manages more than 200 current football teams from 15 of the major English and European football divisions.
Position 6: Super Mario 3 Forever
The game that marked our childhood cannot be missed. It is an adaptation of the classic Nintendo game Super Mario, which is distributed for free, and is compatible with all current versions of Windows (don't go to the extremes of old like Windows 95, 3.1 and those. XP, Vista, 7, 8 , 8.1 and 10 are what I mean).
The game is divided into 21 levels, distributed in 8 worlds. The graphics and sounds of the game are similar to those of the original game, as well as its history.
Position 5: The Punisher
After his family is murdered by the mob, Frank Castler dedicates his life to punishing criminals. Players take control of the vigilante to track down criminals and kill them. The story of the game is a mix of the 2004 film "The Punisher".
It is a game full of action and revenge, in which the player will be able to relive the frustrations of The Pinisher.
Position 4: The House of the Dead
In Part 3 of this zombie shooter saga, PC players can find a new and exciting adventure, as well as a totally new shotgun. Bloody corpses and zombies will emerge from the deepest and darkest corners and stagger dangerously towards your screen.
It is a game full of adventure, action and killing, it is too much fun.
Position 3: Dragon Ball Z Shin Budokai 2
It is a series of 3D fighting video games, based on the popular Dragon Ball manga and anime. In each game in the series, the player controls one or more characters, directly based on their counterpart in the series. As in other battle games, players pit their character against other controlled characters, either by another player, or by the computer.
Position 2: Driver 3
It is the third part of the video game "Driver", in which the player plays Thaner, a policeman who acts on deck as a driver under the command of a network of criminals. Thaner is an FBI undercover agent, who in this part of the story is tasked with capturing a dangerous group of Miami mobsters.
And well, after everything seen, of all the games for Windows 7, 8, 8.1 and 10, the position 1 is for ... 
Position 1: Slender Man
This is a really creepy horror mystery game. The game is based on the urban legend of Slender Man, who is known for kidnapping children in dark and mysterious situations. Your objective will be to collect 8 notes that are scattered throughout the forest, but do not think that it is something so simple, since each time you collect one, things get more and more difficult: the terrifying Slender will be chasing you throughout the game .
And well, so far this super TOP of games for Windows 7, 8, 8.1 or 10, well ... in general all current Windows. They are light games, which you can enjoy and have a great time.
In our blog you will find more cool stuff about Gaming, or if you like TOPS, we also have them. Until another post!